Recent Opaque Glass Covered DishesBy
Mark Chervenka
Recent Opaque Glass Covered Dishes
Covered glass dishes are a popular collectible. Pieces can be collected by subject (animals, flowers, etc) or by glass type (milk glass, cobalt blue, etc). Because they have such a wide appeal, antique covered glass dishes are frequently reproduced.
In this article we'll look at three confusing reproductions. A sauce dish with dolphin finial, figural covered melon and figural acorn with squirrel finial. Variations of these reproductions have appeared for over 40 years.
Dolphin Sauce Dish
A recent version of this reproduction, shown in Fig. 1, was offered by a Midwestern reproduction wholesaler. It was made in China and sold for $5 wholesale. New colors are white opaque milk glass and transparent pink, blue and amber.
This is the second time this particular wholesaler has carried this item. The same piece was offered in 1973 in dark amber and milk glass. The 1970s maker is unknown but very likely produced in America.
The original has been attributed by one milk glass author (Millard-Opaque Glass) to Westmoreland but there is no other documentation. Like the majority of genuine Victorian era milk glass, the original is characterized by opalescence in the edges. It also has frequent casting lines in the surface which have filled in with dirt over time and now appear black. Although other colors of originals may have been made, the only old color we could confirm is white milk glass. The original milk glass dolphin sauce dish generally sells for about $95-$145.
There are several key differences between old and new. First, all pieces in transparent colors are automatically suspect. Next, the new milk glass is a bright white, where the original is a pronounced grayish white. And although we can't be certain about the 1970s pieces, the most recent pieces are definitely made from a new mold.
Medallions on the sides of originals, for example, have a rope pattern around their borders (Fig. 4). Borders around new medallions are smooth. Bases of the originals also have a well defined raised bottom rim (Fig. 6). The base of the reproduction is gently concave; it does not have a clearly molded bottom rim.
Overall, the detail is better on the original but this is not always obvious unless old and new are side by side. Size is not an important clue to age. Both new and old are the same size, 7″ long x 3½″ high.
Acorn with Squirrel
The original is French, made by Vallerysthal and dates to the late 19th to early 20th century. It is occasionally signed "Vallerysthal" inside the base. Originals are in white and blue opaque glass. It measures 6" long x 5" high to top of the squirrel's ears.
The original inspired LG Wright to make a new mold to create reproductions. In a phone interview, longtime Wright sales agent W.C. "Red" Roetteis told ACRN that the acorn and squirrel dish was in production by the mid-to late 1940s. It was made in white milk glass, opaque blue, transparent blue and transparent amber.
This Wright piece has been so heavily reproduced and so widespread that most buyers mistake it for the original. Two respected books on milk glass, Yesterday's Milk Glass Today ( Ferson R. & M., 1981 out of print,) and Collector's Encyclopedia of Milk Glass (Newbound, B. & B., 1995, Collector Books) both picture the Wright reproduction and incorrectly describe it as the Vallerysthal original.
The most obvious differences between the Vallerysthal original and the Wright reproduction are the overall size and position of the ears. Ears on the Wright piece are down close to the head while the Vallerysthal ears are standing straight up. Wright's mold also produced a much larger piece, 7½" long x 6" high.
When the Wright molds were sold at auction in May, 1999, the acorn and squirrel mold was among the molds purchased by LE Smith glass company. By late 1999, LE Smith began using the acorn and squirrel mold to produce pieces for Martha by Mail, Martha Stewart's mail order catalog. The acorn and squirrel covered dish was offered by Stewart in clear crystal, brown slag (Fig. 7) and a pale opaque green similar to the depression-era Jadeite. Price was $25. The sample purchased by ACRN was not marked.
Still another reproduction acorn and squirrel was marketed by AA Importing during the 1980s (Fig. 8-9). The AA version, 7" long, was much closer in size and appearance to the original Vallerysthal than the Wright mold. The ears on the AA pieces, however, are significantly different being thinner and spread out into a broader V shape when viewed from the front.
The AA acorn and squirrel was available in milk glass, blue opaque glass and a deep purple with iridescent finish. It appeared in the AA catalogs ca. 1981 to 1986. Average wholesale price was $5 each.
Covered Melon
This piece was originally made by the famous 19th century manufacturer of milk glass, Atterbury & Company, Pittsburgh, Pennsylvania. Original covered melons were the butter and sugar dishes for a four piece table setting in a pattern called Melon with Net (also known as Melon with Leaf and Net). All original Atterbury pieces are white milk glass and marked in the mold PAT'D APRIL 23, 1878.
Roetteis told ACRN that LG Wright made a new melon mold based on the original about the same time the acorn and squirrel mold was made, mid-to late 1940s. Wright's pieces were sold in white milk glass, and transparent colors of blue, amber and green which were also offered in satin finishes. None of the Wright pieces are marked. The Wright melon is 5½" long which is in between original sizes. Atterbury's original sugar was 5"; the original butter, 6".
LE Smith bought the melon mold at Wright's auction in May 1999. The melon was also sold through the Stewart catalog. It was offered in brown slag, clear and opaque green (Jadeite) for $22. The example we bought was marked with a script letter S, a new mark LE Smith has been using on some pieces since 1997. (The S is for Smith, not Stewart). This mark is very faint and may not be visible on all melon pieces.
Special Thanks to Frank Chiarenza for his background information. Many rare pieces of milk glass including 24 pages from original Vallerysthal and Portieux catalogs are in The Milk Glass Book, © 1998, by Frank Chiarenza and coauthor James Slater. Both Frank and James have served as president of the National Milk Glass Collector's Society.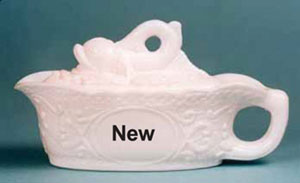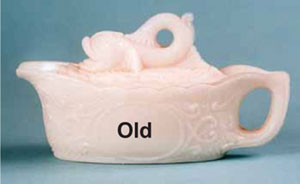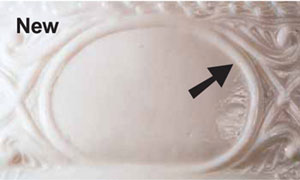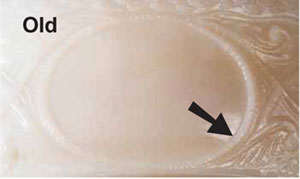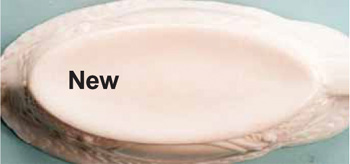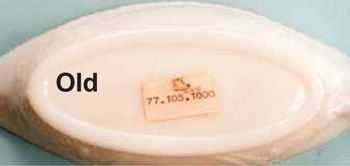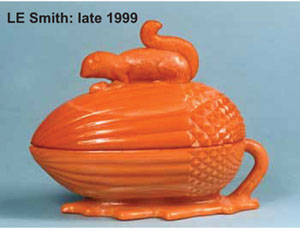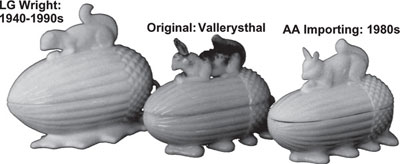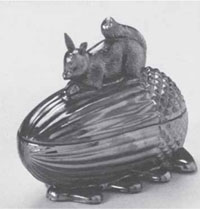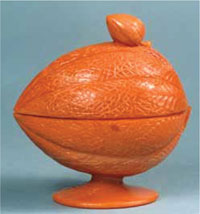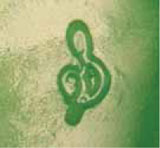 Real Or Repro is an industry resource powered by
a vetted marketplace of dealers and winner of numerous
Ecommerce Bytes Sellers Choice awards
for Quality, Usability, Customer Service, Communications and Most Recommended Selling Venue
---
So now,
Our Ruby Lane Shop Owners
invite You
to shop with them for the
Real Deal
on Ruby Lane ...
View More Similar Items