Presidential Campaign Flags ReproducedBy
Mark Chervenka
Presidential Campaign Flags Reproduced
There are a variety of new political campaign banners in the form of flags that have benn made. Originals of these flags can run from the hundreds to thousands of dollars. A New York state firm makes at least 18 different new flags that sell for a little as $10 each.
Original campaign banners resembling an American flag were used primarily from about 1840 to the beginning of the 20th century. The typical form was to overprint the flag with the candidates' portraits and campaign slogans.
Most vintage campaign flags were made of cotton, but some were made of silk or other fabrics. The majority of authentic flags were commercially manufactured, although some were homemade, especially before 1840. Slogans and portraits on virtually all the commercially-made flags were created by printing, not weaving. That is to say slogans and portraits were printed with inks on the surface of the fabric, not created by weaving threads within the fabric. Generally, the horizontal red stripes and canton (the blue field in the upper left) were also printed in commercial flags. The edges of authentic commercially manufactured campaign flags are almost always finished with the fabric folded over and hemmed.
Although the authentic flags shown for comparison in this article are over 30 inches wide and the new flags shown are all about 9 inches wide, size alone is not a reliable test of age. Vintage political campaign flags appear in a wide variety of sizes from as small as 8 by 5 inches to large enough to cover the side of a horse drawn wagon. The original examples are shown to show the sources used for the copies.
Disregarding size, there are several reliable tests that can quickly help you separate reproductions from the originals. First, insist any framing surrounding the flag be removed. You cannot see the edges and back of a flag when it is framed. Edges and the reverse side must be visible for an accurate examination.
Edges on all the new flags shown in this article, for example, are "pinked," not hemmed. Pinking is a textile term referring to a jagged-edged cut which helps prevent unraveling. The great majority of the new flags are sold matted and framed so this jagged edge is not always apparent.
All the new flags shown and discussed in this article are commercially manufactured. They are made by printing inks on sheets of cotton. The cotton is rather coarse averaging only about 70 threads per square inch. It is an unglazed dull finish.
The blue canton and red stripes appear only on the front side of the new flags (Fig. 7) The ink or dye used in the blue canton and red stripes of vintage flags is visible on both sides, not just the front. (Portraits and slogans, though, appear on only the front sides of both old and new flags.)
The new flags shown in this article are available for $19 each which includes a wood frame. Originals can sell for thousands. Some Lincoln flags from the 1860 campaign have brought over $30,000.
Regardless of whether these new flags are described as new when sold, they are all made in violation of the Hobby Protection Act (HPA), the only federal law requiring certain categories of reproductions be marked. The Act requires manufacturers and importers of "imitation political items" to mark "plainly and permanently" such items with the "calendar year" such items were manufactured. None of the new flags shown or discussed in this article have no marks of any kind.
The use of the American flag for political advertising began to decline with the introduction of laws regulating the display of the flag. Bills attempting to limit the use of the flag for commercial or private gain were first introduced in the U.S. Congress 1890 and again in 1895 but didn't pass. Finally, in 1905, Congress voted to prohibit printing portraits and lettering on the flag. Additional guidelines and restrictions on the display and use of the flag were added in 1942. These new laws effectively ended the legal use of political imprints on the American flag.
Other problems
Commercially manufactured new flags aren't the only problems you may find. Faked flags can also be made by the do-it-yourself forger. Advanced digital printers can place images on linen, canvas and other fabrics. We hired a local graphics company to put two campaign flags on canvas. Their advanced inkjet can print on widths of canvas up to 36 inches. The high quality images are much harder to detect than images produced by home and office inkjets.
Other new political campaign flags
The same company that makes the flags shown in Figs. 1 & 3 also makes other designs. All are cotton, approximately 9 by 6 inches and rectangular in shape unless noted. Letters and dates in quotations appear as printed text on the new flags. In frames, the new flags average $19 each. Unframed, the samples shown in this article cost $10 each when purchased in lots of four or more pieces.
"Lincoln and Hamlin," Lincoln's bust portrait surrounded by circular display of white stars appears in union.

Shield-shaped flag, dates "1861-1865" at top, "Let us have Peace," bust portrait of U.S. Grant surrounded by laurel wreath in bottom half.

"For President Abram Lincoln. For Vice President Hannibal Hamlin," white stars in union.

"FREE" spelled out in white stars on blue field, upper left; "Lincoln and Johnson"

Lincoln bust portrait surrounded by 13 white stars in union; "Lincoln & Hamlin."

Bust portrait of Gen. Wm H. Harrison in center; "The Hero of Tippecanoe"; 17 red and white horizontal stripes (9 red–8 white); 13 white stars in union.

"Polk and Dallas," bust portrait of James K. Polk surrounded by white stars in union.

Head and shoulders portrait of bearded Lincoln in oval medallion; 33 white stars in union.

Square flag, "Clay and Frelinghuysen;" head/shoulders portrait of Henry Clay surrounded by 26 white stars in union; 17 red and white horizontal stripes

"Lincoln and Hamlin," 30 white stars arranged in a star- shape in union.
For further reading: The standard reference on American political textiles is Threads of History by H. Collins, © 1979 Smithsonian Press (out of print). A massive book with hundreds of examples.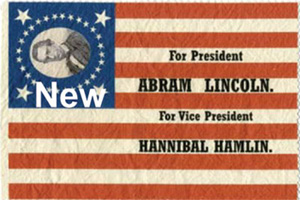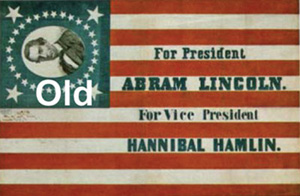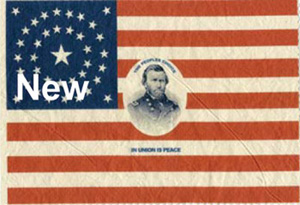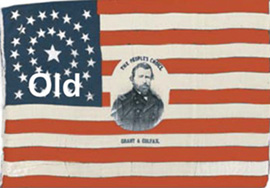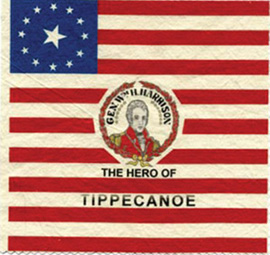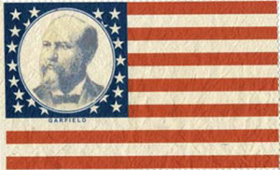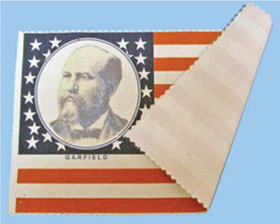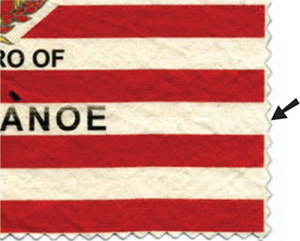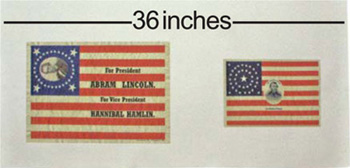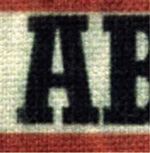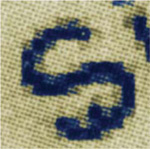 Real Or Repro is an industry resource powered by
a vetted marketplace of dealers and winner of numerous
Ecommerce Bytes Sellers Choice awards
for Quality, Usability, Customer Service, Communications and Most Recommended Selling Venue
---
So now,
Our Ruby Lane Shop Owners
invite You
to shop with them for the
Real Deal
on Ruby Lane ...
View More Similar Items