Practice Parlor PuttersBy
Mark Chervenka
Practice Parlor Putters
One of the more interesting golf-related collectibles is a floor stand used to practice putting. Depending on make and condition, an original parlor putter can cost $800-$1500; original putters add $150-250 each. Due to the scarcity and high price of authentic pieces, several reproductions have been made to meet the demand. Originals date from the first quarter of the 20th century. They were made in brass and cast iron with painted details. Paint can be restored and repaired so it is best to look at the construction to determine age.
One of the best places to look is at the holes in the top cross piece which holds the putters (Fig. 5). Original putters that fit the practice stand had painted grips and were consequently much smaller in diameter than real putters with wrapped grips. Holes in originals stands are only 7/8" maximum. The reproductions, made for full sized modern wrapped grips, measure 1" plus in diameter.
Another key feature hard to duplicate in reproductions is the center support or pole. In original stands, this piece shows a lacy filigree pattern (Figs. 10 & 11) molded into vertical panels. The same piece in reproductions is much plainer and simpler; in most cases it is copied from an ordinary lamp part.
Also check for ball returns in the bottoms (Fig. 8). It is highly unusual for all the returns to be missing from an original. Most, but not all reproductions, are missing the returns. Don't be misled by dates or other molded-in markings. These marks are copied when new molds are made from genuinely old pieces and are then duplicated in the reproductions.
Special thanks to William Reed, a member of the Golf Collectors Society, for making these examples available.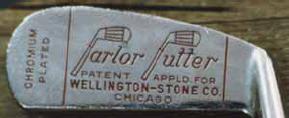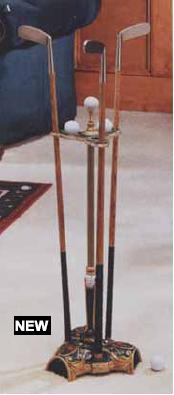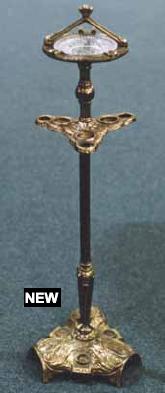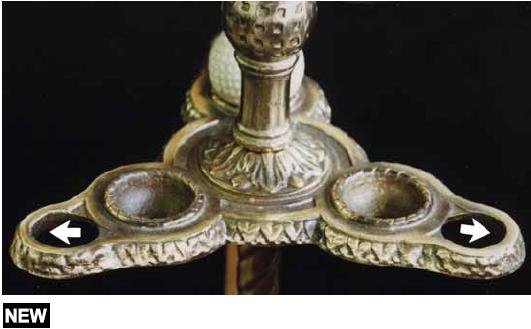 Holes for putter handles