Plaster Copies of NipperBy
Mark Chervenka
Plaster Copies of Nipper
There are a number of plaster reproductions of RCA's Nipper in the market mistaken by many for vintage items. These items are in fact fantasy items, pieces with no old original counterpart. They are made in the Chicago, Illinois area primarily for sale to phonograph and record collectors. Although they are first sold openly as reproductions, many pieces cross into the antiques and collectibles market where they are offered as old.
The plaster is good quality with an ivory finish with brown sepia toned shading. Eyes, collars, noses, paws and bases are black. The finish is very similar to that found on genuine plaster pieces used as store advertising or counter top display, ca. 1880-1930s.
As a general rule, virtually all officially licensed products–whether based on cartoon characters or trademarks– will carry a copyright notice with the company name. None of the pieces shown here have copyright notices because they have never been registered. The only piece with any permanent mark is the record holder and that includes only the advertising slogan, "His Master's Voice", not a copyright notice. The phonograph is marked "Victor".
The original Nipper dog was first used as a trademark of Gramophone of Bristol, England. The Victor Talking Machine & Record Company bought American rights to the symbol in 1906. The trademark was included when Victor was purchased by Radio Corporation of America (RCA) in 1929.
Wholesale prices for the new plaster pieces were $17 for the record holder and $15 for the wall plaque. Statues run $12, $17 and $35 according to size.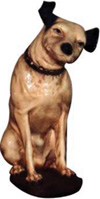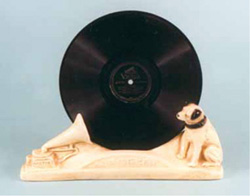 Real Or Repro is an industry resource powered by
a vetted marketplace of dealers and winner of numerous
Ecommerce Bytes Sellers Choice awards
for Quality, Usability, Customer Service, Communications and Most Recommended Selling Venue
---
So now,
Our Ruby Lane Shop Owners
invite You
to shop with them for the
Real Deal
on Ruby Lane ...