Pitcher Versions of Westmoreland SteinsBy
Mark Chervenka
Pitcher Versions of Westmoreland Steins
The so-called "Lovers Stein" also called "Wedding Stein," and the similar "Elf" stein have been reproduced from the original Westmoreland Glass mold for a number of years. New pieces from the same mold have been made with tooled spouts and sold as pitchers. No original pitchers in these patterns have ever been found.
Original steins were made around 1900 for use as packing jars. The stein-shapes originally had a glass cone-shaped lid, now rarely found. New pieces do not include a lid. Other original colors included opaque blue and opaque white (milk glass). This latest pitcher version is produced in opaque green glass resembling Jadite.
New pieces were sold by Rosso Glass which owns a number of original Westmoreland molds. Some, but not all of the new pieces are marked with an R in a keystone.
Very similar patterns also appeared on old glass steins made by Indiana Tumbler & Goblet Co. (Greentown) and McKee. The Greentown versions are the most valuable, worth $300-$400. Original Westmoreland steins sell for $40-$60. Buyers frequently mistake both old and new Westmoreland version for the higher-priced Greentown pieces.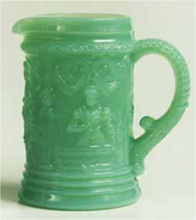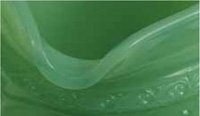 Real Or Repro is an industry resource powered by
a vetted marketplace of dealers and winner of numerous
Ecommerce Bytes Sellers Choice awards
for Quality, Usability, Customer Service, Communications and Most Recommended Selling Venue
---
So now,
Our Ruby Lane Shop Owners
invite You
to shop with them for the
Real Deal
on Ruby Lane ...
View More Similar Items