Perfumes from Original Czech MoldsBy
Mark Chervenka
Perfumes from Original Czech Molds
A large group of original ca. 1920-1940 Czech glass molds, most attributed to the former companies of Henry G. Schlevogt and Heinrich Hoffmann, were put back in production.
There are about 50 different styles of perfume bottles included in the original Art Deco period molds. Many of the perfume stoppers are the intaglio style. In this technique, a design is deeply molded or cut on one side. Viewing the stopper from the opposite side creates a strong three-dimensional effect.
The molds were discovered in the late 1990s in the Bohemian village of Desna. Jizerske Sklo, a glassworks which acquired the molds, immediately put some of the perfume molds in production. They did not have the capacity or skilled labor to finish the pieces, though, so the bottles and stoppers were sold just as they came out of the molds.
The bottles and stoppers were sold to a variety of customers which included glass finishing shops, exporters and independent retailers. It was up to the new buyers on how the pieces were finished. The quality of these early pieces from the old molds varies greatly depending on who performed the finishing.
In June 2002, Jizerske Sklo stopped all production. Nearly all of the original bottle and stopper molds were sold to the Czech glass manufacturer Ornela Co., Ltd. Ornela then controlled the entire manufacturing process and sold a completely finished product marketed under the brand name Desna. Nunnally International Trade, Inc. of Decatur, Georgia was the exclusive distributor of Desna branded products in the United States.
New Desna bottles were sold in frosted crystal and two opaque colors: lapis, a deep blue; and malachite, a deep green. Desna bottles made in the Hoffman and Schlevogt molds were marked with a sandblasted Desna logo since October 2002. Bottles produced by Jizerske Sklo before 2002 were not permanently marked Desna.
Tyler Nunnally, president of Nunnally International, said nearly all of the approximately 50 perfume molds originally owned by Jizerske Sklo will be incorporated into the Desna line and be permanently marked Desna. "However, we will not produce all 50 styles at any one time. We will introduce about 10 styles per year for the next 5 years," said Tyler. In addition to the perfume molds acquired from Jizerske Sklo, Ornela also owns several hundred other original ca. 1920-1940 molds. Tyler said new perfumes will also be made from those molds.
Besides the new Desna bottles from original Schlevogt and Hoffmann molds, virtually identical bottles are being produced in so-called "pirate" molds. Pirate molds are made by using an original bottle to make a new mold. The pirated shapes may or may not be marked. Some have been found with forged vintage marks.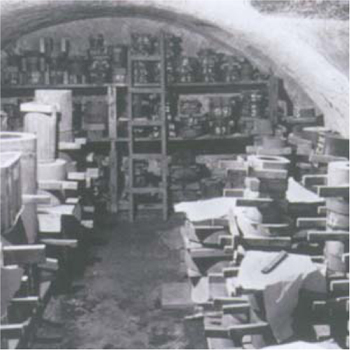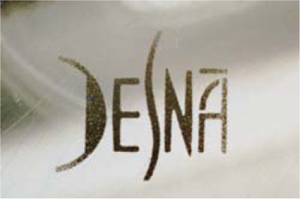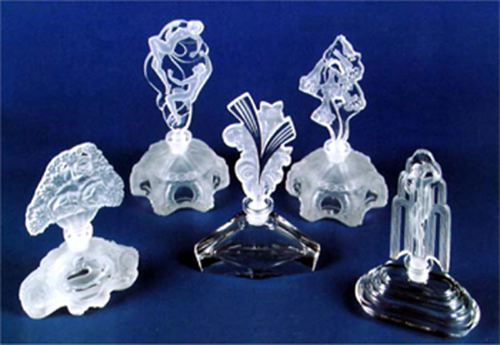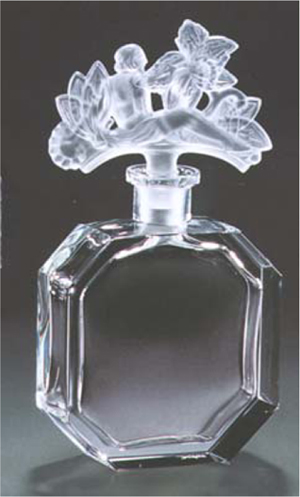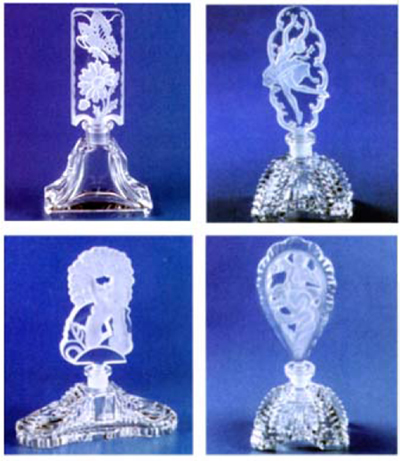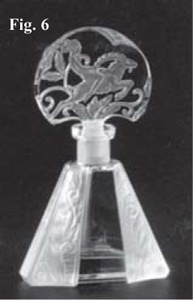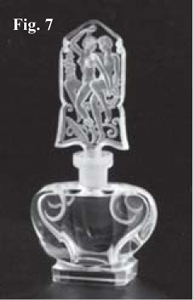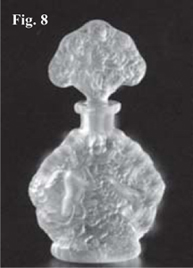 Real Or Repro is an industry resource powered by
a vetted marketplace of dealers and winner of numerous
Ecommerce Bytes Sellers Choice awards
for Quality, Usability, Customer Service, Communications and Most Recommended Selling Venue
---
So now,
Our Ruby Lane Shop Owners
invite You
to shop with them for the
Real Deal
on Ruby Lane ...
View More Similar Items