Peanut Pattern Hand LampBy
Mark Chervenka
Peanut Pattern Hand Lamp
This Peanut pattern kerosene lamp has been reproduced for a large American lamp parts supply firm. The pattern was originally made during the mid-1890s through the early years of the 20th century. The new lamps are made in clear as well as cobalt and amber.
The best clue to determining the age of this lamp is to look at the color. Almost all original Peanut pattern lamps were made in clear glass only. Although some original lamps were made in cobalt and amber, those lamps are quite rare. If you run into an amber or cobalt lamp, just be sure to inspect it very carefully.
The age of a clear glass Peanut lamp can often be determined by examining the collar. Collars on new Peanut lamps, and nearly every other reproduction kerosene glass lamp, are glued into the lamp base. Collars on originals are plastered into the base. If the collar is all the way down on the glass font, expose the lamp to a long wave black light which will make the glue fluoresce.
Another general rule of thumb is that collars on many, but not all, old lamps usually have some decorative tooling similar to those in the original catalog illustrations in Fig. 2. Many reproduction lamps have perfectly smooth collars like the one shown on the new Peanut lamp.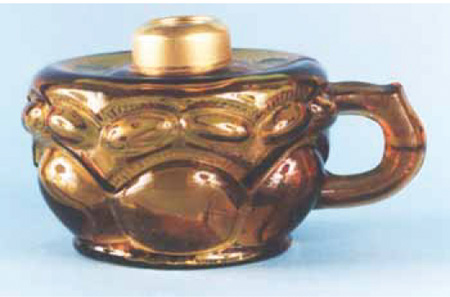 Real Or Repro is an industry resource powered by
a vetted marketplace of dealers and winner of numerous
Ecommerce Bytes Sellers Choice awards
for Quality, Usability, Customer Service, Communications and Most Recommended Selling Venue
---
So now,
Our Ruby Lane Shop Owners
invite You
to shop with them for the
Real Deal
on Ruby Lane ...