Nippon Reproductions: Patterns and MarksBy
Joan Van Patten and Mark Chervenka
Nippon Reproductions: Patterns and Marks
Imitation Nippon has been made since the late 1970s. There are now more than 50 known patterns applied to ceramics which have fake Nippon marks. At first, patterns on reproductions looked more like German and English Victorian patterns with large flowers than patterns used on authentic 1891-1921 Nippon. Gradually, though, patterns on the reproductions have become more like originals and many are nearly exact copies of vintage patterns. Gold trim on many new pieces now features raised gold and enamel jewels that closely resemble the quality of many pre-1921 originals.
How do you tell old from new? Perhaps one way is to use this photo guide with you when you shop for a side by side comparison. Specific tips and hints are discussed.
How to Use This Guide:
The bold words are pattern names (if any) used by reproduction wholesalers. Following the pattern name is a list of known shapes in that particular pattern. Patterns shown could easily be found on shapes not listed and on future shapes. Various new Nippon marks appear on these pieces.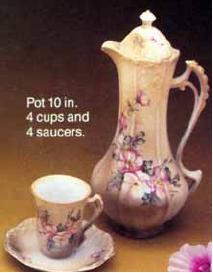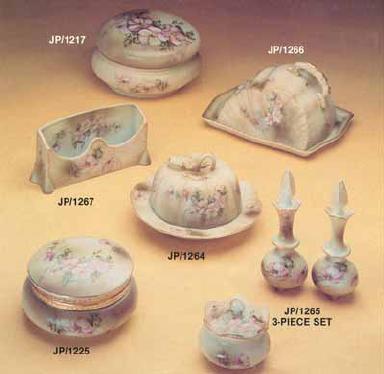 Wildflower is one of the most extensively made patterns including various mocha sets and chocolate sets with 8½"-11" pots & matching cups, 12" handled urn with lid, 7" dia. dresser jar, 5½" egg-shaped covered box, tea strainer and basin, lemonade set with 14¾" pitcher and 5½" footed tumblers, tea service, 4 7/8" dia. footed box, 5¾" dia. hinged powder box, 8¼" disc shaped ewer, bell, 6" perfume bottle, round powder jar, 10¼" rectangular dressing tray, 7¾" tureen, strawberry set (dish with individual sugar and creamer), wedge shaped cheese dish, dome top cvd. butter dish, sugar and creamer, bulbous 4" dia. handled candlestick, handled chamberstick with 6" dia. underplate, 5¾" cvd. rectangular trinket box, combination soap holder/toothbrush rack, 7½ rectangular letter holder, 5" cologne bottle, 3½" flat sided powder jar, 6" shell shaped dish.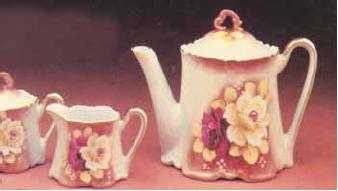 Texas Rose Carafe and tumbler (tumble up), ewer, 6½" tankard styled cream pitcher, cup and saucer, tea set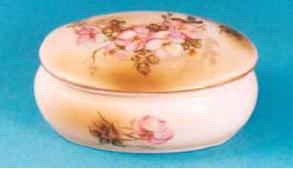 Dogwood Five chocolate/mocha sets, dresser set, oval box, footed bowl, bead box, straw-berry set (dish with individual sugar and creamer), trinket box, tea warmer, biscuit jar, hatpin holder.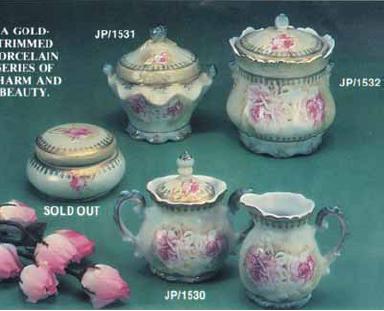 Green Mist 5½" sugar bowl, 4" dia. creamer, powder box, 5½" candy jar, 6" high bon-bon jar, crimped edge tea set with 7¼" teapot and matching sugar and creamer. Central floral pattern surrounded by green tinting.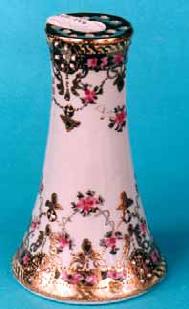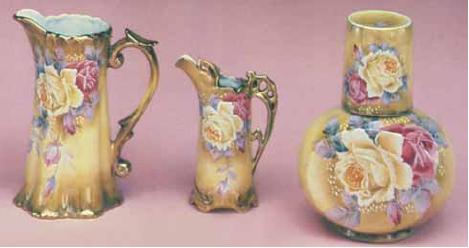 Antique Rose All pieces trimmed in heavy gold. Coffee set with 8½" pot with matching creamer, sugar, cups, saucers, 7" dia. teapot, 5" dia. basket, 4¾" mug (tankard), 3 3/8" tall cup with matching saucer, 11½" tankard style pitcher, large creamer and sugar 5 5/8" dia., 6¾" tankard styled cream pitcher, 5¼"tankard styled cream pitcher, carafe and tumbler (tumble up), salt & pepper, 6" dia. disk shaped vase, loop handled bell.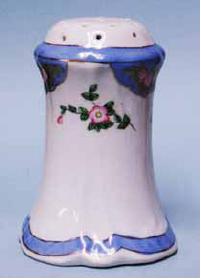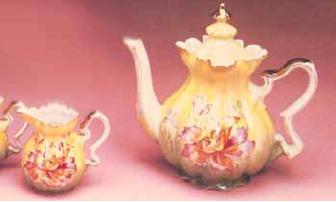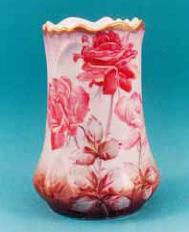 Antique Red Rose Two sizes of vases and a tankard. This pattern is different than Antique Red Rose shown below.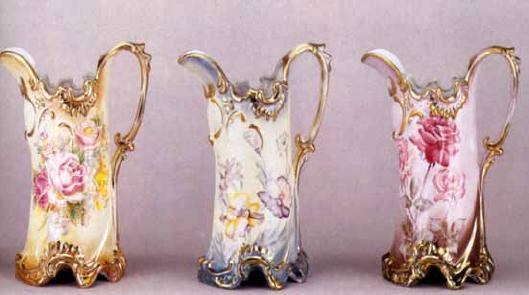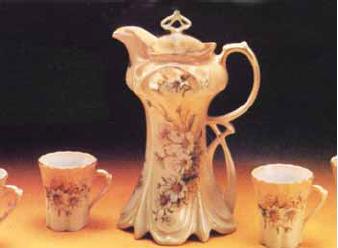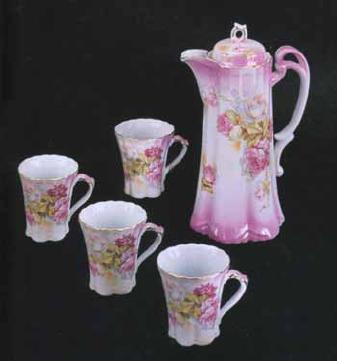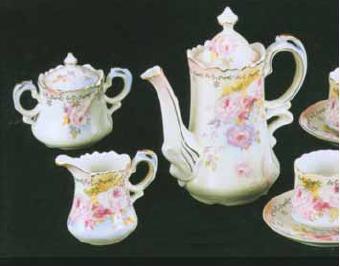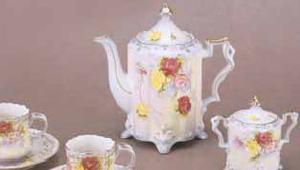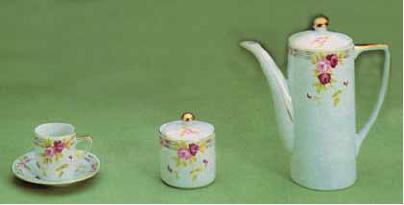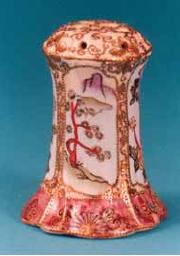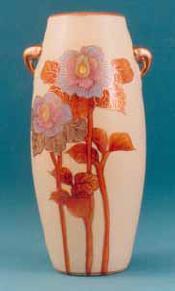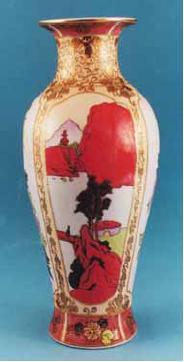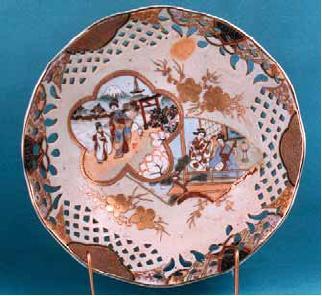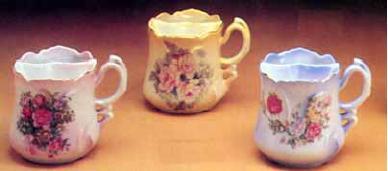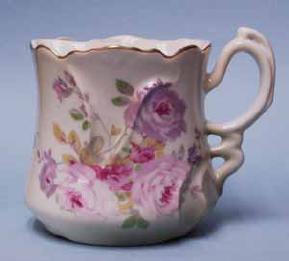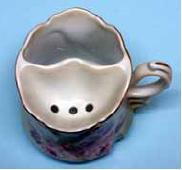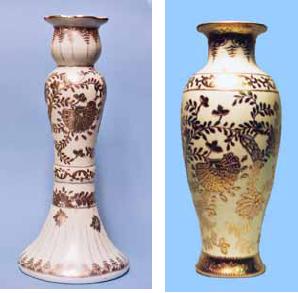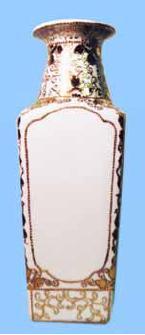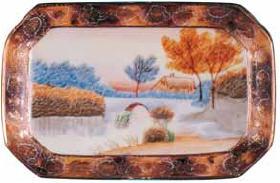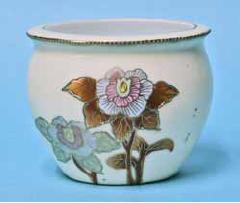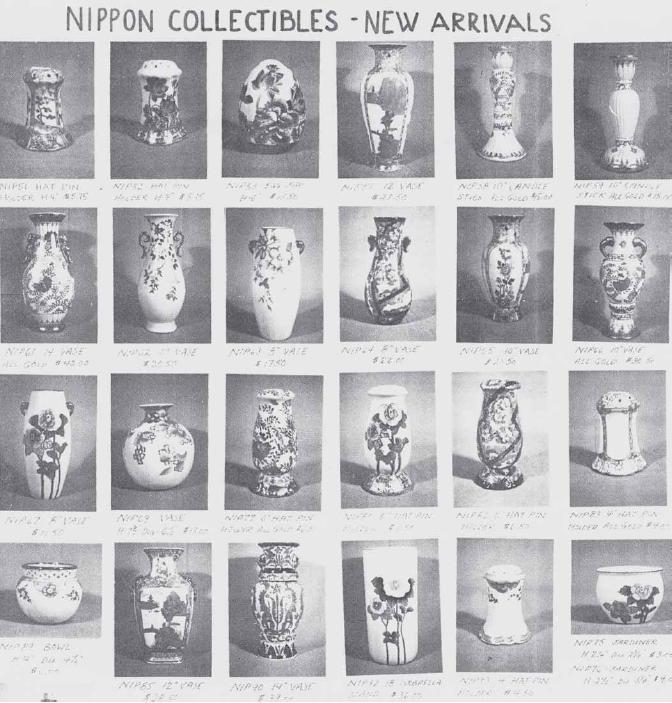 The Problem with Marks:
Some marks on some reproductions are now identical to original marks. This means you can never use marks alone as your only test of age. Reproduction wholesalers are constantly improving and upgrading the new marks (see wreath marks below). Other Nippon marks known to be reproduced are shown below. Others probably exist.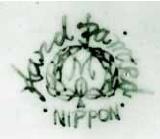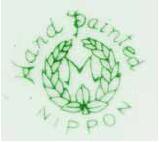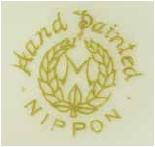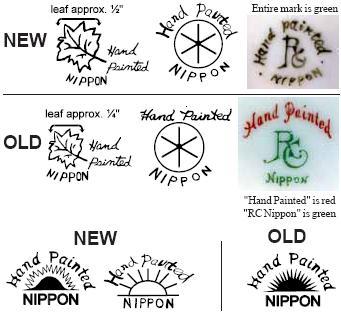 New Enamel Dots Look Old:
Recent reproductions are being decorated with hand painted patterns very similar to several original patterns. The new decorations include raised gold and beaded enamel "jewel" trim.


---
How do you tell if it's old?
Marks and patterns are no longer the reliable tests of age they once were. As fake marks become better and more original patterns are copied, buyers will need other ways to judge age and authenticity. Here are some of the ways to guard against buying reproduction Nippon.
1. Check the glaze. The high gloss glaze on most, but not all, new pieces is noticeably rougher and not as smooth as originals. Also inspect the insides of pieces. Many new pieces are not entirely glazed on the inside; originals, of course, are completely glazed.
2. Compare the thickness. Most new pieces are thicker than old, sometimes twice or more as thick.
3. Test the weight. New pieces are generally much heavier than old. This is due to not only their thicker construction but a difference in the raw materials.
4. Look at the gold trim. New gold is generally one of two types: A) a copper-colored gold that usually has lots of bumps and loose particles, or B), a brassy yellow gold with a highly reflective almost mirror-like finish. Original gold never has loose debris suspended in it and is virtually never highly reflective. If you see your reflection in the gold, it is almost certainly new.
5. Don't rely on one test. Never base your decision of age on one test alone. Use several cross checks. Most reproductions fail several tests once you begin to look.
Latest Fake Nippon Mark Identical to Old
A reproduction wholesaler is now selling ceramic items with a mark that is virtually identical to original marks found on ca. 1891-1921 Nippon wares. The mark is the so called green wreath mark shown in Fig. 2. The new mark, Fig. 1., is the same size and color as the original.
Although new wreath marks have been used since the 1970s most new marks have been fairly easy to detect. That is no longer true. For all practical purposes, there are no meaningful differences remaining between old and new wreath marks. Since marks can no longer be used as a reliable indicator of age, buyers must use other clues. One of these is pattern.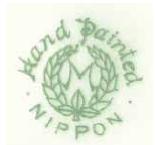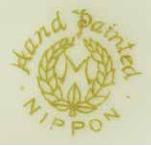 Joan Van Patten, author Nippon Porcelain series
Real Or Repro is an industry resource powered by
a vetted marketplace of dealers and winner of numerous
Ecommerce Bytes Sellers Choice awards
for Quality, Usability, Customer Service, Communications and Most Recommended Selling Venue
---
So now,
Our Ruby Lane Shop Owners
invite You
to shop with them for the
Real Deal
on Ruby Lane ...
View More Similar Items