Reproductions, Fakes and Look-Alike Victorian Posy Holders - Tussie MussiesBy
Mark Chervenka, Editor ACRN
Reproductions, Fakes and Look-Alike Victorian Posy Holders - Tussie Mussies
The majority of reproductions are usually made to fill a demand for a hugely popular or "hot" product. Some recent examples being cobalt blue royal lace depression glass, Roseville pottery, Galle cameo glass and Pairpoint Puffy lamps. Originals in all those lines bring high prices and you can at least understand why they would be reproduced, copied or forged.
But why the sudden wave of reproduction Victorian posy holders? After all, this is a relatively narrow, one could almost say obscure, category of Victorianna. Have reproduction wholesalers finally hired Madison Ave market researchers or is there really a secret untapped hotbed of lust for small Victorian bouquet holders?
Background
For those of you who thought a tussie mussie was someone Kenneth Starr wanted to talk to, we'd better start by explaining just what that term means.
Flower holders small enough to be worn on clothing or hand held date back to medieval times. Such holders became widespread in the 15th century as plague spread throughout England and Europe. Both men and women wore or carried certain flowers and herbs to ward off disease. Throughout the 17th and 18th centuries, flowers were carried in defense against the street smells of the ever growing cities. By the early 19th century, wearing fresh flowers had become an important element of fashion. Tiny hand-held bouquets were also used as fans. Wearing and carrying the small bouquets gradually disappeared by 1900.
In England and Europe, the small flower arrangements themselves were called a "posy" (also spelled posey). Americans called the same small bouquets "tussie mussie" (also spelled tuzzie muzzie). Tussie is an old term for a knot of flowers; mussie refers to wet moss used to surround the flowers to keep them fresh. Over the years the words that originally used for the bouquets gradually began to mean the containers that held the bouquets. To simplify our discussion, we are going to use the term "bouquet holder" to mean a posy holder/tussie mussie.
The typical bouquet holder is a funnel or trumpet shape mounted on a handle. Stems of flowers fit down in the narrow end, their blossoms fill the open end. The flowers are held in place by a sturdy pin. Original pins are almost always attached by a chain. Early pins generally are held in by pressure only. Pins in later, ca. 1870-80 and on pieces, are often threaded and screw into the side.
Overall length of a typical piece is about 3" to 6". The majority sold to the middle class were made of silverplate, silver or gilded silver but could also be horn, glass, gilded brass or ivory. More elaborate pieces could include decorations of enamel, mother of pearl, tortoiseshell, and semiprecious stones. Expensive specially commissioned pieces could be made of gold and set with gemstones like diamonds, rubies and emeralds.
Most, but not all, originals had a chain with a ring attached to the handle. This ring could be attached to a lady's chatelaine (a hook in a lady's waistband) or worn on her finger while she danced. Some of the more elaborate pieces had a spring loaded handle that expanded into a tripod which served as legs so the piece could be set on a table (see Fig. 3, second from left).
Telling New From Old
Shape and style alone are not reliable indications of age. As you can see from the new samples photographed for this article, many new pieces have virtually identical shapes to old originals. A better way to determine age and authenticity is by a close up examination of the construction.
For example, every new holder examined for this article was cast in one piece. In other words, the trumpet and handle are of the same continuous piece of metal formed in a mold. Virtually all originals were assembled from a number of separate pieces. Since a majority of original holders were silver, look for soldered joints as evidence of piece by piece assembly.
Of course don't expect crude lumps of solder like you'd find on a junior high electronics project. Skilled silversmiths concealed their soldering to back sides of designs and places not exposed to normal view. There are several natural places to look on a bouquet holder.
The first is inside the trumpet. If the trumpet is a solid piece (as opposed to a wire filigree) there should be a seam running the length of the trumpet with fine bead of solder the entire length. If the trumpet is a mesh or filigree like the sample on the front cover, the wires should be soldered at several points to the top rim (Fig. 12) at right. By contrast, the one piece trumpets of the reproductions have no seams at all with the exception of an occasional shallow mold seam.
Another natural point to check is where the trumpet meets the handle. The one piece cast reproductions show no seam or joint. Almost all originals show an obvious seam line there because the handle and trumpets were virtually always made as separate pieces.
Another clue to the cast reproductions is their rough surface. As the close up view shows in Fig. 10, most new cast surfaces are pitted, lack detail and have irregular outlines and patterns. Keep in mind that it is not that casting is itself bad as a production method. The leaf on the original in Fig. 11 was also cast but look at the sharp detail. This leaf is but one of many pieces soldered together by hand to form the overall piece. The new castings are made to save time only at the sacrifice of quality and hand finishing.
Markings
Finding a maker's or company mark on an original bouquet holder is the exception rather than the rule. Many, but not all originals, usually carry some type of quality or assay mark such as the word "sterling", ".925" or similar mark depending on country of origin. Such marks are little help in determining age as the new silver pieces also carry similar quality marks.
Prices
Nice holders from the mid-19th century in silver sold for $300-$800. Elaborate holders with semiprecious stones or enamel work can bring $1,000-$3,000. Features like expanding legs, concealed portraits, or unusual materials increase the value.
The most expensive reproduction in this article is the two-piece affair in Figs. 7-8 sold for $79. The blue glass holder in Figs. 5-6 was about $75. By far the best quality was the sterling holder in Fig. 4. It was only $27 wholesale.
Checklist for Evaluation
Never use one test alone to determine age; look at several features. Keep in mind that some features like new chains, rings or pins may be legitimate replacements on genuinely old pieces. On the other hand, the presence of these features is no guarantee of age.
Your best test is to look at the construction. Old pieces should generally be assembled from a number of separate pieces. You should usually be able to see at least some soldered seams or joints. The vast majority of new holders are cast as a single piece with no soldered joints. Brand new pieces have frosted white interiors but could easily be tarnished by chemicals.
For more information:
Hughes, G. Bernard. Small Antique Silverware, Bramhall House, NY, 1957. several pages on bouquet holders, out of print.
Schwartz, Jeri. Tussie Mussies: Victorian Posey Holders.privately published; availability unknown.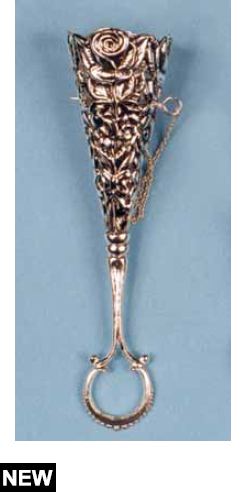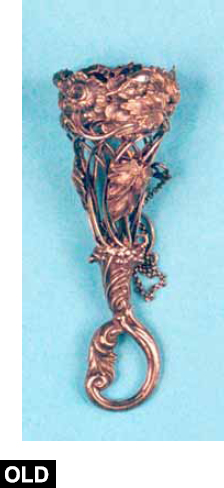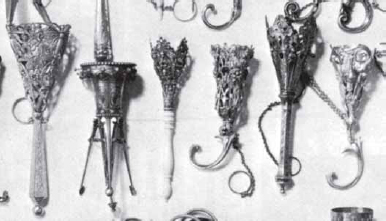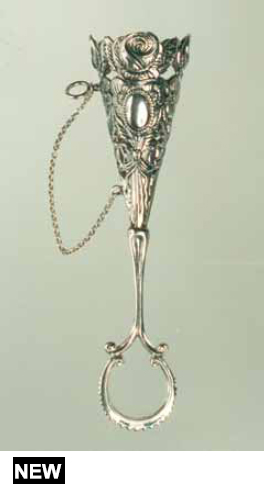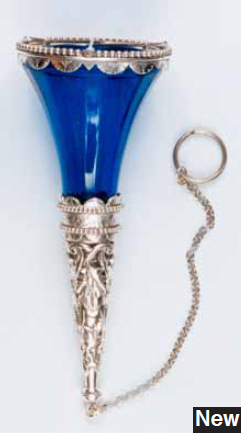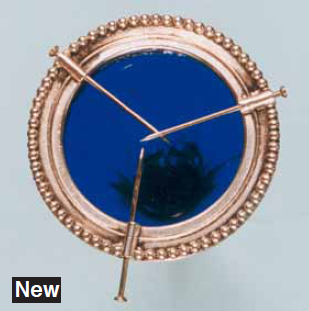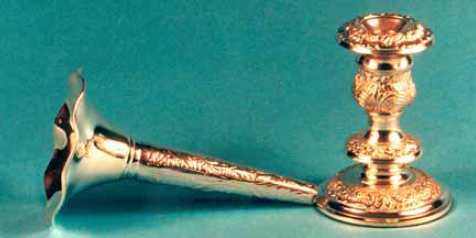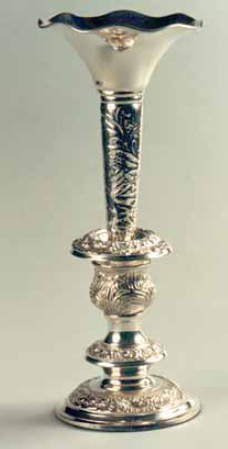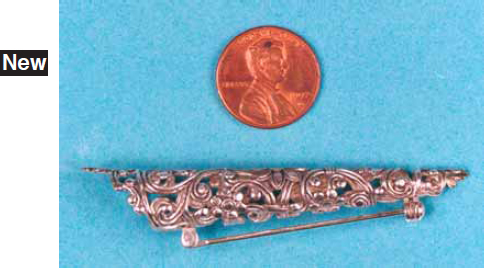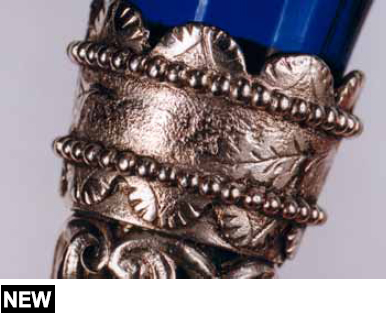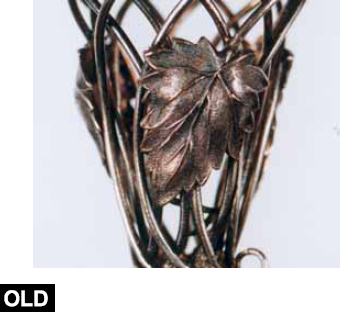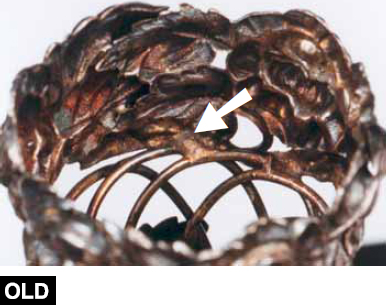 Real Or Repro is an industry resource powered by
a vetted marketplace of dealers and winner of numerous
Ecommerce Bytes Sellers Choice awards
for Quality, Usability, Customer Service, Communications and Most Recommended Selling Venue
---
So now,
Our Ruby Lane Shop Owners
invite You
to shop with them for the
Real Deal
on Ruby Lane ...
View More Similar Items