New Turtle Planter and Sprinkler Marked McCoyBy
Mark Chervenka
New Turtle Planter and Sprinkler Marked McCoy
Be aware of new pottery marked McCoy in the market. The copied pieces are the turtle planter and sprinkler, or water pot. Both new pieces have a molded McCoy mark (Fig. 2) that is virtually identical to marks on vintage pieces.
Authentic turtle sprinklers are valued at $80 to $100; authentic turtle planters, $35 to $45. The wholesale price of the new sprinkler was $12; the new planter, $10.
New planters are similar to original planters but significantly smaller. Original planters are 8 inches from nose to tail; new planters are only about 7½ inches.
Original turtle sprinklers are 10 inches long. Since new sprinklers use the same 7½-inch body as the new planter, new sprinklers are almost 3 inches smaller than original sprinklers. The shape of new sprinklers is also different. New sprinklers are made by simply adding a handle to the new planter shape. New sprinklers are open in the top; originals are closed.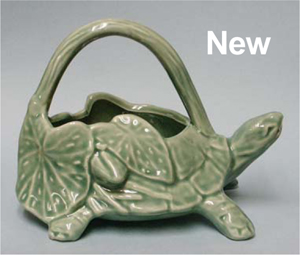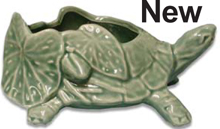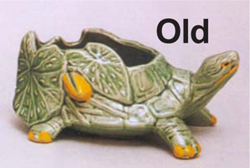 Real Or Repro is an industry resource powered by
a vetted marketplace of dealers and winner of numerous
Ecommerce Bytes Sellers Choice awards
for Quality, Usability, Customer Service, Communications and Most Recommended Selling Venue
---
So now,
Our Ruby Lane Shop Owners
invite You
to shop with them for the
Real Deal
on Ruby Lane ...
View More Similar Items