New Tumblers in Royal Lace PatternBy
Mark Chervenka and Johanna S. Billings
New Tumblers in Royal Lace Pattern
Royal Lace has joined the list of depression-era glassware patterns that have been reproduced. The 3 ½″ five ounce tumbler has now been made in blue.
For all practical purposes, the pattern on the reproductions is identical to originals. The easiest way to separate old from new is to examine the bottom. Original 5 oz. Royal Lace tumblers have a geometric shape with four petals molded in to the base. New tumblers do not have this design; the bottom of the reproduction is smooth (Fig. 2).
Now look at the bottom from the side. The bottoms of the reproductions are much thicker than the originals. Glass on reproductions is 3/8″ or more thick. Glass in old tumblers is usually no more than 1/4″ thick. (Fig. 3).
Another clue to age is the color. New tumblers are a much deeper blue, almost cobalt, than originals. This shows up in the photo in Fig. 1. Although the light behind each tumblers was the same, the new tumbler on the left is distinctly darker than the old tumbler on the right.
Royal Lace was originally made by Hazel Atlas ca. 1934-1941. Original colors include crystal, blue, green and pink. It used to be considered "safe" because it had not yet been reproduced, not now.
The new tumblers first surfaced in eastern Pennsylvania where a number of glass dealers bought them as originals. Most were sold by the same individual who represented the tumblers as old. On average, the new tumblers sold for $24 each. Genuine Royal Lace tumblers of this size and color would have sold for $35-$55 each.
So far, the only known Royal Lace shape to be reproduced is the 5 ounce tumbler shown here. Be alert for other shapes and colors.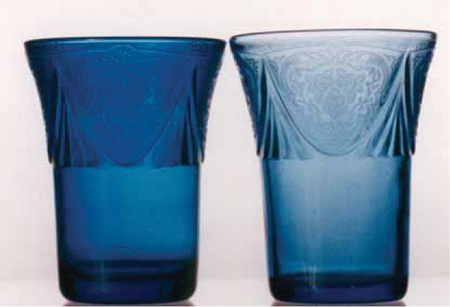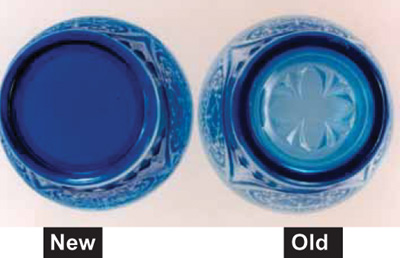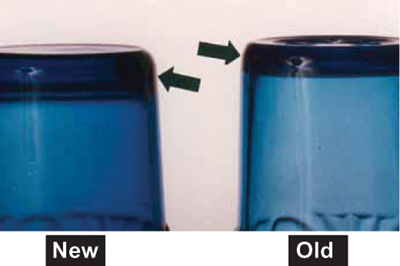 Real Or Repro is an industry resource powered by
a vetted marketplace of dealers and winner of numerous
Ecommerce Bytes Sellers Choice awards
for Quality, Usability, Customer Service, Communications and Most Recommended Selling Venue
---
So now,
Our Ruby Lane Shop Owners
invite You
to shop with them for the
Real Deal
on Ruby Lane ...