New Pottery Similar to Original Grueby and Teco ShapesBy
Mark Chervenka
New Pottery Similar to Original Grueby and Teco Shapes
Arts and Crafts styled green glazed Teco and Grueby pottery brought record prices. A 6¾″ Teco vase (Fig. 9) brought $19,550 at Christie's 20th-century auction in November 1999. Single color Grueby has been selling for $2,000-$5,000 (two color pieces have sold as high as $34,000+).
The thick mottled green glaze and simple organic shapes that characterize the originals are now recreated in a series of inexpensive reproductions by Haeger Pottery of Dundee, Illinois. Some of the new pieces are direct copies of original shapes; others are based on the general Arts and Crafts style. New samples in this article were purchased by ACRN for $25-$45.
Collectors and dealers of Grueby and Teco won't have any problems spotting the new look-alikes. But if you've only seen these potteries in reference books or auction house press release photos, you might only recall the record prices and not be aware of how new and old differ.
The new ware is slip cast in molds; the mold halves produce obvious seam lines (Fig. 6). Grueby was hand thrown and Teco was hand finished; there is never a mold seam visible on originals. The pattern molded on the outside of new pieces is visible as a mirror image on the inside (Fig. 5); originals are smooth on the inside with no pattern visible. Bases on the majority of the new pieces are unglazed; bottoms of originals were almost always glazed on the bottom.
Most, but not all, of our new Haeger samples has a very small rubber stamped black ink mark (Fig. 7). On most pieces this was covered over by the factory applied felt pads. Virtually every authentic piece of Grueby has an impressed mark (although it is sometimes hard to see because of the thick glaze). Teco was also almost always signed with an impressed mark.
The new glaze is a high quality mottled green (Fig. 8) similar to original Teco and Grueby but not as thick and with more gloss than original glazes.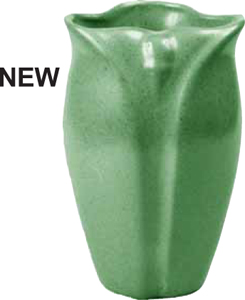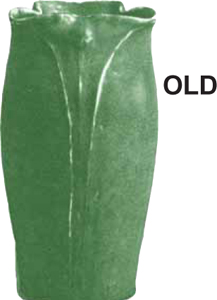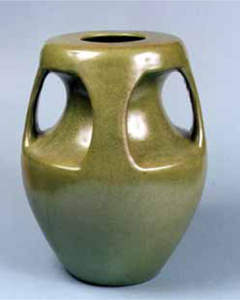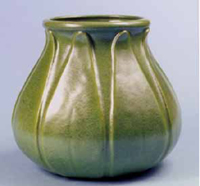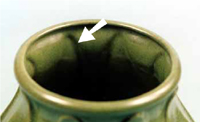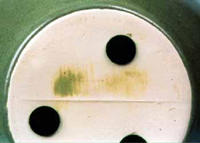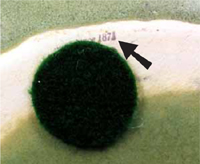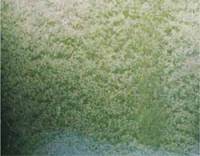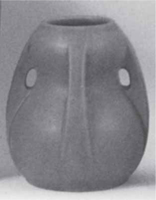 Real Or Repro is an industry resource powered by
a vetted marketplace of dealers and winner of numerous
Ecommerce Bytes Sellers Choice awards
for Quality, Usability, Customer Service, Communications and Most Recommended Selling Venue
---
So now,
Our Ruby Lane Shop Owners
invite You
to shop with them for the
Real Deal
on Ruby Lane ...