New Porcelain Figural SteinBy
Mark Chervenka
New Porcelain Figural Stein
This 6″ high porcelain skull stein was offered by a gift importer. A description says it was "made from an original mold". Its handle is a figural human bone; several of the teeth are gold colored; it has an inlaid lid.
This piece was made in Germany. Keep in mind that since the reunification of West and East Germany, new products made there can now be marked "Made in Germany" or simply "Germany" which are the same marks used from ca. 1890-1930s. Previously, German products were marked "West Germany" which was used from after WWII up until reunification.
The new skull stein looks very similar to antique originals. The metal on the sample was bright and shiny but it could easily be dulled to look old. One obvious difference is the smooth ball-shaped metal thumb lift on the lid. Almost without exception, ball-shaped metal thumb lifts are a sign of a modern reproduction. With the exception of figural thumb lifts, the vast majority of original lifts are almost always flat (they can be heavily embossed with a pattern but they are still flat).
The new stein retails for $120. Similar originals sell for $250-$450 depending on markings, lid type, handle, lid and thumb lift.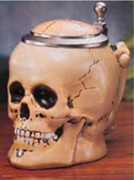 Real Or Repro is an industry resource powered by
a vetted marketplace of dealers and winner of numerous
Ecommerce Bytes Sellers Choice awards
for Quality, Usability, Customer Service, Communications and Most Recommended Selling Venue
---
So now,
Our Ruby Lane Shop Owners
invite You
to shop with them for the
Real Deal
on Ruby Lane ...