New plastic resins imitate potteryBy
Mark Chervenka
New plastic resins imitate pottery
A plastic resin that can be finished to look like antique pottery is now being used to make reproductions of toy and children's dishes.
The new set below is shown actual size. It is highly detailed and hand painted. It is left in a raw bisque finish that very successfully imitates antique pottery. Seeing these pieces on a shelf or in a showcase, you wouldn't suspect they would be new, let alone plastic.
You can identify these new plastic castings by examining their bases. First, the bases have deep scratch-like grooves (Fig. 2) left from the manufacturing process. These scratches are very unlike any in old pottery or china. Also, under the paint, the color of the plastic is an off-white custard looking color; most old toy china has a bright white colored body. You can easily remove the paint on the new pieces with fingernail polish remover.
Old toy china also has mostly unpainted bottoms as well. Painting the bottom requires an extra step and would not logically be done in manufacturing cheap toys which is what the originals were. In reproductions, however, the painted bottoms are used to cover the unsightly custard colored plastic resin. The insides of the new pieces are also painted; the insides of most old pieces is not decorated.
There were several different designs available where the sample shown here was purchased. Each set has 8 pieces. One piece in each set is marked "Made in China"; most pieces are unmarked. Retail price $16.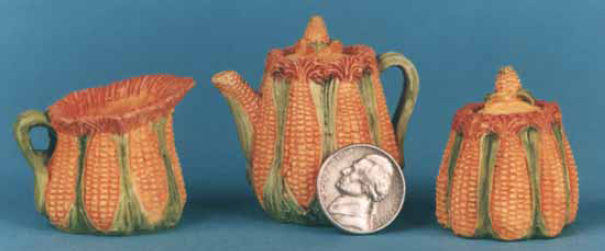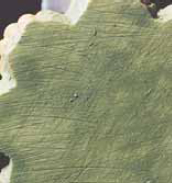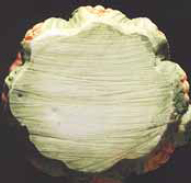 And more plastic...
These new plastic pieces are copies of collectible costume jewelry. They are made of a custard colored resin that is left with an overall shiny finish with painted details. Fig. 4 is painted ivory with brown sepia in areas of low relief; Fig. 5 is pale blue with brown sepia in low relief. Most all original celluloid has a grain pattern meant to resemble the grain in ivory; the copies have no grain. Glass makes a distinctive hard "click" when tapped against your teeth; plastic does not. The plastic backs have bubbles in the painted surface.