New Line of Majolica ReleasedBy
Mark Chervenka
New line of majolica
A New York importer introduced a new line of majolica that copied Victorian-era originals. Clockwise from upper left corner in Fig. 1 below, they are: Iris and Lotus square planter, Daisy cachepot (urn to hide ceramic flowerpot), Apple Blossom cachepot and pitcher, Daisy plate, (11" dia.), and Brown Geraniums plate. /p>
This new line, like most other majolica reproductions, is made by slip casting. Slip castings and other short cuts used in modern mass production generally leave the following clues:
1. Handles on new majolica are generally hollow and form a hole where they join the body. Old handles were solid, made separately and then applied to the body.
2. The pattern on the outside of new majolica can usually be clearly seen on the inside. Old pieces were generally made by hand pressing strips of clay into a mold which made thicker walls. The inside was then smoothed to remove fingerprints. Thin new walls follow the "back" of the pattern on the inside.
3. White bottoms generally indicate a reproduction. Old majolica has colored bottoms to hide flaws and paint drips. White highlights any imperfections and was not generally used on old majolica.
4. Bisque surfaces generally mean new. Most original majolica was used to serve food. Bisque surfaces could never be properly cleaned.
5. If the decoration, design or shape prevents a piece of tableware from functioning as a piece of tableware. Again, original majolica was made for every day use. Reproductions are made to be looked at. If a piece appears impractical or too delicate to be used at a 19th century dining table, it is probably new.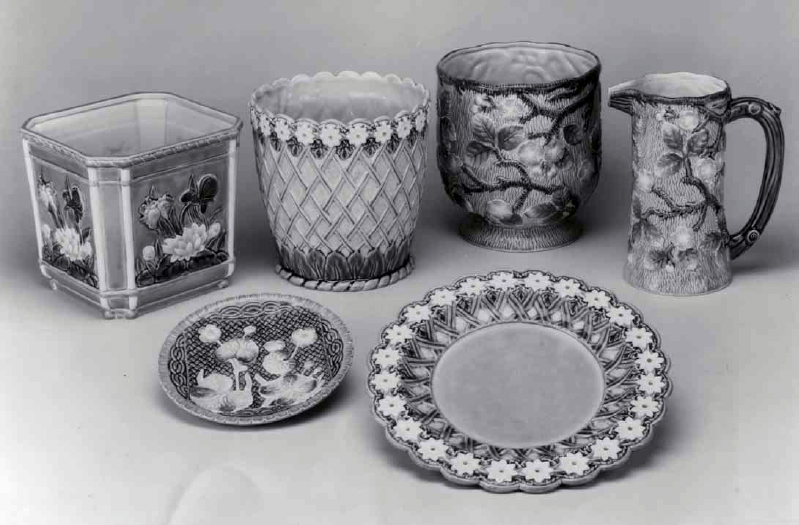 Thanks to Harry Rinker who brought these pieces to our attention.
Real Or Repro is an industry resource powered by
a vetted marketplace of dealers and winner of numerous
Ecommerce Bytes Sellers Choice awards
for Quality, Usability, Customer Service, Communications and Most Recommended Selling Venue
---
So now,
Our Ruby Lane Shop Owners
invite You
to shop with them for the
Real Deal
on Ruby Lane ...
View More Similar Items