New Kitchen Jadite Glass with DecalsBy
Mark Chervenka
New Kitchen Jadite Glass with Decals
Jadite, pale green opaque glass, has been widely reproduced since mid-1999. Other new Jadite kitchen shapes appeared with vintage-styled decals and lettering. Among the pieces available were butter dishes, shakers, mortars, sugars, creamers, cup and flower pot.
Some new pieces –sugar, creamer, cup and butter dishes– were made in molds originally used to make Imperial's Candlewick pattern. Any of those piece are automatically new because original Candlewick was never made in Jadite.
Shapes of the vast majority of vintage Jadite shakers are either flat sided or ringed cylinders (Figs. 10-11). The new shakers are octagonal with eight sides. Most original Jadite shakers are the large range size, typically holding 6-8 ounces. The new shakers are considerably smaller holding only 3 ounces.
So far the only style of lettering appearing on the new Jadite has been Old English. With rare exceptions, Old English style lettering was almost never used to label vintage Jadite kitchen glass. The two colored decals shown here–the strawberries and chicken–were not used on vintage pieces.
A very limited number of some original Jadite by Jeanette Glass did have a strawberry decoration but original strawberries were painted, not applied as decals. The new strawberry decal can be identified by the very obvious dot pattern in the flowers and berries.
No original glass mortars are known in Jadite, with or without lettering.
Prices for new Jadite with lettering or decals were: mortars, $7-$8; butter dishes, $18; creamer, sugar and tray, $23; cup and saucer, $16; flower pot, $10.50.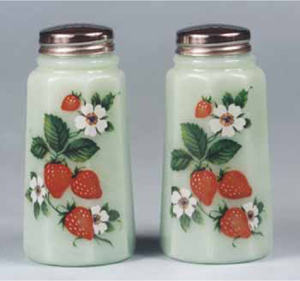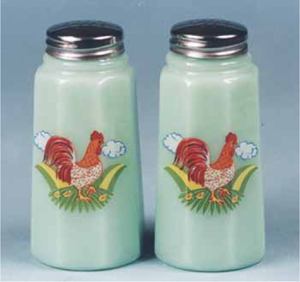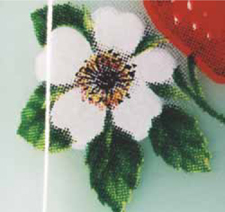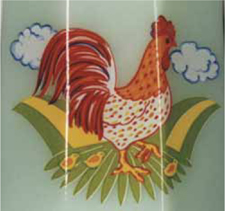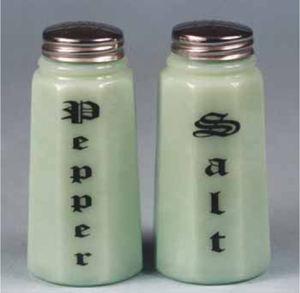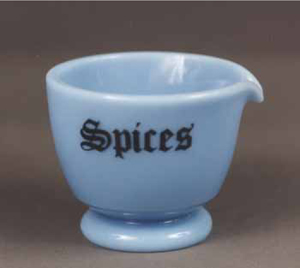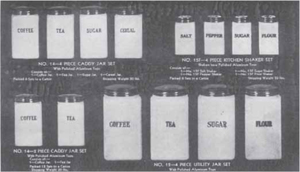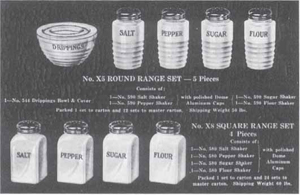 Real Or Repro is an industry resource powered by
a vetted marketplace of dealers and winner of numerous
Ecommerce Bytes Sellers Choice awards
for Quality, Usability, Customer Service, Communications and Most Recommended Selling Venue
---
So now,
Our Ruby Lane Shop Owners
invite You
to shop with them for the
Real Deal
on Ruby Lane ...
View More Similar Items