New Jadite Kitchen GlassBy
Randy & Dixie Hardesty
New Jadite Kitchen Glass
New pitchers were produced that look very similar to vintage Jadeite Anchor Hocking and Fire-King pitchers in Pillar Optic pattern, often called Melon. The new pitchers were made in China and imported by Gibson. The only marking is a white paper label (Fig. 10.)
Original Jade-ite Anchor Hocking ball pitchers were made in a smooth surface, no pattern (with and without advertising); Manhattan (horizontal ribbed); Target (sometimes called Bull's eye); and Swirl (curved ribbing). No old ball pitchers in Jade-ite have ever been found in Pillar Optic although a few old pitchers in that pattern have been found in Ivory. Swirl has a sort of backwards S pattern from top to bottom; Pillar Optic is a series of evenly spaced parallel ribs running from top to bottom.
You can easily tell the difference in the old and new Pillar Optic pitchers by measuring from the base to the spout. The old is 6" from the base to the lip and the new is 5 ¾" from the base to the lip. New pitchers are also about twice as heavy as new. The old is about 2 ¾ pounds; new is close to 4 ½ pounds. There are also dull areas, mold imperfections, broken bubbles in the surface and other flaws. The quality of new handles varies from piece to piece. Some new pitchers have handles attached almost exactly like original handles while other new handles are not fully attached to the body. New ball pitchers do not have a permanent mark but neither do the originals by Anchor Hocking.
Jade-ite is Anchor Hocking's brand name for opaque green glass
jadite is a generic name of any opaque green glass by any maker
The jadite Pillar Optic knockoffs retailed for $24.95. Some have been sold on internet auction sites, for as high as $200. Auction prices came down as buyers learned that the pitchers were in their local Target stores.
Target also sold a clear crystal version of the Pillar Optic pitcher. The clear pitchers are made by Anchor Hocking in the U.S.A. and have the label shown in Fig. 11. New clear pitchers may have also been made in the swirl pattern, but this has not been confirmed.
Anchor Hocking had intended to reintroduce a number of pieces of the Fire-King restaurant line in conjunction with Restoration Hardware. The initial quality was so bad, the project was cancelled. The test pieces that have made it into the public market appear to be the Fire-King D-handled mugs (Fig. 17) which initially surfaced in the Lancaster, Ohio area. New mugs are taller than the vintage D handled mugs, measuring 4″ tall, and 3 3/8" across the opening. Old cups are only 3 ½" tall and 3 ¼" across the opening. The mark is also different. New mugs are marked "Anchor Hocking Fire-King 2000" and the anchor logo. Old mugs have the original molded mark, "Fire-King, Oven Ware, Made in USA" (Figs. 19-20). New mugs are also low quality with numerous flaws.
Reproduction jadite is also sold through Cracker Barrel, a chain of restaurants with large gift shops. They sell a round salt and pepper set, Crisscross pattern canisters and Crisscross butter dishes, horizontal ribbed tumblers, and a large Swirl batter bowl. Hazel Atlas made the original Crisscross pattern but jadite was never an original production color. Any Crisscross found in jadite is automatically a reproduction.
The biggest surprise is how similar the new Cracker Barrel 6 oz. round horizontal ribbed shakers are to vintage shakers of the same shape by Jeanette (Figs. 21). The key difference is the neck on the new (Fig. 22) Old lids fit on these new shakers. All of the Cracker Barrel pieces are a mint green, very similar to original Anchor Hocking Fire-King Jade-ite.
Editors note: The great majority of new jadite made in China cannot be used in microwaves. Some collectors have been buying new thinking it would be fun to serve food in jadite but don't do it. Chinese made jadite can shatter in microwaves. It is also very sensitive to sudden changes in temperature.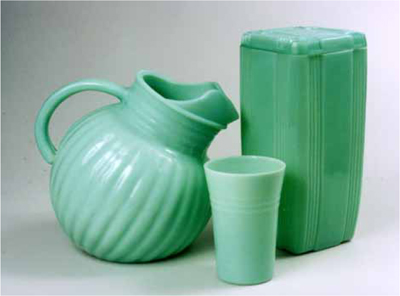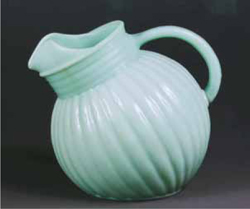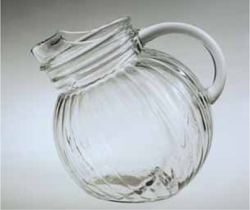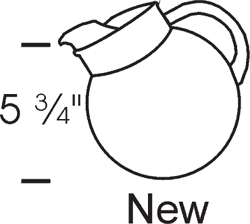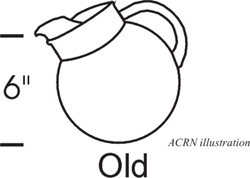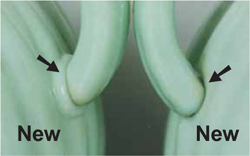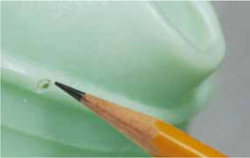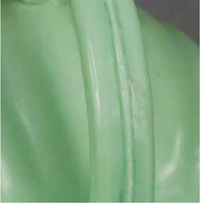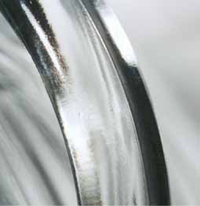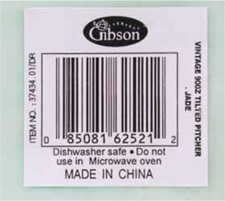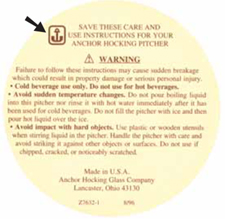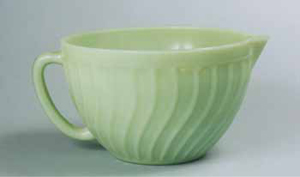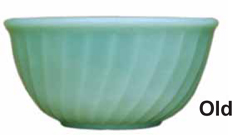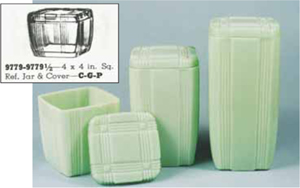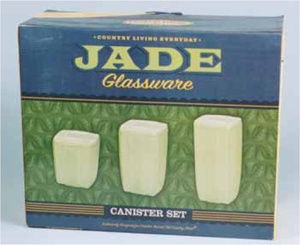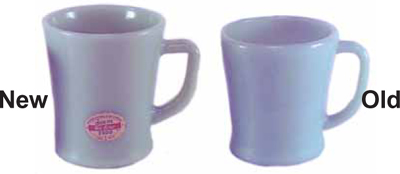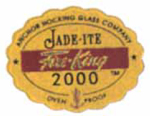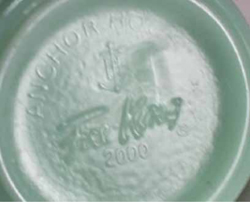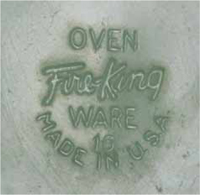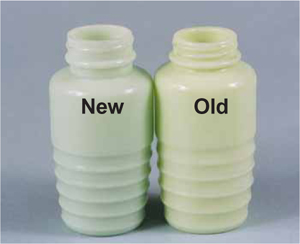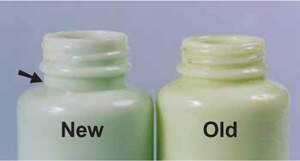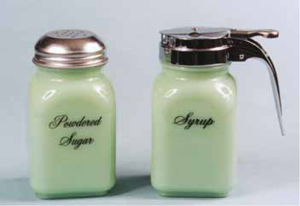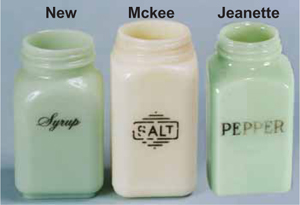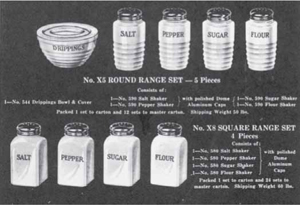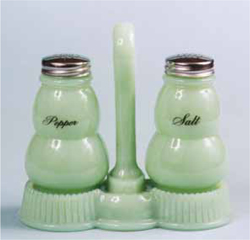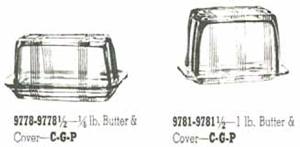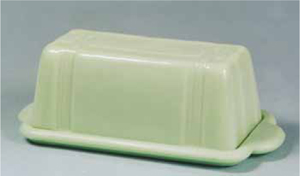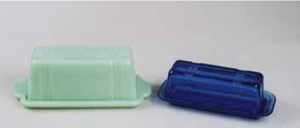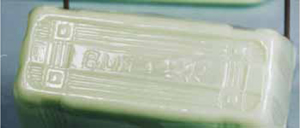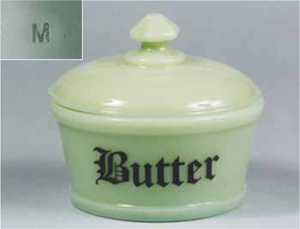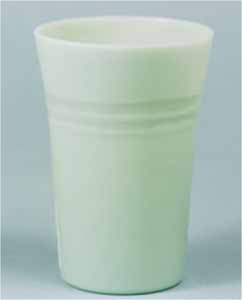 Real Or Repro is an industry resource powered by
a vetted marketplace of dealers and winner of numerous
Ecommerce Bytes Sellers Choice awards
for Quality, Usability, Customer Service, Communications and Most Recommended Selling Venue
---
So now,
Our Ruby Lane Shop Owners
invite You
to shop with them for the
Real Deal
on Ruby Lane ...