New Glass from China Resembles Venetian and Czech Vintage GlassBy
Mark Chervenka
New Glass from China Resembles Venetian and Czech Vintage Glass
Hand-formed new glass from China continues to copy vintage collectible styles. Two of the most recent styles to be copied include look-alike Venetian, or Murano, glass figurines and Czech vases.
Although most experienced collectors and dealers in these categories shouldn't have too much trouble identifying these latest products, beginners and the general public often mistake new for old. Just keep in mind the great majority of collectible production-grade Venetian figurines have solid glass bodies. Many look-alike figurines from China (and Mexico) generally have hollow glass bodies.
Eyes are also a good test. Vintage eyes are almost always made of applied separate pieces of glass. If the eyes are formed by twisting the glass that forms the body, it's probably a modern piece. The new rooster figure shown here has something completely unique...no eyes! The glass in the area where the eye would normally appear has been entirely removed. The resulting hole passes through the entire head.
The 11-inch vase shown in Fig. 3 is a reasonably accurate copy of Czech vases originally made between the world wars, ca. 1919-1939. This example even has a ground pontil. A transparent amethyst glass band spirals around a yellow trumpet-shaped body.
The glass is too thick, almost one-quarter inch in the sides and base. There are numerous tiny bubbles in the surface. The pontil shows obvious grinding marks.
Both of these new pieces arrive from the wholesaler with "Made in China" paper labels. Wholesale price is less than $10 for each piece.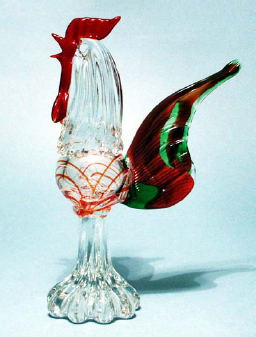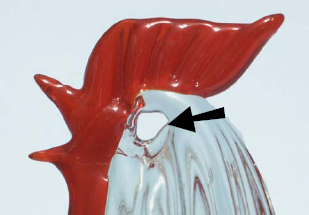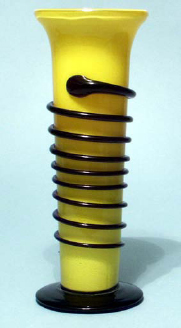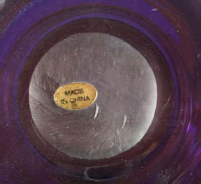 Real Or Repro is an industry resource powered by
a vetted marketplace of dealers and winner of numerous
Ecommerce Bytes Sellers Choice awards
for Quality, Usability, Customer Service, Communications and Most Recommended Selling Venue
---
So now,
Our Ruby Lane Shop Owners
invite You
to shop with them for the
Real Deal
on Ruby Lane ...
View More Similar Items