New Decorative Technique Found in Latest ReproductionsBy
Mark Chervenka
New Decorative Technique Found in Reproductions
A new method of decorating ceramics is being found on recently examined reproductions. The new method can essentially decorate the entire object with one transfer. This technique eliminates almost all hand decoration by semiskilled workers and allows virtually unskilled workers to complete the decoration of an entire object.
The new process is somewhat similar to decoupage in that the entire decoration–background and design or pattern–is printed on a single large sheet. The entire sheet is then positioned on the object, glazed, fired and completed. The traditional transfer method of decorating ceramics is to spray or hand paint a background, let it dry or fire it, then apply a design or pattern. The piece would typically be glazed and fired again.
We probably wouldn't have noticed any difference in the technique if we hadn't conducted a routine examination under black light. The long cuts to make the transfer bend around the curved surface of the vase fluoresced brightly as vertical lines. We were then able to examine the lines under a 10X loupe and discovered how this technique worked.
The transfer process itself is not necessarily a sign of a modern reproduction. Transfers have been used to decorate ceramics since the first quarter of the 19th century. The reason transfers were first created was to mass produce decorations that were previously created only by hand painting. Transfer decorated ware brought inexpensively decorated goods within the reach of middle class households. Transfers only become a potential source of trouble when they are represented as hand painted decorations, not as transfers.
The fairy vase discussed here could only be mistaken for a 19th century hand painted object only if the buyer did not inspect it with a 10X loupe or a black light. The allover transfer method used on the piece in this article was never used, to our knowledge, in either the 19th or 20th centuries.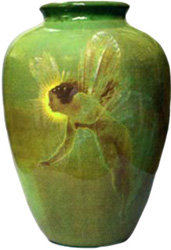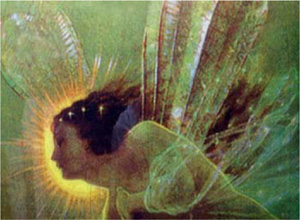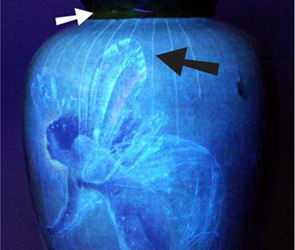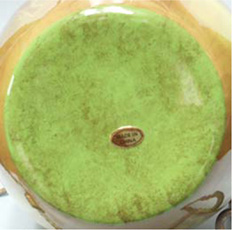 Traditional transfer method

New transfer method