New Cranberry Glass Rolling PinBy
Mark Chervenka
New Cranberry Glass Rolling Pin
Review of Other Reproduction Glass Rolling Pins
The blown cranberry example (Fig. 1) is one of many reproduction glass rolling pins on the market. It is 14½″ long, about 2¾″ diameter. Released in July 2000, it was made by Pilgrim Glass Company in the United States; wholesale price, $45.
The vast majority of collectible original glass rolling pins were produced from 1920-1940. Originals were made in opaque and transparent colors as well as clear. Colored pins are the most desirable original pins with rare colors such as McKee Glass opaque light blues (Chalaine and Delphite) with metal capped ends priced at $1500+. Original blown pins in transparent colors average $125-$250 depending on color.
The great majority of original glass pins fall into one of four categories: blown glass with hollow handles, blown (art) glass with solid handles, pressed glass with metal cap and a multi-piece pins held together with a metal rod or wooden dowel (Fig. 4 opposite page). Among the most widespread reproductions are the pressed glass with metal ends and blown art.
By far the most common reproduction pin is the style with a metal screw on cap. Any pin in this style in transparent colored glass is automatically a reproduction. The only authentic glass rolling pins with screw on metal caps made in transparent glass were clear colorless pins which only sell for $10-$20. All original colored glass pins with metal screw on caps are made of opaque glass like McKee's Jadite, etc.
Once you have determined the pin is original, how can you tell if the cap is old? Most screw-on metal ends found on new glass rolling pins are steel with some type of plating. This means magnets stick to most all new caps. Most old original caps on the opaque colored glass are made of nonmagnetic aluminum.
Also check how easily the cap fits the pin. Threads in new and old glass are usually different and caps are seldom interchangeable. If a cap doesn't thread smoothly or if the threads show abnormal wear from pounding or grinding, it could be that the cap is a replacement.
Of course the basic value is determined by the glass pin. Original caps are nice but don't affect the overall value unless very unusual.
The next most commonly reproduced style is the so called "art glass" pin with solid or very nearly solid handles. This almost torpedo-shaped pin is based on a form originally developed in England in the 19th century as a novelty item. Originals usually carried cold painted slogans or sentimental verses such as "To my love" etc., and were displayed on walls hanging from ribbons attached to the heavy handles. They were never used in the kitchen to prepare food.
Originals in this style were mostly made of inexpensive glass in bottle green, blue or amethyst or in opaque white. Although most had only painted decoration, a few examples did have simple glass threading. Reproductions of this style, however, are elaborately decorated with 3-6 different colors of threading in tightly controlled patterns. Any pin in this style with threading of more than one color should be viewed with extreme suspicion. Such "art glass" pins are a fantasy creation with no original counterparts.
Another fantasy to watch for are the so-called "advertising" pins. These are easy to spot because the one reproduced so far have raised molded lettering on the outside of the pin. Raised letters are totally illogical; how could you ever flatten the dough with the letters cutting into it? There are some original glass pins with advertising but original words are etched or painted on the outside of the pin, never molded in raised glass.
No reproductions of multi-piece pins (Fig. 4-A) are known of at this time.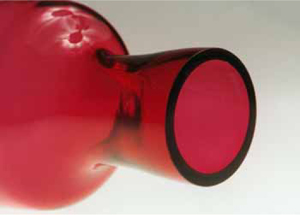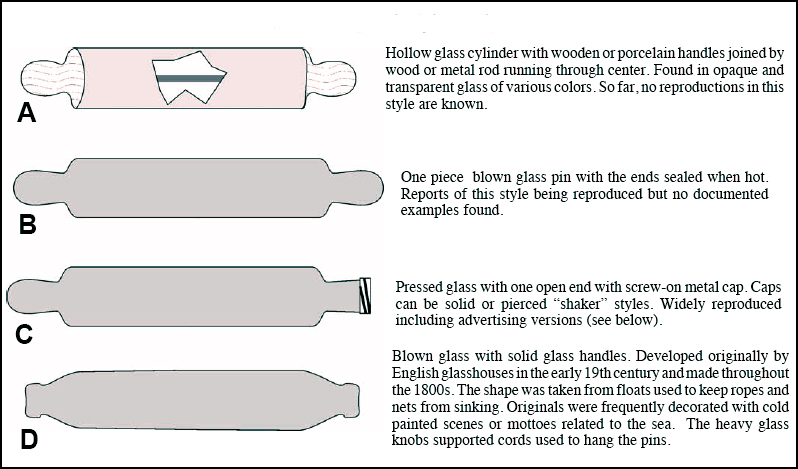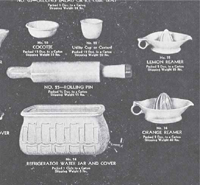 Real Or Repro is an industry resource powered by
a vetted marketplace of dealers and winner of numerous
Ecommerce Bytes Sellers Choice awards
for Quality, Usability, Customer Service, Communications and Most Recommended Selling Venue
---
So now,
Our Ruby Lane Shop Owners
invite You
to shop with them for the
Real Deal
on Ruby Lane ...