New Copies of Pressed-Back Kitchen ClocksBy
Mark Chervenka
New Copies of Pressed-back Kitchen Clocks
Hand carved reproductions of machine stamped originals
Most reproductions are usually machine-made mass produced copies of hand made originals. In the case of new pressed-back style kitchen clocks, however, this situation is reversed. The reproductions are hand carved and the originals are machine made.
The elaborate designs of original pressed-back kitchen clocks were stamped, or pressed, into the wood cases by massive molds and dies. Hence the name "pressed back" which also refers to furniture decorated in this manner. Most pressed-back clocks and furniture were made of solid oak. Highly skilled master engravers created beautiful designs in geometric and naturalistic patterns, commemorative of important events such as World Fairs and the Spanish American War and portraits of political and historical figures such as President McKinley and Admiral Dewey. The oak pressed-back kitchen clock was at the height of its popularity, ca. 1890-1915.
Decorations on the new imitations are hand-carved. The cases are tropical woods, usually some species of mahogany, which are stained to look like American oak. You can detect new cases by tool marks created by carving. Curves, balls and spheres on originals, for example are perfectly smooth and symmetrical because they were stamped in a precision die or mold. Cases carved by hand show irregular lines with flattened curves. Many cutting lines extend down below the surface (Figs. 2-3). No such lines are found on originals. New clocks have 31 day movements; virtually all originals have 8 day movements.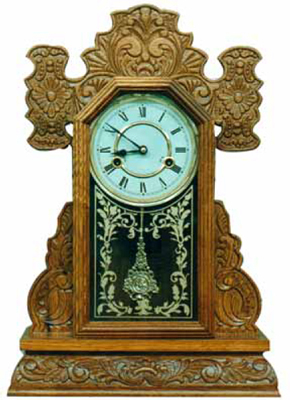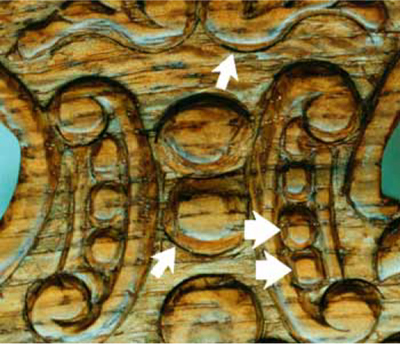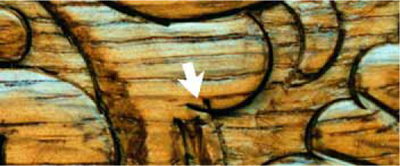 Real Or Repro is an industry resource powered by
a vetted marketplace of dealers and winner of numerous
Ecommerce Bytes Sellers Choice awards
for Quality, Usability, Customer Service, Communications and Most Recommended Selling Venue
---
So now,
Our Ruby Lane Shop Owners
invite You
to shop with them for the
Real Deal
on Ruby Lane ...