New Cameo Glass in Old DesignsBy
Mark Chevenka
New Cameo Glass in Old Designs - Specific Patterns and Decorative Techniques Copied
Cameo glass reproductions have taken another step towards becoming more like vintage originals. While copies of old signatures and marks have been used for years now, this batch of reproductions has duplicated old patterns and tries to imitate specific decorative techniques found on original French cameo glass.
One of the techniques the new pieces try to copy is that known as "mold-blown." In regular cameo glass, only the shape was formed by blowing glass in a mold. The pattern was created in glass overlays cut away with acid.
In mold-blown cameo, a deep pattern is cut into the mold. During blowing, glass was forced into the pattern which raised the pattern above the surrounding surface. The pattern's height was emphasized by wheel polishing the raised areas further increasing the contrast between the pattern and the frosted background.
Virtually all pre-1930 mold-blown cameo glass was made by the Galle factory. Galle introduced their blown-out wares around 1924 in preparation for the 1925 Exposition Universelle. Most pattern subjects in this line were fruits and vegetables such as apples, pears, lemons and oranges which appeared on a variety of vases, lamps and even ceiling fixtures. Perhaps the most unusual piece in Galle's mold-blown series is a vase with elephants, one of the vases now being reproduced.
There are two ways to catch the majority of new cameo glass that imitates the blown-out originals. First, the patterns on the great majority of new wares (Figs. 1,3) sold as blown-out, are not produced by blowing in molds. The hollow raised portions of the designs are made by grinding away the inside of the piece (see Fig. 4). In other words, the area behind the raised design has been hollowed out by grinding, not pushed out by blowing.
Depending on the size of the mouth, you can look down inside many new blown-out pieces and see the grinding. If the mouth is large enough, you can reach inside with your fingers and feel the rough texture behind the pattern. The areas behind the patterns in vintage Galle blown-out pieces are hollow and perfectly smooth.
The other way to catch most new blown-out pieces is to closely examine the finish on the raised areas of the pattern. The great majority of original raised blown-molded patterns were wheel polished and have a shiny finish. Raised patterns on the new blown-molded pieces are almost always the same frosted surface as the background areas surrounding the pattern.
The folks making the new cameo glass aren't what one would call glass historians. Even though Galle pioneered the mold-blown technique and made virtually all vintage mold-blown cameo, it is not unusual to find new mold-blown style cameo with marks other than Galle.
"Hammering," one of the most sought after finishes in vintage cameo glass, is another technique found in reproductions. The vintage hammered effect was produced by going over the surface of the glass with a small rounded grinding burr. Lightly touching the surface with the burr produced a shallow concave depression similar to "dents" produced by hitting metal with a hammer (like the hammered copper and silver of the Arts and Crafts period).
Various degrees of hammering were used by several makers of pre-1930 French cameo glass including Galle and Daum. The new example shown in this article happens to be marked Daum (Figs. 9-10) but you could find other new hammered pieces with marks of other vintage makers.
Generally, the new hammering is much cruder than original treatments. In the new example shown here, the hammering has a very definite rigid border. Most original hammering was either over the entire surface or gradually faded in and out of selected backgrounds (Fig. 11). Old hammering "dents" are rarely over one-quarter inch across; anything larger should be inspected closely. Old hammering usually has a soft rounded appearance from acid polishing or wheel polishing after it was ground. The new hammered surfaces are much sharper and do not generally show any sign of further finishing.
One of the most reliable and easiest tests for dating cameo glass is to check the base for a ground pontil (Figs. 12-17). Almost without exception, French cameo glass made before 1930 will have a ground pontil. By contrast, virtually no piece of new cameo glass has a ground pontil. Grinding through the colored layers of glass gives old pontils a distinctive pattern of concentric rings in the base that new piece just don't have. If a seller is offering you a piece of what they claim is vintage cameo, be very suspicious if there is no ground pontil. There is a slight chance it may be old, but a very much greater chance it is new. The point being that the lack of a ground pontil is a warning sign to be extra careful in your examination.
Signatures and marks are the most unreliable tests of age. Virtually every vintage mark is being reproduced on new cameo glass. Most of these new marks are exact copies of vintage marks including many variations especially of Galle. Even marks of relatively obscure and small manufacturers have been copied.
There are only a few marks that conclusively prove a piece of cameo glass is a reproduction. One of the most obvious is the mark T-I-P. These three letters in raised glass appear on reproduction Galle made in Romania. The exact style and size of the letters vary in appearance (Figs. 20-22). The location of TIP relative to the location of the Galle mark can also vary considerably. Sometimes the two marks are almost touching but can be separated be as much as eight or more inches. Some sellers attempt to explain the TIP mark as an "apprentice" to Galle or as an "export" mark. Neither, of course, is true. Any piece with the TIP is new.
Attempts are frequently made to remove TIP marks by grinding them away. Whether this is successful depends on the skill with which it's done. Unskilled do-it-yourself work with a Dremel-like tool is generally easy to spot. Glass repair shops, however, can remove the marks virtually without a trace. Of course, such professional work only adds to the cost of the reproduction. Most people who sell reproductions usually don't waste the time to have such work done. Just be aware that it can be done.
Other marks which should immediately set off alarm bells are those marks which cannot be found in any reference books on vintage cameo glass (Fig. 19). Be logical. What are the chances of the mark of a legitimate vintage manufacturer being unrecorded? If a seller claims a previously unreported mark is from an authentic vintage maker, let them prove it. Ask them for some kind of documentation. If the mark isn't listed in an auction catalog, a reference book on cameo glass or a book of glass marks, you have every right to be skeptical.
You should also be suspicious of unrecorded forms and unusual shapes. In this latest group of reproductions, for example, traditional stained glass panels have been adapted to the cameo glass technique (Figs. 23-24). Although some religious subjects and icons are occasionally found on pre-1930 French cameo glass vases and other regular production items, there is no record of any flat rectangular panels being made. Unless further research can prove otherwise, these cameo glass panels should be highly suspect.
And finally, where you find one bad piece, odds are there will be more. The great majority of these new pieces are sold by importers who operate on volume. Persons selling the new pieces at retail or in online auctions couldn't buy just one piece. They had to buy an arm load. Look around the show booth, mall case or other auction listings. If you are unsure about one piece, fine. But when there are 20-30 pieces that are questionable, be extra careful.
To verify marks on cameo glass we suggest:
Blount French Cameo Glass, Wallace Homestead, 1968 (out of print).
Hartmann, Glasmarken Lxikon 1600-1945. Arnoldsche, 1997. (German text, average retail around $300, expensive but useful)
Pullin, Glass Signatures and Tradenames, Wallace Homestead, 1986 (out of print).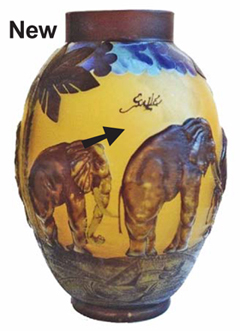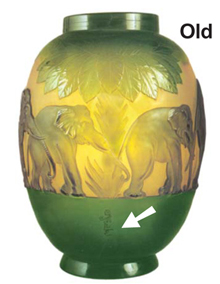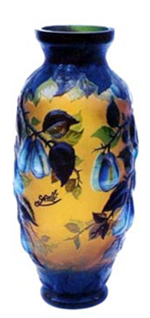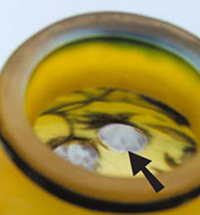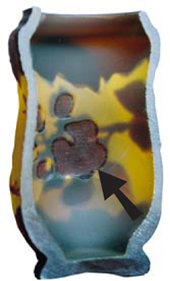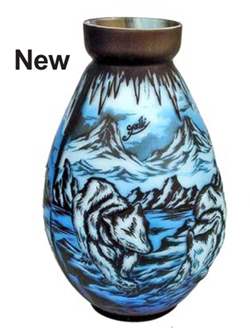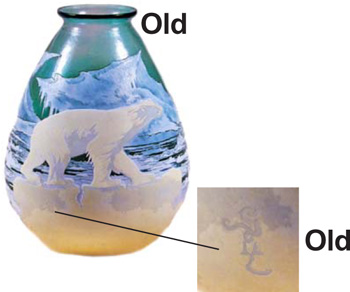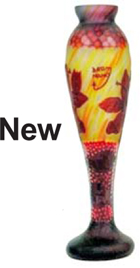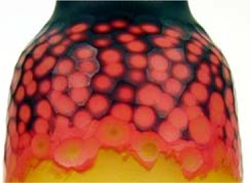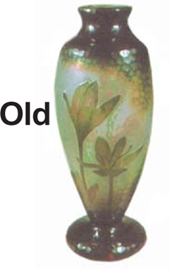 Pontils as a Clue to Age
Nearly all vintage pieces of French cameo glass have ground pontils. The pontil is the area on the base where a pontil rod, a metal stick, was fastened to the glass. Workers held the pontil rod as the hot glass received its final finishing and decorating. Removing the rod left a rough spot, or pontil mark, in the base. This was ground out to leave the base smooth. Grinding pontils in cameo glass almost always cuts through two or more colors–the body and one overlay or two or more overlays. This produces concentric rings of colors (Figs. 12-17). Finding ground pontils on reproduction cameo is very rare. New cameo almost never has a ground pontil. As a general rule, any piece of cameo glass marked with the name of a major vintage manufacturer like Daum or Galle that does not have a ground pontil should be viewed with suspicion.