New Bulls Head Mustard Jar in VaselineBy
Mark Chervenka
New Bull's Head Mustard Jar in Vaseline Glass
Ross Wholesale Glass used a bull's head mustard jar mold made for LG Wright to produce a jar in vaseline glass. New jars were available in either regular or satin finish; wholesale price $13.50-$15.50.
The Wright mold dates from about 1960. The original bull's head mustard jar from which Wright's mold was copied was made by Atterbury & Company which patented the design in July, 1888. The vast majority of Atterbury originals are in milk glass but other original colors include clear crystal and transparent blue. No Atterbury originals have ever been documented in vaseline.
All Atterbury originals are marked on the bottom of the base in molded letters "Pat appld for". L.E. Smith made earlier reproductions including purple slag with no mark on the base. The current vaseline version has no mark on the base but is marked with a molded R up inside the lid. The R in keystone is the mark of Ross Wholesale Glass Co. Rosso makes no glass itself but jobs out molds it owns to various glass factories.
The Ross mark is extremely faint and very difficult to see. Although we knew the piece was marked, we couldn't find it; we had to call Rosso's to ask them where the mark was placed. It is located on the inside of the lid in the forehead area (see arrow, Fig. 2).
Molds of LG Wright Glass were liquidated at auction in May 1999. Since then, many Wright molds have gradually been put back in production by the new owners.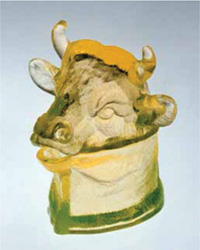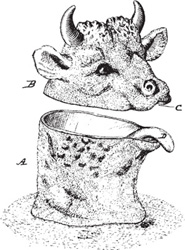 Real Or Repro is an industry resource powered by
a vetted marketplace of dealers and winner of numerous
Ecommerce Bytes Sellers Choice awards
for Quality, Usability, Customer Service, Communications and Most Recommended Selling Venue
---
So now,
Our Ruby Lane Shop Owners
invite You
to shop with them for the
Real Deal
on Ruby Lane ...
View More Similar Items