New and Old Marks on Glass from Eastern EuropeBy
Mark Chervenka
New and Old Marks on Glass from Eastern Europe including Loetz, Moser, Czech
Mention "Czech glass" today and most collectors automatically think of the bright colors and Art Deco shapes made between 1918 and 1938. But that time period and those pieces represent only a fraction of the centuries-long tradition of glass making in Eastern Europe.
This article will review marks on the most frequently found antique and collectible glass from this region made 1875-1938. The date of 1938 was chosen as the cutoff because most glass manufacturing was stopped around that date as World War II loomed and most production stopped until the end of the war.
Many products and glass making techniques from this region have changed little over the years. Shapes, colors and styles of 100 years ago are continuing to be produced. Some of these pieces can be easily confused with old especially when they carry fake and forged marks. The examples in the this article show the correct versions of many major marks and how to avoid the most common fakes and forgeries.
Barolac
Barolac is a mark found on a line of frosted glass made by the Czechoslovakian firm of Joseph Inwald, ca. 1920-1938. Some original pieces are opalescent, as well as frosted. If marked, pieces usually have Barolac in molded cursive lettering. Other pieces are simply marked Czechoslovakia in molded block letters.
There is some confusion about the relationship between Barolac and the British merchant John Jenkins. Inwald glass will sometimes be found with paper labels having both Barolac and Jenkins' names. Some have interpreted Barolac labels as a trade name of Jenkins, but that does not appear to be correct. Inwald apparently did contract work for Jenkins and made certain specific items for Jenkins' exclusive use.
Czechoslovakia
The nation of Czechoslovakia did not exist until the end of World War I. The country was formed in 1918 from Slovakia, Bohemia and Moravia. After the collapse of Communism in the early 1990s, Czechoslovakia continued as one nation until January 1993. At that time, Bohemia and Moravia formed the Czech Republic; Slovakia became the Republic of Slovakia.
From 1918 and 1938, many pieces of glass were marked "Czechoslovakia." This mark is used by collectors to date Czech glass made between the world wars. Most glass marked Czechoslovakia only, however, can rarely be traced to a specific company (see Loetz and Kralik for exceptions).
Kralik
Wilhem Kralik Söhne was an important glass works in the Austria-Bohemia region of eastern Europe. It was founded in 1815 and made high quality art glass through 1933.
Although the name Kralik does not appear on its glass, the company used a very distinctive "Czechoslovakia" mark, ca. 1919-1933. This mark appears as an arched acid stamp. Note that the two letter Os are split down the center. Robert and Deborah Truitt, Bohemian glass experts, estimate 60 to 70 percent of pieces with this mark are Kralik products1.
Most authentic marks on ca. 1918-1938 Czech glass were rubber-stamped in acid or ink although some were molded or sandblasted. Until recently, it generally hasn't been worthwhile to forge marks on 1918-1938 Czech glass because prices were relatively low. Interest in Czech glass has being growing, though, and as prices have risen, forgeries have increased.
The best advice to avoid new marks is to never base your buying decisions on marks alone. Design, color and details of construction are better indications of age, quality and Czech origin than marks.
Loetz
Johann Lötz never owned the glass business that bears his name. The iridescent glass known by his name was made at a glass factory started by his widow, Susanna, in 1851. She named the business "Johann Lötz Witwe" (the widow of Johann Lötz). The business began making common objects but turned to art glass in 1879 when Johann's grandson Maximilian Von Spaun II took control of the business. Around the turn of the 1900 century, spelling of the business name was changed from Lötz to Loetz. Pieces made for export, if marked, usually read "Loetz, Austria."
Far more iridescent Loetz was originally unmarked than iridescent glass made by Tiffany or Steuben. Before Loetz prices began rising in the 1990s, many originally unmarked pieces of Loetz carried forged signatures of other makers like Tiffany or Steuben. Now that Loetz prices equal or exceed those of other makers, earlier Tiffany and Steuben forgeries are being ground off and faked Loetz marks applied. A number of relatively low-value pieces by other makers have even had their authentic original marks removed and faked Loetz marks added.
There are a couple of simple rules to keep in mind when examining suspected Loetz marks. First, no original Loetz mark which included the word "Loetz" or "Lötz" was acid stamped. Any acid-stamped mark with the word Loetz or Lötz is a forgery. All original engraved marks with Loetz or Lötz are wheel engraved. Any mark engraved with a diamond-tip pen or electric pen is almost certainly a forgery.
Between the wars, ca. 1919-1939, some glass made by Loetz was marked Czechoslovakia in acid-stamped letters. Two marks in particular–Czechoslovakia in an oval and Czechoslovakia in a rectangular box–have about a 90 percent probability of being Loetz, according to Robert and Deborah Truitt1. Remember, though, that neither Loetz nor Lötz ever appeared in an acid mark; it was only the word Czechoslovakia.
Permanent marks of any kind are virtually unknown on authentic production-grade Loetz iridescent glass shades. Any iridescent glass shade marked Loetz or Lötz should be suspect unless the seller can provide convincing documentation.
Virtually all original Loetz vases have fire-polished top rims and ground pontils on the base. Many iridescent look-alikes with forged marks have sheared top rims and no ground pontil.
1. Truitt, R & D. Collectible Bohemian Glass 1880-1940 © 1995 and Collectible Bohemian Glass Vol II, 1915-1945 © 1998.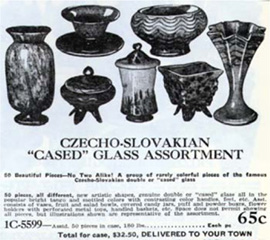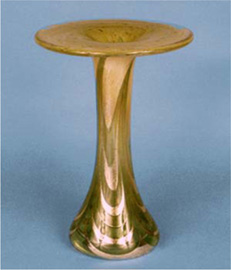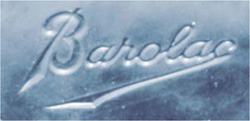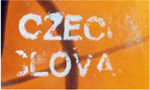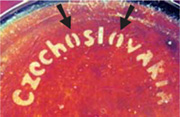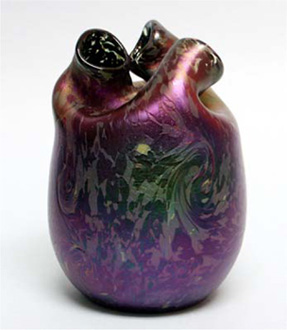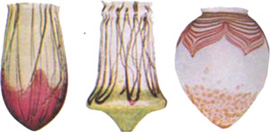 Authentic Loetz Marks - Engraved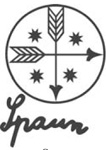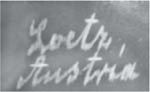 Loetz Marks - Acid Etched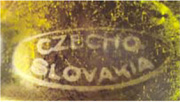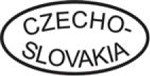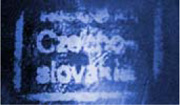 Loetz - Raised (Cameo)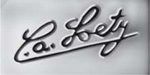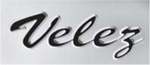 Lucidus
Typical Fake and Forged Loetz Marks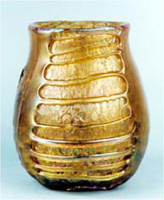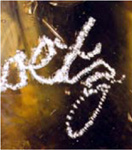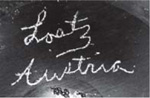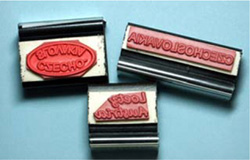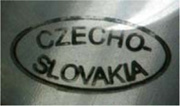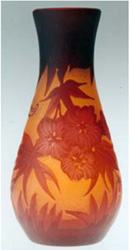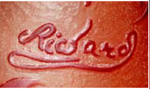 Moser
Ludwig Moser founded several glass decorating studios in the middle of the 19th century and a glass factory in the early 1890s. From the 1860s to 1893, the Moser firm decorated blanks from other glass houses. Moser began making its own glass in 1893, when Ludwig Moser's four sons were brought into the business.
The business went bankrupt during the 1930s and production was severely limited until the end of WW II in 1946. After the war, the company resumed production and remains in production today.
The Moser specialty was enameling for which it is best known but also worked with cutting and engraving as well as cameo and acid etching. Moser designs have spanned many different styles of decorating including Art Nouveau, Art Deco, and Modernism.
Forgeries of Moser marks are frequently applied to new glass as well as genuinely old but unmarked wares of other makers. The most common targets of forged marks are enamel decorated pieces and cut tableware.
The Moser marks shown below are only some of the many marks the company used. A more extensive list can be found in Truitts' Collectible Bohemian Glass Vol II, 1915-1945
Authentic Moser marks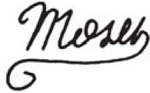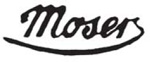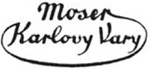 Common Moser Forgeries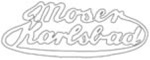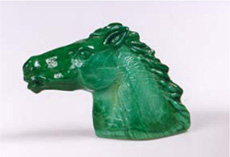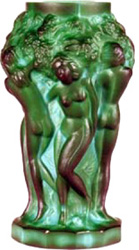 Moser, Kolo
Kolo Moser was an Austrian glass designer who worked for Loetz, Kralik and Egermann. His monogram, below, appears on some designs he made for Loetz, as well as independent work made from his designs at other firms. Usually appears as a raised glass monogram. Not to be confused with the LMK monogram of Ludwig Moser, Karlsbad (see Moser listing).

Harrach
Harrach is a Bohemian glass works founded ca. 1714, still in operation today. The so-called "propeller" mark, generally attributed to the English firm of Thomas Webb, is actually a Harrach mark. Research by Robert and Deborah Truitt have positively traced the origin of the mark to Harrach family coat-of-arms. The Truitts have documented examples of the mark on various Harrach pieces as well as printed uses of the mark such as the label shown here. The "propeller" marks may be stamped or painted; usually found in black but occasionally in red. Forged propeller marks applied to pieces which are offered as Webb, are fairly common.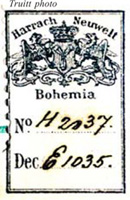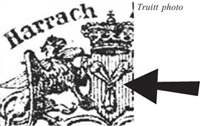 Real Or Repro is an industry resource powered by
a vetted marketplace of dealers and winner of numerous
Ecommerce Bytes Sellers Choice awards
for Quality, Usability, Customer Service, Communications and Most Recommended Selling Venue
---
So now,
Our Ruby Lane Shop Owners
invite You
to shop with them for the
Real Deal
on Ruby Lane ...
View More Similar Items