New Zeppelin Cocktail ShakerBy
Mark Chervenka
New Zeppelin Cocktail Shaker
It's hard to decide when a trend starts. When the first Roseville Pottery reproduction vase appeared, it couldn't be foreseen that within six months over 100 new Roseville shapes would be in the market.
In February 1999, when the first copy of a $1,000+ Art Deco-era cocktail shaker appeared, it was assumed to be a onetime product. The next 12 months proved quite the contrary. It seemed every 3 to 4 months yet another reproduction of some high-end figural shaker was rushed on the market. The same happened with this new 12″ silver plated Zeppelin complete with wheels.
Although this shaker is not an exact copy of a specific well known original, it certainly is very close to the general form of all vintage Zeppelin shakers. And certain to cause confusion once in the antique market.
As a general rule, the vast majority of authentic Zeppelin shakers were made in Germany and are stamped Germany in the metal. This new shaker has no markings. Many, but not all, vintage German Zeppelin shakers featured accessories fitted within the body. Prices for originals range from $750 to $5,000+. Retail price for the new Zeppelin is $55.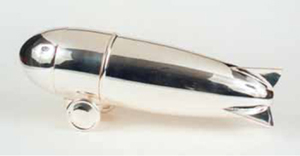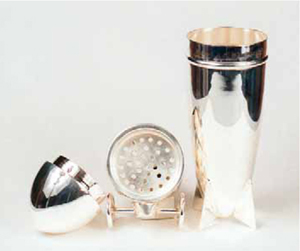 Real Or Repro is an industry resource powered by
a vetted marketplace of dealers and winner of numerous
Ecommerce Bytes Sellers Choice awards
for Quality, Usability, Customer Service, Communications and Most Recommended Selling Venue
---
So now,
Our Ruby Lane Shop Owners
invite You
to shop with them for the
Real Deal
on Ruby Lane ...