New Wheat in Shield Pattern Glass LampBy
Mark Chervenka
New Wheat in Shield Pattern Glass Lamp
The original Wheat in Shield glass kerosene lamp was made by Central Glass Co. based on a pattern that was patented in 1871. It is believed to have been produced only in clear crystal. Original lamps were made in an 8 inch table model and 3 1/4 and 5 inch models, and some had handles. A new 8 inch Wheat in Shield lamp was reproduced in clear crystal (Fig. 1), plus green, cobalt blue, white glass (milkglass), and pink.
Old and new Wheat in Shield Lamps are virtually identical in appearance and dimensions. The easiest way to tell new from old is to examine the area between font and base. Nearly all the reproductions of glass kerosene lamps, including this one, are made of two separate pieces that are glued together (Fig. 2). Old glass kerosene fonts and bases were almost always permanently fused together while the glass was hot (Fig. 3). The modern glue used in the new lamps fluoresces pale-green or a slightly yellowish-white under long wave black light. The glue can also be seen with the unaided eye if you make a careful examination.
Glue is also used to seat the brass collar. In old lamps, metal collars were nearly always seated with plaster. However, old collars can be added to new glass bodies with new plaster. Therefore, do not use collars as a main indication of age. The glue used in the font-base joint is a much better test. These new lamps can be separated by soaking them in hot water.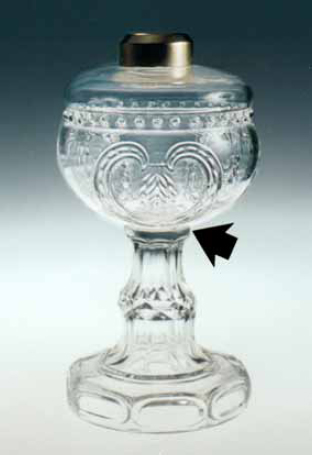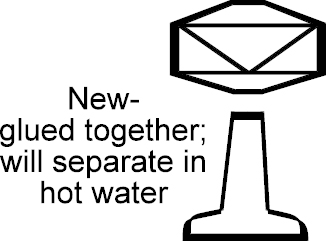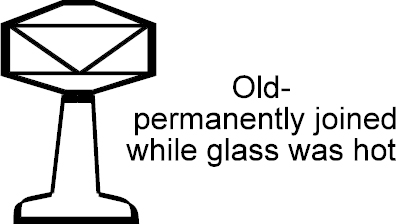 Real Or Repro is an industry resource powered by
a vetted marketplace of dealers and winner of numerous
Ecommerce Bytes Sellers Choice awards
for Quality, Usability, Customer Service, Communications and Most Recommended Selling Venue
---
So now,
Our Ruby Lane Shop Owners
invite You
to shop with them for the
Real Deal
on Ruby Lane ...
View More Similar Items