New Touraine Flow Blue - New Pieces Have Confusing MarkBy
Mark Chervenka
New Touraine Flow Blue - New Pieces Have Confusing Mark
Reproductions of the Flow Blue pattern Touraine have apparently been filtering into the antiques market since late 2001. The pattern and border designs of the new and old are virtually identical.
New Touraine is being made in China. Each piece has what appears to be an authentic underglaze mark of Stanley Pottery Co., an English pottery that made Touraine in the first quarter of the 20th century. The new underglaze marks are identical to vintage Stanley marks except for the word "England." All original Stanley Pottery Co. marks found on pre-1930s vintage Touraine Flow Blue include England. The new marks do not include the word England.
So far, confirmed shapes being reproduced include three sizes of plates, 8-9-10-inch; three platters, 8-11-17-inch; bone dish, open and covered vegetable dishes, cup, saucer and teapot.
Both old and new Stanley Touraine marks include the British Registration number, 329815. That number was issued in 1898, the year the pattern was originally registered in England. Keep in mind, though, the year of registration has nothing to do with the year of actual production.
Like many other ceramic reproductions, the new Touraine is not glazed the same way as vintage pieces. Pay particular attention to standing rims and insides of lids. Both of those areas are glazed in old Flow Blue, but unglazed in the reproductions.
Just keep in mind that original Flow Blue was once everyday china. It had to withstand everyday cleaning and use and yet remain sanitary. This meant glazing had to be applied over almost the entire surface to prevent wash-water and food particles from entering the ceramic bodies.
Buying the reproductions as old is bad, but buying new pieces for everyday use could be dangerous. The great majority of ceramic reproductions made in China examined by ACRN since 1992, have lead in the glaze. Since most of our samples are bought directly from importers, we see all the paper labels included before resellers remove them.
Chinese-made reproductions of Blue Willow, Ironstone, Imari, Delft, Staffordshire figures, Nippon and majolica have all been found with labels warning against using the pieces to serve food. If you collect old Flow Blue, you should think twice about buying Touraine reproductions to use for everyday dishes or to serve food at club meetings.
Pre-1930s Touraine Flow Blue was made by two principle manufacturers, Henry Alcock and Stanley Pottery Co. So far, all reproduction Touraine has been found with the Stanley mark, not the Alcock mark.
The Alcock mark includes the same British Registration number found in both the new and old Stanley Touraine marks. Also note that the Alcock mark includes the word "England" as does the vintage Stanley mark.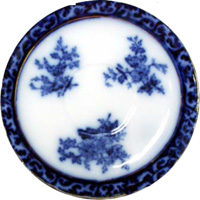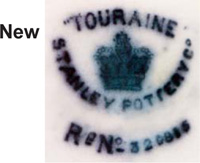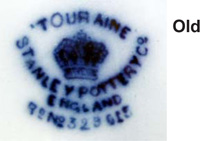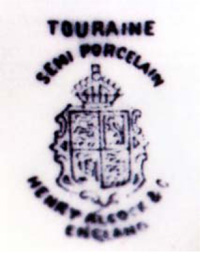 Real Or Repro is an industry resource powered by
a vetted marketplace of dealers and winner of numerous
Ecommerce Bytes Sellers Choice awards
for Quality, Usability, Customer Service, Communications and Most Recommended Selling Venue
---
So now,
Our Ruby Lane Shop Owners
invite You
to shop with them for the
Real Deal
on Ruby Lane ...
View More Similar Items