New Shawnee PotteryBy
Mark Chervenka
New Shawnee Pottery
Shawnee Pottery corn ware (Corn King, Corn Queen) has been reproduced since at least 1996. Two new pieces, the #73 casserole and #70 cream pitcher, are shown here. Both new pieces are marked the same as original pieces.
Husks, or leaves, on original Corn King & Queen are shades of green. Husks on the new pieces are a dark mottled brown/green. The corn kernels are about the same color on both old and new. But color is not a reliable way to separate old from new. Now that new molds have been made, the color can easily be changed. A better way is to look at how the color is applied.
Note that the insides of the creamer and both the casserole base and casserole lid are white or uncolored. In original Shawnee corn ware, the insides are colored yellow. Another key difference is that original pieces have unglazed standing rims. On new pieces, the glaze continues right over the rims on the pitcher and the casserole. Dimensions on old and new are virtually the same; they differ no more than measurements do among original pieces. The source of the new corn ware is unknown.
There is what appears to be two hand inscribed initials on the bottom of both pieces. The letters look like either U K or V K and can be seen in Fig. 7.
Original Shawnee corn ware was introduced in 1941 and remained in production till Shawnee closed in 1961.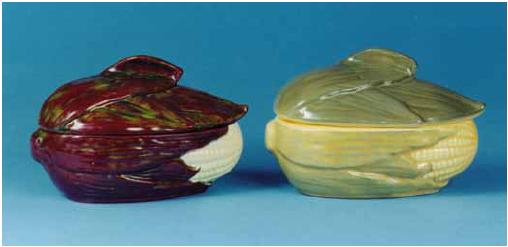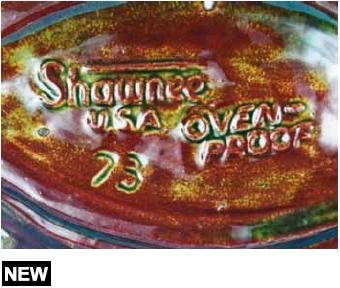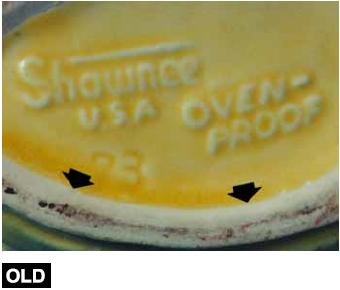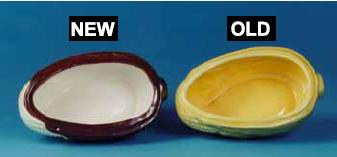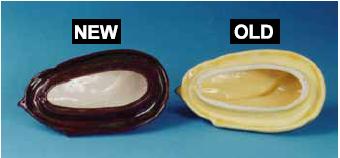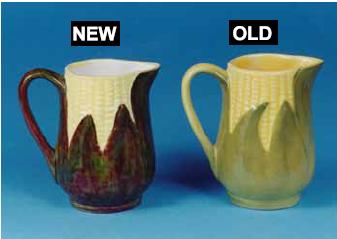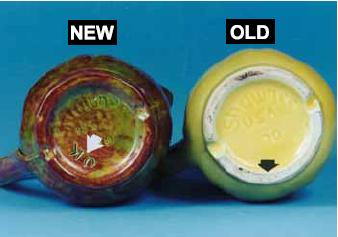 Confusing Shawnee labels
Another problem with Shawnee Pottery comes from some confusing labels. These new labels, Fig. 8, are virtually identical at first glance to an original label, Fig. 9. Both have an American Indian theme. Look closely, though, and you'll see that the original label has an arrowhead trademark in the upper left hand corner; the new has a tomahawk trademark. Otherwise the shape and lettering are practically the same.
The new labels are on new pottery made by Cecil Rapp of Ohio. Some of Rapp's new pottery is also marked with "Shawnee" in raised letters on the bottom. Rapp has been selling the new pottery since 1994. Since then Rapp has reproduced a set of six original miniature Shawnee Pottery figurines as banks, Farmer Pig and Girl Pig cookie jars and 5½" high Farmer Pig and Girl Pig banks.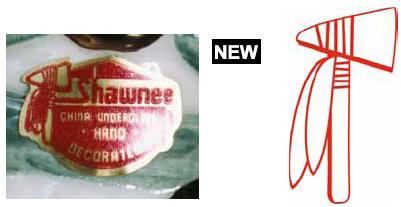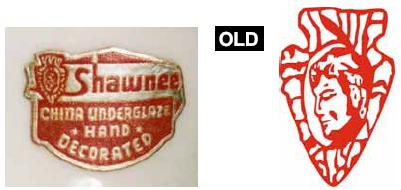 Real Or Repro is an industry resource powered by
a vetted marketplace of dealers and winner of numerous
Ecommerce Bytes Sellers Choice awards
for Quality, Usability, Customer Service, Communications and Most Recommended Selling Venue
---
So now,
Our Ruby Lane Shop Owners
invite You
to shop with them for the
Real Deal
on Ruby Lane ...
View More Similar Items