New Sewing BirdBy
Mark Chervenka
New Sewing Bird
A sewing bird is a clamp, usually fastened to a table, to hold fabric for hemming or embroidery. The first sewing clamps were individually forged in the first quarter of the 19th century. By the mid-1800s, sewing birds were factory-made of iron and or brass. Some clamps were figural including birds which gives the clamp its name.
Original factory-made sewing birds, depending on condition, can sell for $150 and up with early hand forged pieces bringing over $500. The Indian reproduction is retailing for $39-$49.
Reproduction sewing birds have been made since the 1950s. The most commonly found reproductions from that period were made in Japan (Figs. 9 & 10). Another sewing bird reproduction was made in India.
The sample Indian-made sewing bird purchased for this article came in a blue velvet covered case lined with purple satin. A old styled brass catch completed the vintage look of the case.
Both the earlier Japanese reproduction and the Indian sewing birds are stamped brass. Unlike the Japanese version, however, which had a very faint "JAPAN" mark inside the clamp, the Indian bird is not permanently marked. The best way to identify both reproductions is to examine the details of construction.
The vast majority of factory-made American sewing birds have some form of patent information permanently cast or stamped into the piece. Generally, either "Patented" with or without a date, or "Patent Applied For". Neither reproduction has any permanently marked patent information.
The other feature separating most old pieces from new is how tightly the pieces forming the bird fit together. Original top and bottoms halves fit together with virtually no gap between the parts (Figs. 3-4).
The number of cushions on a bird is not a reliable clue to age. Most, but certainly not all, original birds have two cushions mounted on them: a small cushion on the bird's back and another larger cushion at the top of the clamp. Cushions on reproductions vary. The Japanese bird had two cushions; the current Indian reproduction only a single cushion.
New cushions are uniformly brightly colored with no fading and no tears or holes. Original cushions almost always show signs of fading and numerous holes from pins and needles. Original cushions were generally fastened with a bezel or metal stud. New cushions are usually glued on and the new glue fluoresces under long wave black light.
You'll also want to examine the spring that forces the halves of the bird together. Original springs are usually about 1/16″ thick; the spring in the Indian bird is about 2-3 times thinner, only about 1/64″ thick. The new spring is a bright gunmetal blue with no tarnish or normal signs of aging. Original springs are also steel but were never blued and generally show a dark patina. Corrosion and light surface rust are also common to original birds 150-125 years old.
Only factory-made sewing birds have been reproduced in large numbers. Copies of hand-forged clamps may be in the market but are not widespread.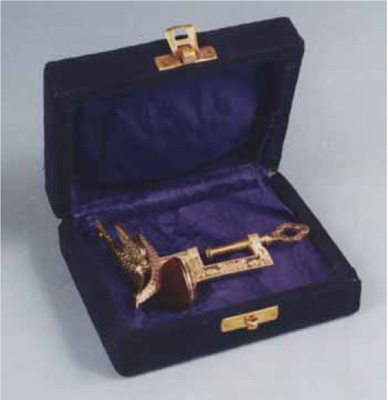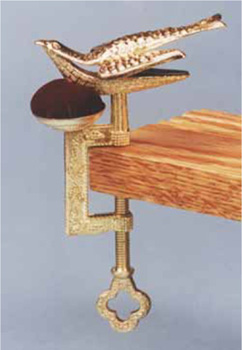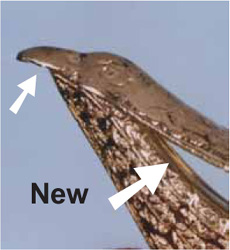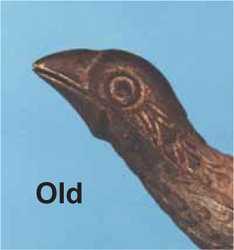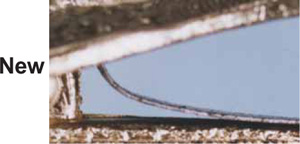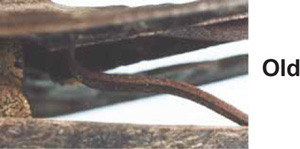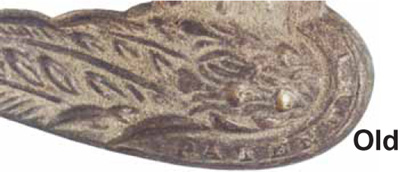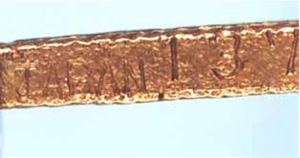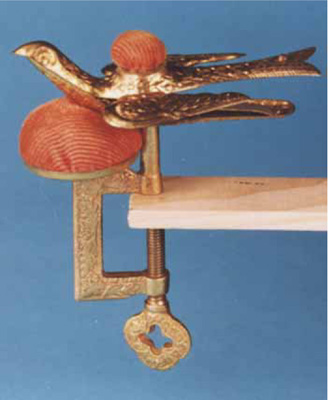 Real Or Repro is an industry resource powered by
a vetted marketplace of dealers and winner of numerous
Ecommerce Bytes Sellers Choice awards
for Quality, Usability, Customer Service, Communications and Most Recommended Selling Venue
---
So now,
Our Ruby Lane Shop Owners
invite You
to shop with them for the
Real Deal
on Ruby Lane ...