New Red Wing Pottery - Current Marks and Shapes Like Early PiecesBy
Mark Chervenka
New Red Wing Pottery - Current Marks and Shapes Like Early Pieces
A new line of stoneware – from crocks to bean pots, pantry jars to planters – is being made by a firm using the name Red Wing Stoneware Company. This new company is located in Red Wing, Minnesota and uses markings similar to earlier potteries from the same town whose products are widely collected. Unless you are familiar with the specific marks, it would be fairly easy to mistake the name and marks on new production for older collectible pieces.
Original Potteries of Red Wing, Minnesota
Stoneware pottery has been manufactured in Goodhue County, Minnesota since about 1861. At first, it was only terra cotta ware made with red clay. But by 1870, true stoneware was being made with a gray white clay with salt glazes.
The first of the large potteries was organized in 1876 and named Red Wing Stoneware Company. This was followed in 1883 by the creation of Minnesota Stoneware Company. The third large Red Wing pottery was started in 1892 under the name North Star Stoneware Company. In 1894 Red Wing Stoneware and Minnesota Stoneware combined their marketing efforts into the Union Stoneware Company. The name was changed again in 1906 to Red Wing Union Stoneware Co. at which time the red wing trademark was adopted. The company continued with this name until 1936 when the name was changed for the last time to Red Wing Potteries (with an "s"). It was under this name that the company started in the 19th century was forced to close in 1967. Production of stoneware was virtually over by the late 1930s and early 1940s. From the late 1940s, the main product was ceramic dinnerware.
The New Red Wing Stoneware Company
The current Red Wing Stoneware Company (RWSC) is not a descendant of the original pottery of the same name. The current RWSC was gradually built up during the mid-1980s. According to production manager Bill Israel, RWSC uses the same techniques today as earlier Red Wing potteries. "We use slip cast, wheel thrown and ram mold," said Israel. "Depending on size we can put out 200-300 pieces of slip cast, up to 125 pieces of wheel thrown and 100-200 pieces of ram molded products per day." Clay for the stoneware comes from Roseville, Ohio.
RWSC currently produces many shapes similar to those collectors associate with late 19th and early 20th century production. These include bean pots, pantry jars, preserve jars, covered bowls, pitchers and crocks. Decorations include spongeware and molded designs like cherry bands.
Separating Old and New Markings
Although markings on new RWSC items are similar to marks on older pottery, it is easy to separate modern from original. Original pre-1900 Red Wing Stoneware Company, 1.– never used a blue ink oval mark; 2– never used a wing as a trademark.
The original wing trademark was not used until ca. 1906 by which time the original RWSC pottery was known as Red Wing Union Stoneware Co. Original blue ink ovals and the authentic red wing trademark first appeared together ca. 1906-1930s. The ovals from this period read "Red Wing Union Stoneware Co., Red Wing, Minn" Fig. 8. Ovals on new RWSC items with new wing trademark read "Red Wing Stoneware Co., Red Wing, Minn" Fig. 7.
All new products also have a circular ink stamp on the base with the full company name and wing trademark Fig. 11. No ink stamp on any original pre-1930 Red Wing pottery includes a wing.
The most likely new pieces to be offered as old are the unusual shapes such as covered jars, pitchers and pots. These retail for $12-$49; comparable original shapes can bring $75-$250+. Sponged and molded decorations would further increase the value. The new crocks shouldn't be much of a problem because of the high price. ACRN paid $70 for our new two gallon size; a similar one gallon size retail for $50. Comparable genuine 1906-1930s two gallon crocks rarely bring more than $45; less for the one gallon size.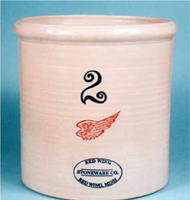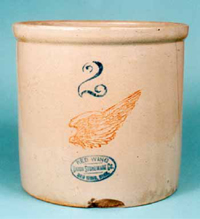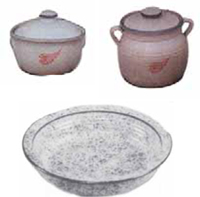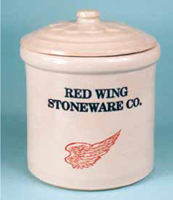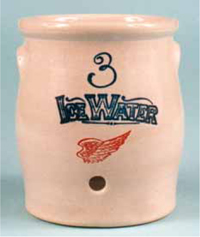 Original Red Wing Potteries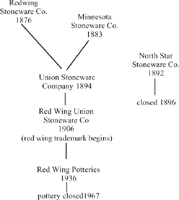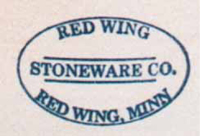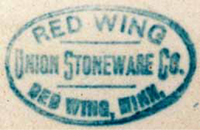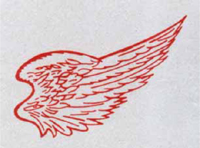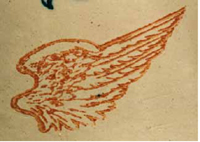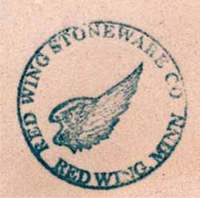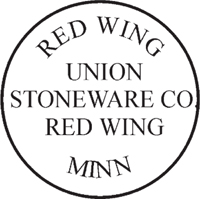 Real Or Repro is an industry resource powered by
a vetted marketplace of dealers and winner of numerous
Ecommerce Bytes Sellers Choice awards
for Quality, Usability, Customer Service, Communications and Most Recommended Selling Venue
---
So now,
Our Ruby Lane Shop Owners
invite You
to shop with them for the
Real Deal
on Ruby Lane ...
View More Similar Items