Depression Glass Notes - New Princess PlatesBy
Mark Chervenka
Depression Glass Notes - New Princess Plates
Blue Princess 9" dinner plates are being reproduced. The example shown in this article was purchased in an antique mall in Tennessee.
Original Princess pattern depression glass was made by Hocking Glass Company, ca. 1931-1935. Most original pieces were available in green, pink, topaz and apricot. There have been only four original shapes documented in blue: cup, saucer(identical shape as sherbet plate), cookie jar and grill plate. Nine inch dinner plates were never made in original blue.
But it's easy to see why Princess reproductions would be made in blue. Original cookie jars in green and pink Princess can run about $50-$75; the same in blue can sell for $750-$900. Green and pink grill plates retailed for around $10-$15 each; original blue grill plates can command $100 and more.
Separating Old from New
The new blue plates were being made from a new mold. Look closely and there are several differences between new and old. Here are some of the most obvious. (Keep in mind that we are discussing the plates only; do not use any of these guidelines to evaluate any other piece).
1). The "beads" at the tips of scroll-work in old plates have a texture; the new beads are plain (Figs. 2-3). This is best seen holding the plates up to the light.
2). New plates have an obvious raised mold seam around the rim; old plates do not have a raised seam (Fig. 8). Some old plates we looked at did have a very faint mold line that could be seen but not felt. Mold seams on the new are obvious and easily detected. Don't do just a spot check; examine the entire rim.
3). The point of the scallop in the corner is sharper in new plates than old plates (Figs. 4-5). Scallops in old plates meet in a gentle bump. New scallops dip deeper and form a sharper point where they meet.
4). The drop from the flat rim to the bottom of the plate is much steeper in new plates, more gradual in old plates (Figs. 6-7).
5). New plates are thicker and heavier than the old.
The blue Princess plate shown in this article was once purchased for $30. It is unknown if other shapes are being reproduced in blue. The name and location of the manufacturer is also unknown at this time.
So far, the only confirmed blue Princess shape being reproduced is the 9" plate. Use caution, however, if you see any shapes in blue other than the four shapes originally made.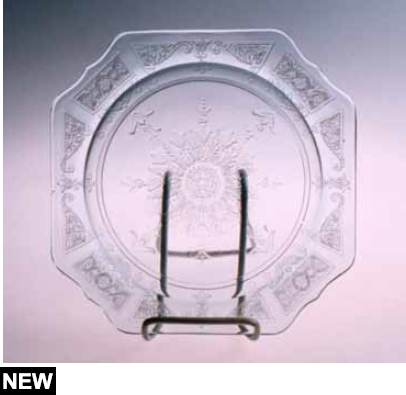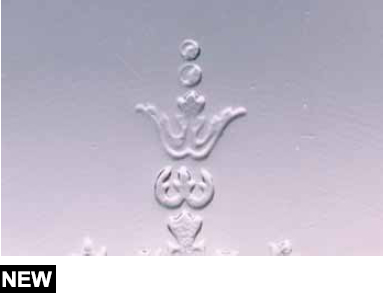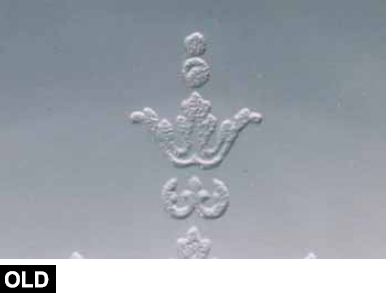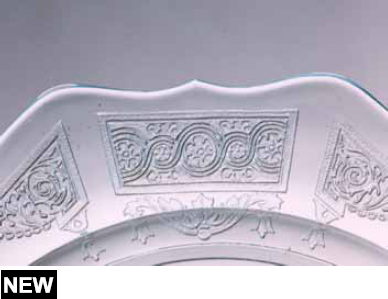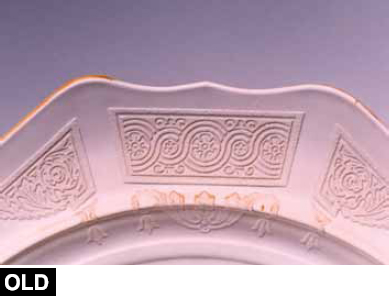 Cross sections of plates