New Malachite Glass from CzechoslovakiaBy
Mark Chervenka
New Malachite Glass from Czechoslovakia
Between the world wars, the glass industry in Czechoslovakia flourished. One of the types of glass developed there in those years was a slag-type opaque green colored ware now commonly called "Malachite" or "Jade", "Green Agate" or "green slag".
Most pieces were in the Art Deco style and many designs included Deco-styled nudes. Some of the most highly sought after of these pieces are perfume and scent bottles. Original perfumes and scents of the 1920-1938 period now sell for $100-350; larger pieces such as vases and dresser items sell for higher prices.
This current group of green glass marks the second time it has been reissued. In the 1950s the communist state controlled agency for glass marketing called GLASSEXPORT also authorized the manufacture of green glass produced in 1920s molds. From about 1954 until 1960, over 100 different shapes were made for overseas markets (see catalog pages, Figs. 6-7). The 1950s pieces are collectible in their own right but are often sold and mistaken for original 1920s pieces.
Pieces made in all three periods-- 1920s, 1950s and new --are very similar in appearance. Most 1920s pieces carry an acid etched "Made in Czechoslovakia" or "Czechoslovakia" mark. Generally, the earlier 1920s pieces show more hand finishing than the later pieces. Bases, edges and rims were usually highly polished. Many of the 1920s pieces also have areas of the design polished as well. This creates a surface with pleasing contrasts between high gloss polished areas and unpolished satin finished areas. Later pieces also have hand polishing but not as much as the originals. The new vase in Fig. 1 and the new basket in Fig. 3 both have considerable hand polishing. New items shown in Figs. 4-6 are simple pressed pieces with no hand polishing.
At this time we have not been able to come up with a reliable test to separate old from new green glass. All the old molds are still in existence so shape alone isn't a guarantee of age.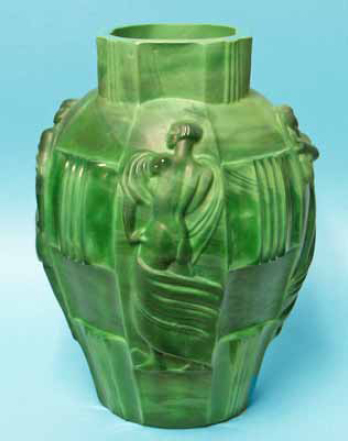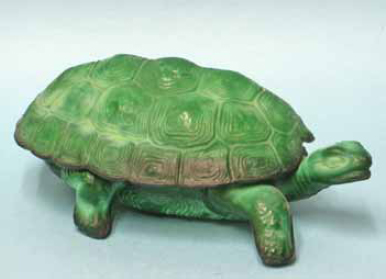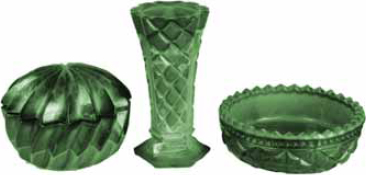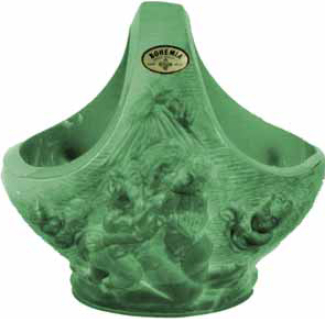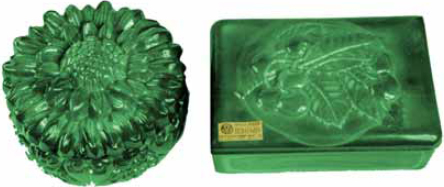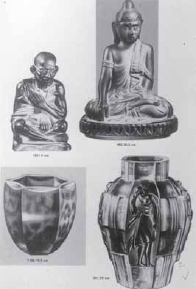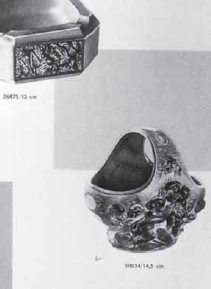 Catalog pages reprinted from Czechoslovakian Perfume Bottles and Boudoir Accessories, J. Jones- North (out of print), reprinted in ACRN courtesy Antique Publications, Marietta, Ohio.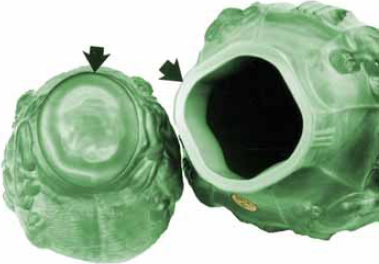 Real Or Repro is an industry resource powered by
a vetted marketplace of dealers and winner of numerous
Ecommerce Bytes Sellers Choice awards
for Quality, Usability, Customer Service, Communications and Most Recommended Selling Venue
---
So now,
Our Ruby Lane Shop Owners
invite You
to shop with them for the
Real Deal
on Ruby Lane ...
View More Similar Items