New Log Cabin glass lampBy
Mark Chervenka
New Log Cabin glass lamp
The log cabin theme was used by several glass companies around the time of the American Centennial celebration of 1876. Best known is probably the pressed glass tableware made by Central Glass Company of Wheeling, West Virginia issued during the mid-1870s. Less well known is a small figural log cabin lamp made about the same time by the Thomas Atterbury Glass and Lamp Company.
Original Log Cabin lamps were made in a patented Atterbury four-piece mold. First, molten glass was dropped into the area of the handles in one half of the mold. Then a separate gather of molten glass was blown into the remaining part of the mold to create the font. As the blown glass of the font expanded, it met and fused with the glass in the handle creating a single mass of glass.
New log cabin lamps are made of two entirely separate pieces. First, the cabin fonts are made in a simple mold without any special provision for a handle. New handles, which are simply a gather of hot glass, are then applied to the font. All the new handles we have seen have prominent "curls" of extra glass at the bottoms of the handles.
The shape, thickness and location of new handles vary from lamp to lamp because they are applied by hand. Handles on old lamps made in molds are virtually identical in shape, thickness and location.
There are two sizes of old lamps known: SMALL-4" wide including handle and made in white opaque glass and blue opaque glass; and, LARGE-4 7/8" wide including handle made in clear, light amber, pale green and white opaque glass. Original burners for each size were manufactured by Hornet.
New lamps vary in measurement due to the inconsistency of width of the applied handles. Our new samples varied around 4 1/2". Colors of new lamps include clear, white opaque, cobalt and green. Wholesale price of new lamps, $10.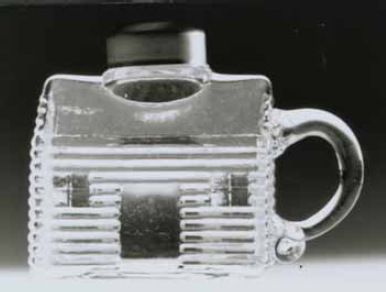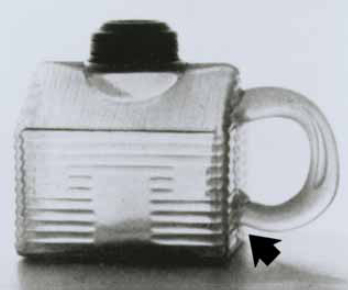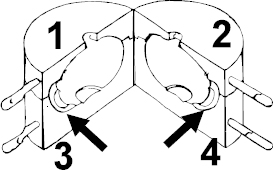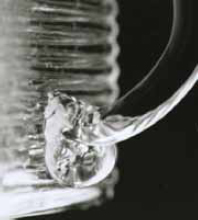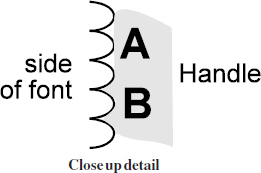 Real Or Repro is an industry resource powered by
a vetted marketplace of dealers and winner of numerous
Ecommerce Bytes Sellers Choice awards
for Quality, Usability, Customer Service, Communications and Most Recommended Selling Venue
---
So now,
Our Ruby Lane Shop Owners
invite You
to shop with them for the
Real Deal
on Ruby Lane ...
View More Similar Items