New Glass from India - Jars, Bottles and HousewaresBy
Mark Chevenka
New Glass from India - Jars, Bottles and Housewares
By far the greatest majority of reproductions are now being made in China and India. Both countries have literally millions of low wage workers and governments that impose practically no environmental regulations.
In this issue we look at some of the latest products from a glass factory in India. Although the items in this article are from one specific factory, they are typical of reproductions produced in many other locations throughout India and China.
The process is rather simple. An importer takes any original pieces they want copied overseas. Molds are made, with patent dates and other original markings, and the mold goes into production. Almost all the new glass is mouth blown because labor is so much cheaper than the glass making machines used in industrialized nations.
Although this group of reproductions is from India, most of the guidelines discussed also apply to similar new glass made in China.
Inside the Factory
Items shown in this article were produced at a glass factory in India. Here the glass is mouth blown into metal molds produced from copying genuinely old samples. Most of the new pieces carry the original markings copied from the old samples. These marks include various patent dates, "Made in USA" and other words and markings collectors generally associate with antique and collectible glass.
Virtually without exception, all the originals were machine-made, not mouth blown. Original machine-made glass used as containers, like the Burma Shave or Old Judge Coffee jars, is virtually flawless. Glass in the new pieces in this article is very poor with many large bubbles, irregular mouths, blurred embossing and with the thickness of walls varying greatly.
Burma Shave
Burma Shave was a brushless shaving soap introduced in 1926. After wetting the face, a man could just spread the already mixed and moist Burma Shave directly on the skin. Burma Shave was probably best known for its distinctive roadside advertising of evenly spaced signs each printed with a single part of clever jingle or slogan. Roadside signs were discontinued in 1963 when Burma Shave became part of American Safety Razor.
You wouldn't think a breakable glass jar was something you'd want to handle with slippery soapy hands, but that was the original Burma Shave container. A squeezable tube eventually became available. The most common original jars are one pound, half-pound and quarter pound.
The Burma Shave name still exists today on steel razors and blades and on a solid circular cake of shaving soap. Squeeze tubes replaced the glass jars around the late 1950s and early 1960s.
Horlicks Malted Milk
The original Horlicks Malted milk was first made in 1883 in Racine, WI by James and William Horlick. Glass jars of a variety of sizes were used. James Horlick moved to England in 1893 and sold Horlicks Malted Milk in England. Original glass jar may be marked either Wisconsin or England. Most English jars also include some reference to Racine, WI. American jars are generally made of clear glass. English jars are often found in green glass. The new jars are much lighter with thinner walls and bottoms than original jars. Original jars made up to about the late 1920s, both green and clear glass, fluoresce a yellow-green under long wave black light. The new clear glass reproductions do not fluoresce.
Milk Bottles
Selling milk in glass bottles began in the last quarter of the 19th century. By the end of WWI, almost all milk was sold in bottles. The vast majority of all bottles were clear; a few were amber. Only one authentic green glass milk bottle is known, used briefly by Alta Crest Farms around 1929. All other green glass milk bottles are reproductions.
Before 1930, most designs and markings on milk bottles were embossed. A plate with individual store or dairy names was placed in a standard shape mold. Color printing on glass milk bottles became standard during the 1930s and continued until glass was replaced by waxed paper cartons in the 1950-60s.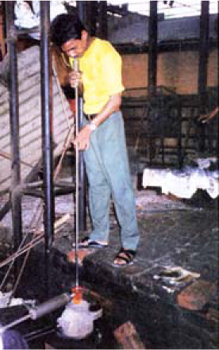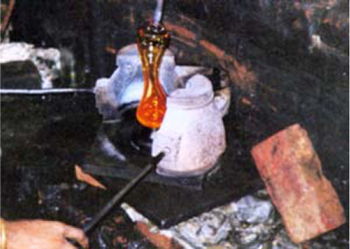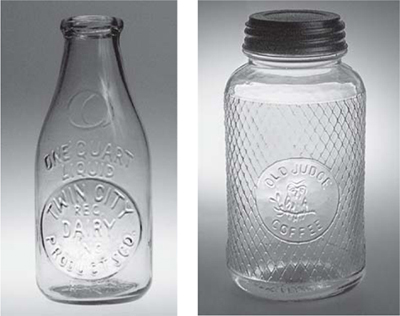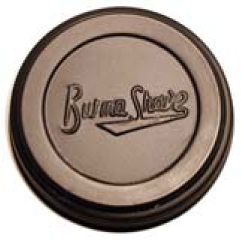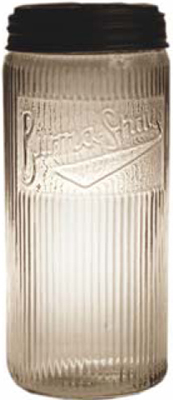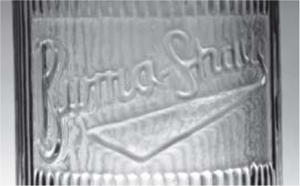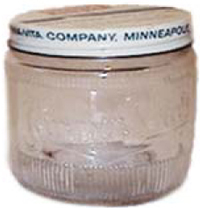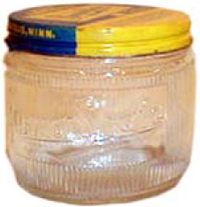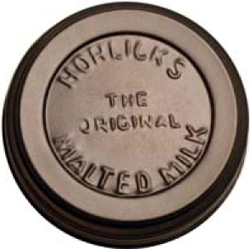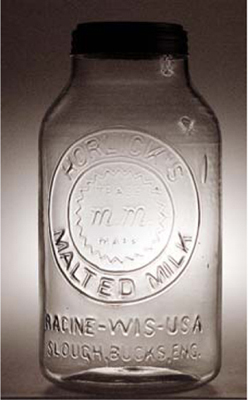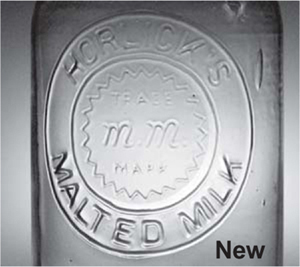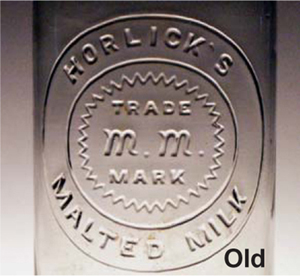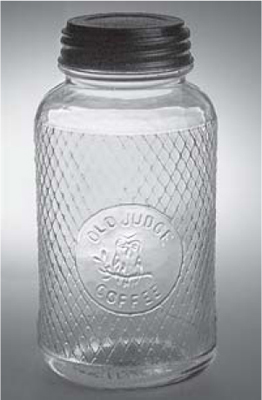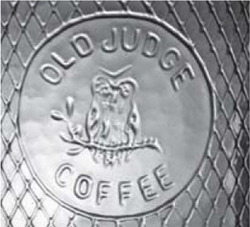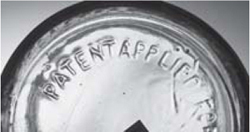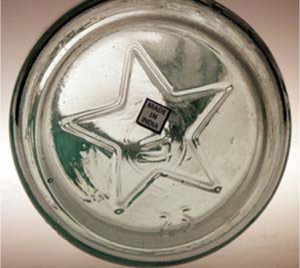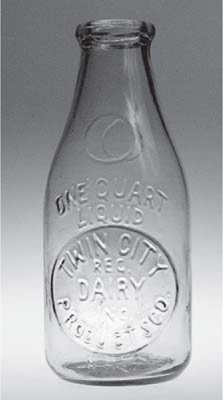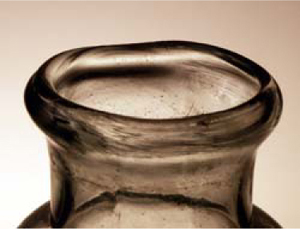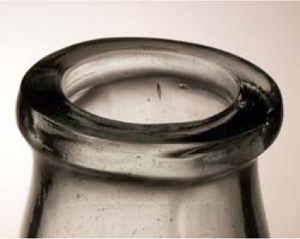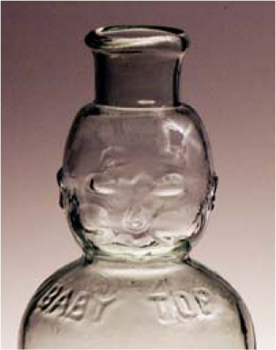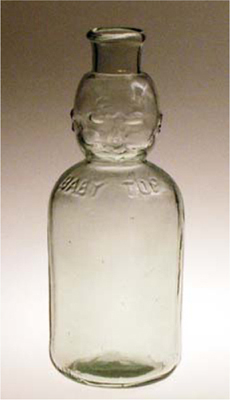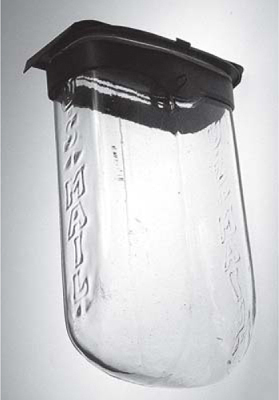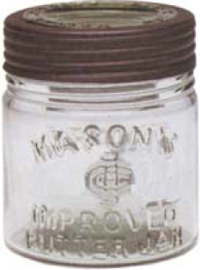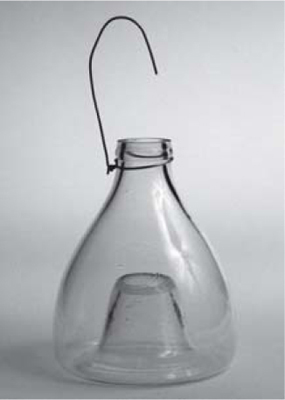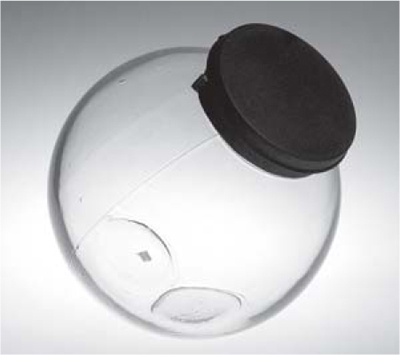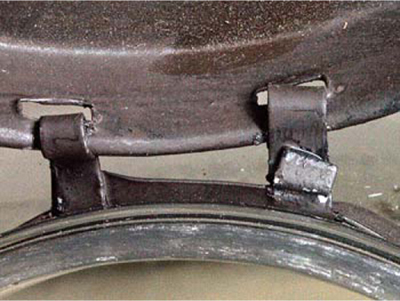 Real Or Repro is an industry resource powered by
a vetted marketplace of dealers and winner of numerous
Ecommerce Bytes Sellers Choice awards
for Quality, Usability, Customer Service, Communications and Most Recommended Selling Venue
---
So now,
Our Ruby Lane Shop Owners
invite You
to shop with them for the
Real Deal
on Ruby Lane ...
View More Similar Items