New European Cut Glass in Realistic PatternsBy
Mark Chervenka
New European Cut Glass in Realistic Patterns
The vast majority of new mass produced cut glass used to be primarily geometric patterns. The new bowl shown here is an example of increasing use of realistic patterns.
The green overlay cut to clear bowl in Fig. 1 was made in Hungary. It features a barnyard with a rooster, chicks and chickens. The bowl is 10″ diameter by 5″ tall. Thickness of the glass is about one-quarter inch.
Although the new design cannot be traced to one specific original pattern, there are a number of vintage patterns that feature roosters. Among those is the heavy bowl shown in Fig. 5. H.P. Sinclaire also used intaglio cut roosters in various pieces1. Large highly stylized roosters were also cut by Everett Stage for his company Stage-Kashin2,3. Original cut glass pieces with animals are considered scarce and highly desirable. Depending on size and the type of piece, original cut glass pieces with animals can sell in the thousands of dollars. This specific new bowl sold for $250 retail.
This new piece enters the US with a sandblasted mark on the base of two rampant lions and "Design Guild." The miters and geometric cuts are made by a modern diamond wheel. Diamond wheels leave a series of parallel grooves along the cut that are visible with a good quality 10X loupe.
The new bowl is made from a blown blank of generally very good quality. The colorless glass is clear and sharp; the green overlay is smooth and without flaws and has deep color. Cutting is deep and also of good quality.
Just because the bowl is marked doesn't mean the new mark can't be removed and replaced by a forged old-looking mark.
1. H.P. Sinclaire, Jr, Glassmaker. Estelle Sinclaire Farrar, ©1975, Vol 1. plate 8; and Vol II. pg. 68, #79 (out of print).
2. Complete Cut & Engraved Glass of Corning. Farrar/Spillman, #707, (1st ed) Corning Museum of Glass.
3. Rarities in American Cut Glass, Wiener/Liplowitz, pg. 172, ©1975 (out of print).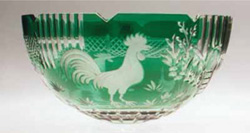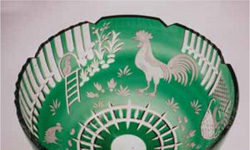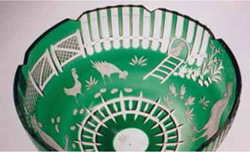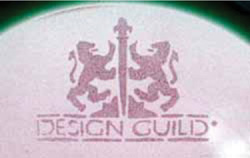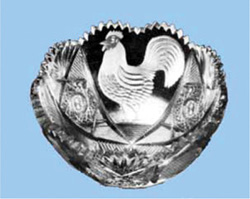 Real Or Repro is an industry resource powered by
a vetted marketplace of dealers and winner of numerous
Ecommerce Bytes Sellers Choice awards
for Quality, Usability, Customer Service, Communications and Most Recommended Selling Venue
---
So now,
Our Ruby Lane Shop Owners
invite You
to shop with them for the
Real Deal
on Ruby Lane ...
View More Similar Items