New Bauer PotteryBy
Mark Chervenka
New Bauer Pottery
The "Bauer Pottery" name was registered again and new pottery has been marked with various versions of the Bauer Pottery name. New products copied the so-called "ring ware" pieces originally manufactured in the 1930-40s using some of the original shapes as models.
The original company, "J.A. Bauer Pottery" was located in Los Angeles, California. It produced utility goods, dinnerware and art pottery between 1910 and 1962. The original Bauer is perhaps best known for a line of dinnerware with molded rings similar to the Fiesta line by Homer Laughlin. Although the official Bauer name for the ringed line was California Pottery, most collectors refer to the line simply as "ring ware."
Los Angeles businessman Janek Boniecki re-registered the Bauer name in June, 1999. The official trademark filed with the United States Trademark Office is shown in Fig. 9.
Boniecki's first products carried marks very similar to marks on original Bauer ring ware. Boniecki became aware his new products were being sold as originals and began adding "2000" to new Bauer Pottery in January, 2000.
Boniecki said he was surprised to hear of his new pottery being sold as old in the secondary market. "I was really surprised to find that people thought our new Bauer [pottery] was so well made it was being sold as original," said Boniecki. "As soon as we found out what was going on, we began adding the number "2000" to the mark in January, 2000."
As of 2001, Boniecki had produced twenty five shapes and all but six shapes had 2000 added to the mark. The mark was changed in the other shapes as those molds were repaired or replaced. New pieces without the 2000 included a tumbler and pitcher (shown below), two sizes vases and two vases with a leaf design.
Although Bauer 2000 marks won't cause any problems, collectors may be confused by new Bauer Pottery that does not include 2000. Keep in mind that all vintage Bauer marks are impressed, or incised, into the clay. Some new Bauer marks are raised. Any raised Bauer mark, with or without 2000, is new. Many, but certainly not all, vintage pieces of Bauer have a model number included with the mark. No new Bauer has an impressed model number (remember, 2000 is a date mark, not a model number).
Here is a list of new Bauer Pottery in production in 2001:
bowls- 7″, 8″, 9″
cup
dishes- 8″, 10″
flower pot- 6″, 9″
pitcher
platter, 14″
saucer
serving bowl, 14″
soup bowl
teapot
tumbler
vase- 7″, 9″, 11″
Retail prices for new Bauer ranged from $15 tumblers to a three-piece bowl set for $75. Original Bauer ring ware tumblers sold for $30-$45; original ring ware bowls sold for $60-$240 depending on size.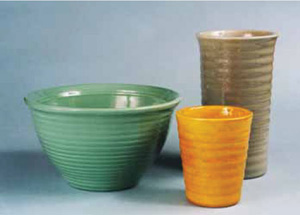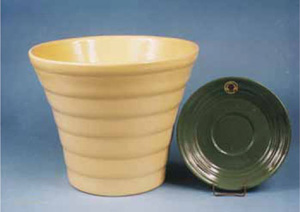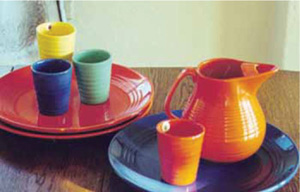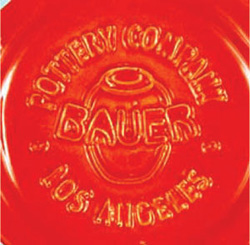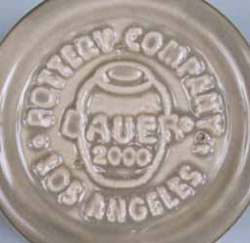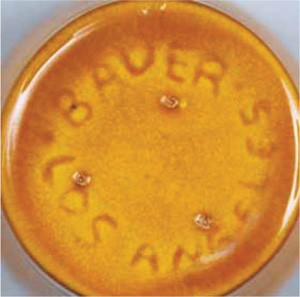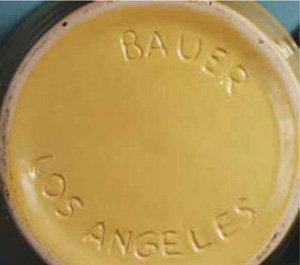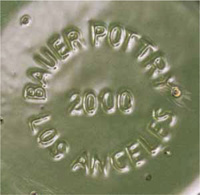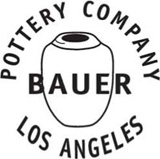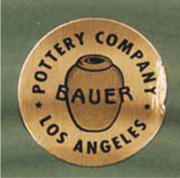 Samples for photography supplied by Janek Boniecki, Bauer Pottery.
Real Or Repro is an industry resource powered by
a vetted marketplace of dealers and winner of numerous
Ecommerce Bytes Sellers Choice awards
for Quality, Usability, Customer Service, Communications and Most Recommended Selling Venue
---
So now,
Our Ruby Lane Shop Owners
invite You
to shop with them for the
Real Deal
on Ruby Lane ...
View More Similar Items