More New Matchsafes Marked SterlingBy
Mark Chervenka
More New Matchsafes Marked Sterling
Two more new matchsafes have been found marked "sterling" and .925. Since the mid-1970s, most silver reproductions were marked .925 only. Sterling was originally found only on vintage pieces of American silver. Only recently have reproductions been found with both sterling and .925. Any piece of silver marked with both .925 and sterling should be examined very closely for signs of normal wear and age.
The matchsafes shown here were purchased in England for $19 each. One safe has an Indian chief with feather bonnet on both sides; the other safe is done in the Art Nouveau style with wreaths of smoke surrounding a woman's head. Both of the new matchsafes appeared at shows and on Internet auction sites.
The Indian matchsafe is roughly similar to a 19th century original by Unger Brothers which sells for $600-$800. A design of two interlocking ovals in the Indian's head band might possibly be mistaken for the U and B that form the original Unger Brother's mark (Figs. 6 & 7).
One of the warning signs on these new matchsafes (Fig. 5) is an unusually thick spring bar which holds the lid shut. Spring bars on vintage matchsafes are rarely over one-sixteenth inch thick. The new springs are over 1/8 inch thick. Another suspicious sign is the sharp ridges in the striker which show no sign of wear. Although artificial wear can be applied to new strikers, some wear should be expected in genuinely old matchsafes.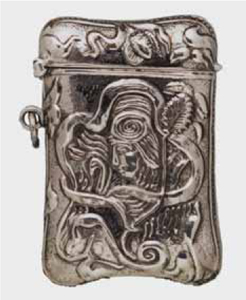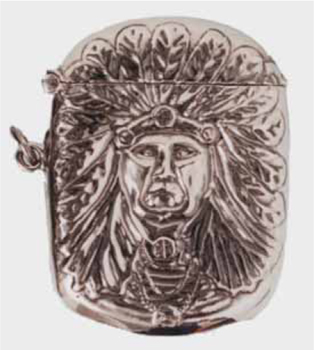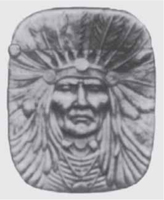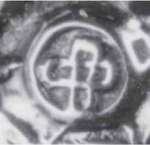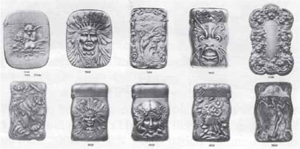 Real Or Repro is an industry resource powered by
a vetted marketplace of dealers and winner of numerous
Ecommerce Bytes Sellers Choice awards
for Quality, Usability, Customer Service, Communications and Most Recommended Selling Venue
---
So now,
Our Ruby Lane Shop Owners
invite You
to shop with them for the
Real Deal
on Ruby Lane ...