More New Flow Blue in Old Patterns with Confusing MarksBy
Mark Chervenka
More New Flow Blue in Old Patterns with Confusing Marks
Waldorf and Iris Patterns Reproduced
More new Flow Blue decorated with the old patterns Iris and Waldorf and carrying marks that look old is available in the market. New pieces carry new marks virtually identical to authentic marks found on their vintage counterparts.
The Waldorf pattern has been found on cups and saucers. The Iris pattern has been sold as a complete chamber set including basin, pitcher, chamber pot, soap dish and vase-shaped brush holder.
The original Waldorf pattern was made by New Wharf Pottery Co. of Burslem, England. New Wharf Pottery was in operation from 1878 to 1894. The old and new marks, shown below, differ only by the single word "England." England appears virtually without exception in the old Waldorf mark, but never appears in the new Waldorf mark.
The great majority of original Iris pattern was made by the English potteries of Royal Doulton, Arthur J. Wilkinson, W & E Corn, Mason's and Cauldon. The mark that appears on the new Iris is Dunn Bennett, the name of a 19th pottery located in Burslem, England, founded in 1875. The basic mark was a beehive with various wording, but some marks were initials only. From 1907 forward, "Ltd" usually, but not always, appears in the mark. A crown mark was introduced in 1937 and used through the 1950s. Dunn Bennett was purchased by Royal Doulton in 1964.
We couldn't find any documented Dunn Bennett mark similar to the Dunn Bennett mark on the new Iris Flow Blue. We looked in about 20 reference books including titles specifically on Flow Blue as well as books of marks on English Pottery. Generally, though, all vintage Dunn Bennett marks include "England" in the mark. As a rule of thumb at this time, any Dunn Bennett mark without "England" should be viewed with suspicion.
Touraine pattern Flow Blue has also been reproduced. New Touraine carries a Stanley Pottery mark identical to vintage Stanley marks. New Stanley marks do not include England; England is included in old Stanley Touraine marks.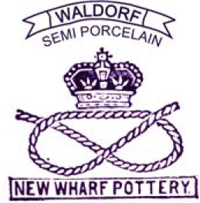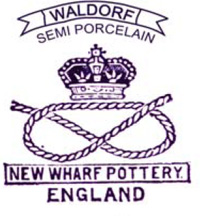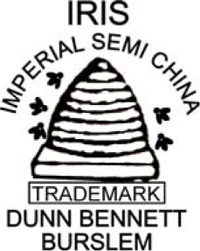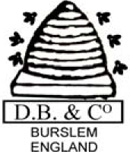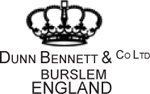 Real Or Repro is an industry resource powered by
a vetted marketplace of dealers and winner of numerous
Ecommerce Bytes Sellers Choice awards
for Quality, Usability, Customer Service, Communications and Most Recommended Selling Venue
---
So now,
Our Ruby Lane Shop Owners
invite You
to shop with them for the
Real Deal
on Ruby Lane ...
View More Similar Items