More New Fenton Glass Castor InsertsBy
Mark Chervenka
More New Glass Castor Fenton Inserts
Fenton has reproduced opalescent inserts in several colors and patterns. They include opalescent swirl in four body colors: clear, cranberry, vaseline and green. Opalescent dot optic – originally called Windows during the Victorian era – is made in cranberry and yellow (vaseline).
None of the Fenton inserts ACRN purchased or examined were permanently marked; the inserts had only paper labels. However, James Measell, Fenton Glass historian, says there is a Fenton oval logo in the bottom of the cylinder molds used to make the inserts.
"This is a blown piece, so it's hard to get pressure to make the logo sharp," said Measell. "If the glass moves a bit in the mold, the logo gets a bit twisted, and that makes it very hard to see."
Prices ranged from $20 each for the clear body to $35 for colored bodies. New frames including a new Fenton insert have sold for $65. All the new Fenton inserts measure 3¼″ dia. and 5″ tall.
There is no record of any smooth surfaced, straight-sided cylindrical pickle castors made in these opalescent patterns before L. G. Wright starting selling them in the late 1940s. Wright's opalescent inserts were contracted out to various glass makers, primarily Fenton, which made various opalescent patterns from the 1940s through the 1980s. Although the early Wright/Fenton pieces are collectible in their own right, don't mistake them as Victorian.
The process for making opalescent pattern glassware is shown below. All opalescent pattern glassware is made by reheating exposed areas of glass–such as rims or raised pattern elements–to produce the white opalescent effect.
Other than looking for normal wear, there is no practical way to distinguish the current unmarked Fenton inserts from those made during the 1930s-80s. The new inserts could easily be paired up with genuinely old frames and represented as Victorian or pre-1980 Wright.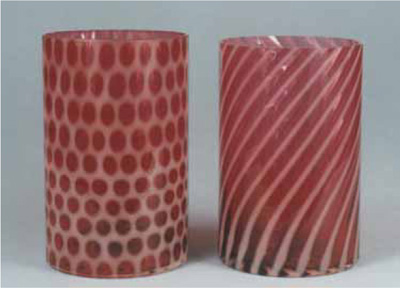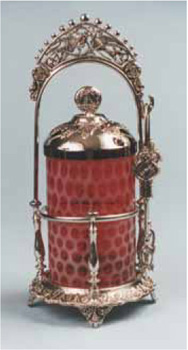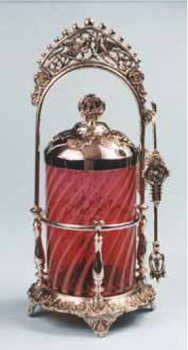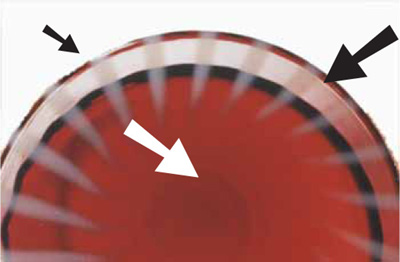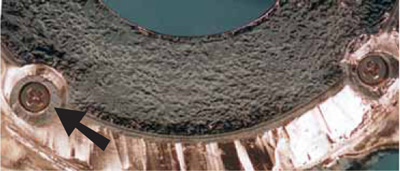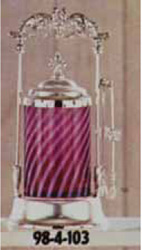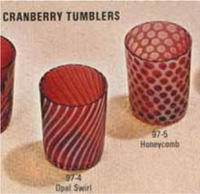 How opalescent patterns are formed in glass bodies
Figs. 8-11 Figures 8-11 are patent drawings from 1888 for a typical pattern or spot mold used to make an opalescent swirl pattern. First, a small gather of clear glass would be blown into a pattern mold in Fig. 8. The glass comes out of the pattern mold with sharp ridges as in Fig. 9. This ridged mass of glass is then reheated which turns the ridges white. The thin raised ridges heat more quickly than the large mass of glass which does not change color. The glass is then held against the marver (a flat slab of marble or iron) and rotated. This twists the straight opalescent ridges into a spiral opalescent stripes, Fig. 10. The striped opalescent glass is now ready to be blown into a shape mold such as tumbler, vase, pitcher, etc. to produce the final object.
Other opalescent patterns are formed by cutting any desired design into the spot mold. This creates a raised pattern in the glass which can be reheated and turned opalescent. The dot optic pattern, for example, is formed in a spot mold in which a net-like grid is cut into the mold; a coin dot pattern would be produced by cutting disc shapes into the mold. Cased colors, such as cranberry, are created by taking up a small gather of cranberry glass before picking up the clear glass.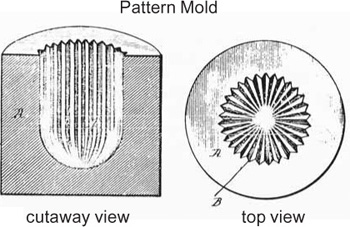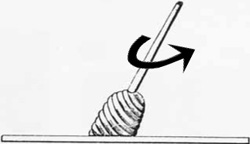 Real Or Repro is an industry resource powered by
a vetted marketplace of dealers and winner of numerous
Ecommerce Bytes Sellers Choice awards
for Quality, Usability, Customer Service, Communications and Most Recommended Selling Venue
---
So now,
Our Ruby Lane Shop Owners
invite You
to shop with them for the
Real Deal
on Ruby Lane ...