More Confusing Marks on New Flow Blue ChinaBy
Mark Chervenka
More Confusing Marks on New Flow Blue China
The first confusing mark (Fig. 2) is a crude copy of a genuine mark used about 1912 by T. Rathbone of England. Notice that this new mark does include the word "England" which other new marks do not include. This is almost certainly a violation of US laws and laws of many other countries which require the country of origin be marked on imported goods. All the other new Flow Blue with bad marks is being made in China and it would be a huge shock to find these pieces were not also being made there.
The new Rathbone copies include the pattern name "Victor" in the banner beneath the swan. But notice that the Victor name can appear on a variety of patterns. The new cheesekeeper and teapot in Fig. 1 are obviously different patterns but both have the new Victor mark. The various differences with the new mark are detailed in the captions under Figs. 2 & 3.
This new Rathbone mark is an improvement over the previous fake Rathbone mark. The previous Rathbone fake has no lettering and the object beneath the swan resembles a boat or gondola more than a banner.
The other fake mark is the new Chelsea mark in Fig. 5. It bears a resemblance to the British Royal Arms with a lion and unicorn on either side of a crown. The pattern name "Chelsea" appears below the arms. This new mark is very similar to other marks on new Flow Blue being made in China. But rather than Chelsea below the arms, the most common words in previous Royal Arms-type marks have been "Victoria Ironstone," "Victoria Ware," or "E. C. Challinor." The plate on which the Chelsea mark appears is shown in Fig. 4. Some of the other similar fake Royal Arms marks are shown in Figs. 6-7. The other marks appear on a wide variety of reproduction china including pieces decorated with Flow Blue-type wares.
Other confusing marks with pattern names on reproduction Flow Blue include Iris, Waldorf and Touraine.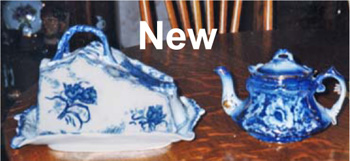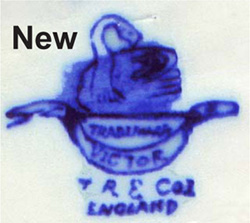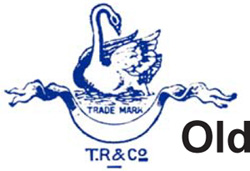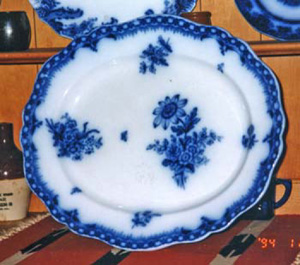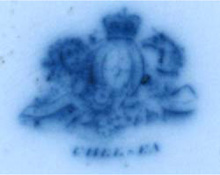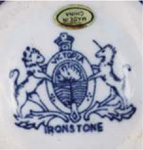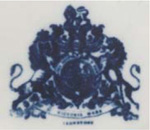 Real Or Repro is an industry resource powered by
a vetted marketplace of dealers and winner of numerous
Ecommerce Bytes Sellers Choice awards
for Quality, Usability, Customer Service, Communications and Most Recommended Selling Venue
---
So now,
Our Ruby Lane Shop Owners
invite You
to shop with them for the
Real Deal
on Ruby Lane ...
View More Similar Items