More Roseville Reproductions - Nude Panel and Dealer SignsBy
Mark Chervenka
More Roseville Reproductions
Nude Panel Wall Pocket and Dealer Signs
Fake dealer signs and a nude panel wall pocket capitalize on the popularity of art pottery and other items associated with the Roseville company.
Nude Wall Pocket
Two new wall pockets with a nude in Panel (Rosecraft Panel) have been confirmed. The background color of both new wall pockets reported was ivory with light green nudes. Backgrounds of original Panel pieces, made ca. 1920, are dark bronze or blackish green. Both new pieces were marked with the Rv ink stamp. The color ink on new stamp is too light; original ink stamps are a deep navy blue which generally appears almost black. An original nude Panel wall pocket is shown in color in Collectors Encyclopedia of Roseville Pottery-Second Series, Sharon & Bob Huxford, pg. 165, row 4, #2.
Dealer Sign
Another Roseville related fake is a phony dealer sign. It is reverse painted on glass with gold letters on a black background, 15 7/8" X 8". The signs read "Roseville Pottery Sold Here." All authentic Roseville pottery dealer signs are made of pottery. Any reverse painted Roseville dealer sign should be considered a fake.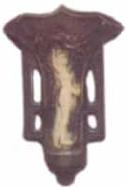 Real Or Repro is an industry resource powered by
a vetted marketplace of dealers and winner of numerous
Ecommerce Bytes Sellers Choice awards
for Quality, Usability, Customer Service, Communications and Most Recommended Selling Venue
---
So now,
Our Ruby Lane Shop Owners
invite You
to shop with them for the
Real Deal
on Ruby Lane ...
View More Similar Items