Modern Spanish glass often confused with MoserBy
Mark Chervenka
Modern Spanish glass often confused with Moser
Modern enamel decorated glass from Spain is increasingly being confused with products made by the companies founded by Ludwig Moser and operating ca. 1857 to 1938. Modern Spanish examples have even been mistakenly attributed to Moser in two reference books on pre-1938 Moser glass (Figs. 4,5).
The new Spanish glass has been in the American market since the mid-1980s. Decorations and shapes are based on a traditional style called Mudejar, a blend of Spanish and Moorish (Islamic) influences, dating from the 15th to 17th centuries. Importation of the glass into the United States appears to have ended around the early to mid 1990s. It is not known, though, if the glass is still being made and sold in Spain.
The primary decoration is highly raised hand painted enamel work. Gold tracery fills in between the enamel work and outlines rims, handles, bases and lips. Many pieces also include applied crimped glass trim, or rigaree. Some pieces also have glass animal figures, usually birds, applied to finials and handles.
Painted enamel work generally features highly stylized depictions of animals–such as goats, horses, deer–or exotic birds–such as geese, roosters, phoenixes–or heraldic symbols such as coats of arms, armor and banners. These main features are surrounded by highly stylized enamel flowers or enamel abstract geometrics as dictated by the principles of Islamic art. Most pieces are artist signed in gold which is worked into the geometric designs. The most commonly found names are Cire, shown here in Fig. 6, and Royo. The most common body glass is a yellow amber followed by a pale purple or lavender. Other colors include blue and various shades of green. Thin glass threading is frequently used around necks and top rims.
Imported pieces arrived in this country with the Made in Spain paper label shown in Fig. 2. Note the name Ardalt at the top of the label. Ardalt is an American importing company started in the mid 1940s in New York city. Its registered trade name, House of Ardalt, was first used in 1945. The last renewal of the Ardalt trade name was in 1973. The company remained in china and glass trade registries through the 1990s with a Hollywood, Florida address. A nationwide search did not turn up a current phone number and the company is presumed closed.
Although some pre-1938 Moser decorations occasionally used an Islamic theme, the modern Spanish pieces are quite crude and nothing like authentic Moser quality. All the Spanish pieces we've examined, for example, have very rough scarred pontils. Virtually all Moser products have polished pontils. Three-dimensional glass figures applied to authentic Moser–such as fish, insects, snakes–are expertly made fully formed realistic shapes. The birds and swan shown in Figs. 4 and 5 are far less skilled and nothing like original applied glass figures.
Authentic Moser glass bodies are almost always virtually flawless. There are rarely any bubbles, unmelted grains (seeds) or pitting. All the modern Spanish pieces have numerous bubbles. Most pieces, but not all pieces, also have at least some unmelted lumps and some pitting.
Almost all pre-1938 Moser, regardless of how well its been cared for, shows at least some wear to the gold trim. The Spanish pieces show bright gold throughout with no wear. Likewise, most pre-1938 pieces will show some minimal scratching on their glass bases. The Spanish piece are perfectly smooth with no signs of normal wear.
Another less obvious clue is the shape. All the modern Spanish pieces are in traditional shapes unique to Spanish glass making.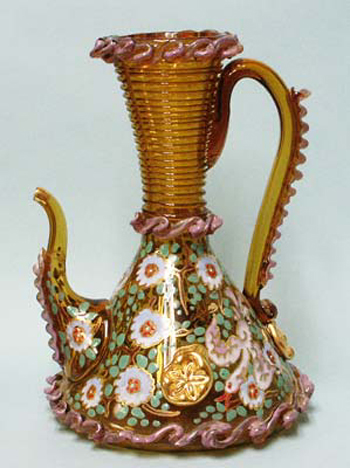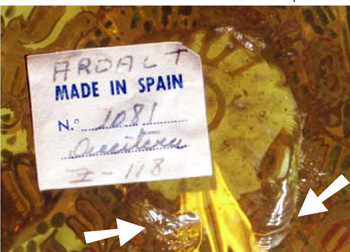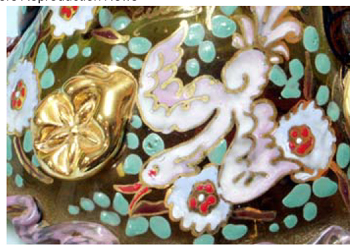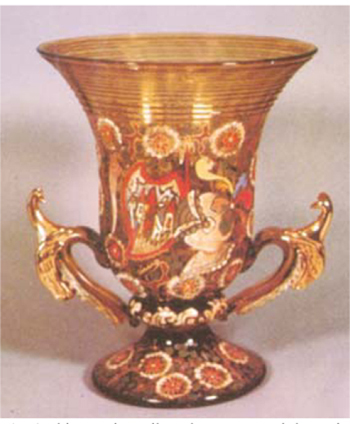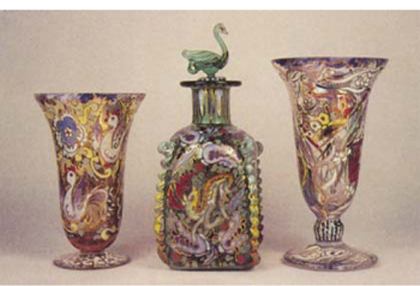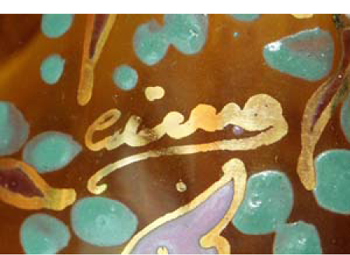 Real Or Repro is an industry resource powered by
a vetted marketplace of dealers and winner of numerous
Ecommerce Bytes Sellers Choice awards
for Quality, Usability, Customer Service, Communications and Most Recommended Selling Venue
---
So now,
Our Ruby Lane Shop Owners
invite You
to shop with them for the
Real Deal
on Ruby Lane ...
View More Similar Items