Miniature Glass Lamps: Old and New BurnersBy
Mark Chervenka
Miniature Glass Lamps: Old and New Burners
Miniature glass oil-burning lamps were popular from the last quarter of the 19th century through the first quarter of the 20th century, ca. 1875-1925. There is some debate over the exact use of miniature lamps. Collectors often use the names courting lamps, night lights, children's lamps or toy lamps depending on what purpose they believe the original lamps served.
Regardless of original use, miniature lamps are a popular collectible in high demand. Part of this demand has been met with reproductions. Some styles of miniature lamps have been reproduced since the late 1940s. Others have only recently been brought back as mass-produced copies. This leaves buyers with the problem of separating pre-1930 originals from post-1950s copies as well as current reproductions.
This problem was further complicated when the molds of L.G. Wright Glass. Co. were sold in 1999. From the 1950s through the 1980s, Wright was one of the major producers of reproduction miniature lamps, many of which have become collectible for their own merits. Since the auction, many Wright molds have been brought back into production both in the United States and overseas.
It is impossible to cover all the copies of all the miniature lamps reproduced over the years. We have tried to show a wide selection of new and old burners and how they are marked. How burners are marked can be a valuable clue to age, but there are several factors which can affect your examination of burners.
First, it's important to keep in mind that the traditional burner names – Acorn, Hornet and Nutmeg being the most common–describe burner styles, or shapes. Those same names are used on new burners made today that have no relationship with the original burner styles.
Second, burners can be replaced. Old collars and burners mounted in plaster can be removed from genuinely old lamps and re-plastered on reproduction lamps. In such cases, you would find genuinely old parts on brand new lamps.
Third, you may find genuinely old lamps with new burners. New burners have been made as replacement parts since at least the 1940s. Old lamps that have been in everyday use as working lamps frequently have had the original burner replaced.
Buyers can often avoid the most recent reproductions simply by using a long wave black light. Virtually all glass oil burning reproduction lamps are assembled with glue. Glue is used to fasten new burner collars to bodies and join fonts to bases. Old collars, of course, would normally be plastered not glued on. Old glass fonts and bases were generally joined together while hot and are permanently fused together. Many new two-piece lamps are made from two separate batches of glass–the base and font fluoresce different colors (see Figs. 5 and 10).
Other New Miniature Lamps
Other new miniature lamps not shown in this article are listed below. Following each entry is the corresponding entry in the standard reference book on miniature lamps, Miniature Lamps by Ruth and Frank Smith, volumes I and II.
Greek Key (Smith-I, #169) Made new in cobalt and pink; the original was made in clear glass only.
Fleur-de-lis (Smith-I, #228) The new base is 3 inches tall; old base is slightly over 2 inches tall.
Cosmos (Smith I, #286) Original was made in milk glass only; any other glass is a reproduction. Daisy is the original name of this pattern, but now almost universally called Cosmos.
Swirl (Smith I, #293) The original was made in a four-part mold and has four mold seams. The new was made in a two-part mold and has only two mold seams.
Embossed Swirl (Smith I, #369) Originals made in various colors including cranberry and milk glass. New lamps have been found in clear glass with thin cranberry flashing and milk glass. Originals had Hornet-style burners.
Beaded Drape (Smith I, #400) Extensively reproduced by L.G. Wright in many color combinations. Generally, Wright reproductions are much thicker glass than originals.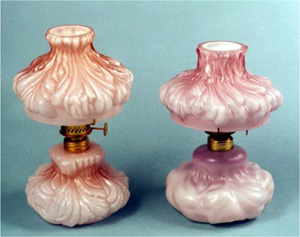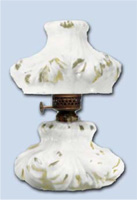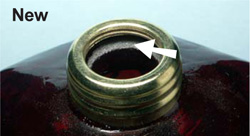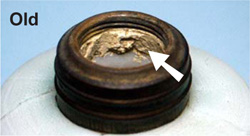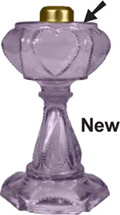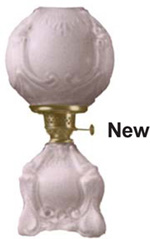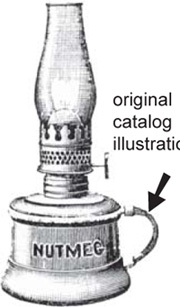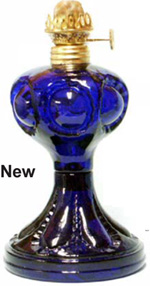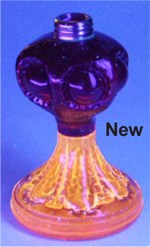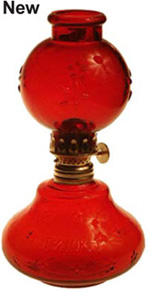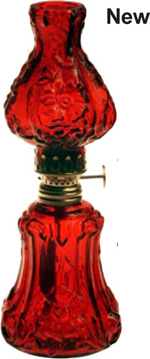 Top View of Plume Miniature Lamp Shades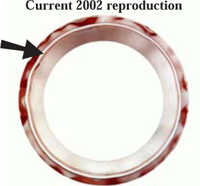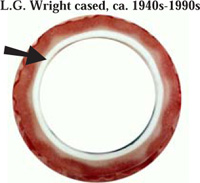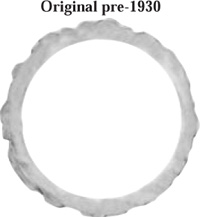 Fig. 16 Another good test to separate vintage L.G. Wright Plume lamps from more recent Plume reproductions is to examine the base just under the metal collar. This area in the Wright version is oval, above right. The same area in the current reproduction is almost square in shape, above left.
The Most Common Original Burners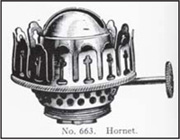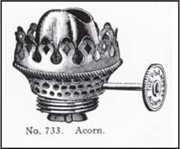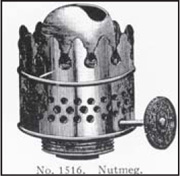 Figs. 17-19 Illustrations from a Plume and Atwood Mfg. Co. catalog of the three most common burners on American miniature kerosene lamps: the Hornet, Acorn and Nutmeg. All these burners use a flat wick. The Hornet is the largest, taking a chimney of one and a half inches in diameter. The Acorn is shaped like the Hornet only smaller, using a chimney of slightly over one inch in diameter. The Nutmeg burner has a vertical cylindrical shape and takes the same size chimney as the Acorn, slightly over one inch.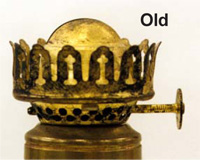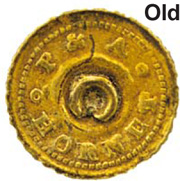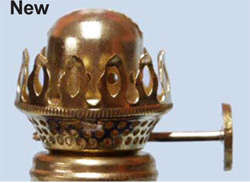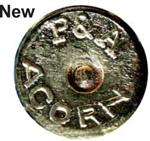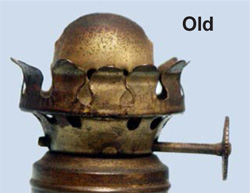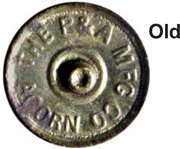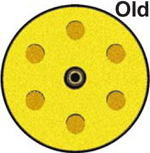 Nutmeg Burner
No genuine pre-1940 Nutmeg-style burners that fit miniature lamps are marked with the word "Nutmeg." Any burner marked Nutmeg has been made after ca. 1950 at the earliest. Burners marked "Nutmeg Burner" are currently being made. There are also some Nutmeg-styled reproduction burners marked "Acorn." No authentic pre-1930 Nutmeg-styled burner made by Plume & Atwood is marked Nutmeg nor Acorn.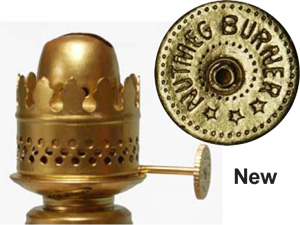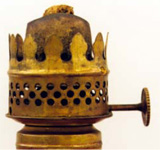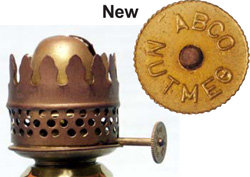 Typical Knobs on Old Nutmeg Burners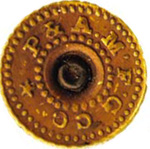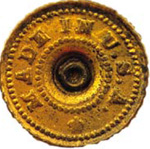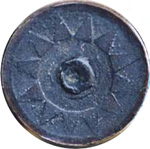 New Knobs with Other Names