McKee Punchbowls: Pre-1930 Molds Still in UseBy
Mark Chervenka
McKee Punchbowls: Pre-1930 Molds Still in Use
Between 1904 and 1915, McKee Glass Co. introduced a series of high quality pressed glass imitations of cut glass. The name for this line, Pres Cut, was molded on the inside of almost every piece. There were at least 21 different patterns in the original line. The Pres Cut line was made up until about 1927.
Many original McKee Pres Cut molds were reduced to scrap during metal drives in WW II. Other original Pres Cut molds, though, have continued to be worked over the years and have survived down to the present day. Although molds for a number of different shapes still exist, this article will focus only on Pres Cut patterns in punchbowls.
Probably the most frequently reproduced Pres Cut punchbowl is a pattern named Aztec, originally produced ca. 1904-1927. Originals are marked Pres Cut in raised molded letters on the inside of the bowl. There are at least three post-1930 versions made from the same mold.
The first Aztec punchbowl reissue was made in 1955 by Tiffin Glass Co. These pieces are reported to carry the original Pres Cut mark, but we have not been able to confirm this. Another reissue, also from the original mold, was produced in 1966 by Jeanette Glass Co. We have not been able to confirm whether these pieces have the Pres Cut mark.
LE Smith Glass Company has been making a third version of the Aztec punchbowl from the original molds since 1981. The Smith pieces are generally marked with the molded SGC monogram on the outside of the bowl. Other Smith marks may appear as the mold is updated.
Probably the next most commonly seen Pres Cut punchbowl reissued by Smith is a pattern McKee called Wiltec. Smith is currently selling this pattern under the name "Galaxy." The new Wiltec punchbowl in Fig. 1 is marked with the molded SGC monogram.
Although the Smith marks are an obvious clue to age, they are frequently very difficult to locate. Even when found, many buyers can't identify or date the mark. The presence of the Pres Cut molded mark is probably a good indication of age, but may not be a guarantee for all the punchbowls. Some early Aztec pieces by Tiffin may have the Pres Cut mark.
Original pre-1930 McKee Pres Cut is high quality brilliant glass with excellent clarity. Most of the Smith reissue we've seen have a slight grayish cast or tinge. Mold detail also seems to be slightly less distinct on the reissues than the pre-1930 pieces but detail can also vary among originals.
Original McKee Pres Cut almost always fluoresced yellow-green under long wave black light. The new Smith Wiltec punchbowl in Fig. 1 does not fluoresce. Most all clear American pressed glass made before ca. 1930-1950 fluoresces; most made after 1950 does not.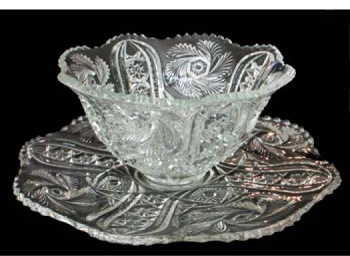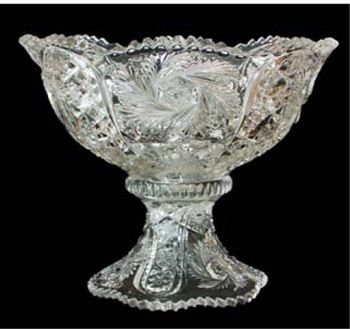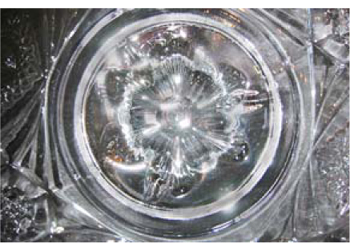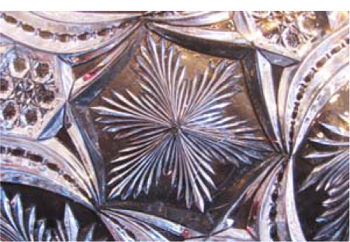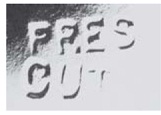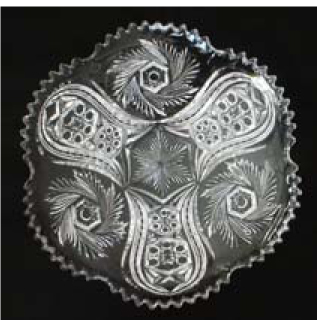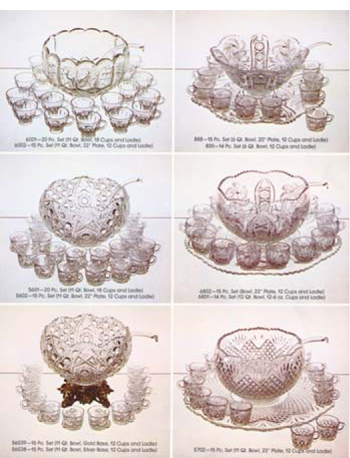 LE Smith Glass Co. - All Marks are Molded