Maxfield ParrishBy
Richard Perry
Maxfield Parrish
Fakes and
Reproductions
Before we begin our discussion, we need to define the word "reproduction". All of Maxfield Parrish's magazine covers, calendars and advertisements were taken from a painted original which was then reproduced on paper by the process of color printing. Since true original paintings are scarce and expensive, collectors often use the word "original" to mean a print, reproduced on paper about the same time the original was painted.
In this article, we will refer to reproductions either as "new reproductions" or "old reproductions". An old reproduction means a period piece printed around the time the original was painted; new reproduction will mean a recent copy, typically made during the mid-1960s to the present. It is these later reproductions that can cause problems for unsuspecting or uninformed buyers. Information in this article will not make you an expert but it will give you a better understanding of new reproductions and some of the ways to detect them.
Background & Career
Maxfield Parrish is one of the most widely recognized names in American art history. His unique abilities and diversity of subject matter kept him employed for nearly seventy years as a painter and illustrator of children's books, advertising posters, programs and murals.
The best known works of his lengthy career, however, are the over 100 covers and advertisements he painted for magazine companies. Many illustrations from Parrish's magazine work, and from his children's books, were produced and sold individually as "art prints".
Parrish originally studied to become an architect but gave it up after three years to devote himself to painting. He was 26 when he illustrated his first book, Mother Goose in Prose which was published in 1897. His last book, Knave of Hearts was printed in 1925.
One of Parrish's most notable achievements was a series of calendars he painted for Edison Mazda Lamp Division of General Electric. He was commissioned to paint one calendar a year from 1918 to 1934. Many consider these calendars Parrish's finest work and best show his use of rich color and light.
After his work for the Mazda series, Parrish began to focus on nature as his primary subject. In 1935 he accepted a commission from Brown and Bigelow for a series of landscape scenes to be printed on calendars. These paintings reflected Parrish's love of the outdoors as evidenced by his longtime residence in Cornish, New Hampshire where he used his local surrounding as his subjects.
Parrish was primarily a magazine illustrator but gained the most fame from mass produced prints of his paintings such as Daybreak, Stars and Dreaming. These prints have remained popular over the years despite the changes in art styles.
After a long and successful career, Maxfield died at his home in Cornish in 1966 at the age of 95. Unlike most artists, Parrish was fortunate enough to see his art become popular and himself famous before his death.
Maxfield Parrish was one of the most successful commercial artists and illustrators in American art history. From his first published work in 1897 till his death in 1966 at age 95, Parrish attained a success that few living artists ever achieve.
Telling New from Old
New reproductions look new. Most of them have a shiny surface that looks similar to vinyl. The colors of the new pieces are usually much more brilliant than the old reproductions. New reproductions also generally lack the detail found in the old works--new pieces look fuzzy especially in shaded areas. One of the best ways to get a feeling for the new colors is to buy some new prints or posters and hold them side by side with originals. If you're just starting out, take some of these new pieces along with you to an antique show and compare them with originals there (always asking permission to do so--Parrish dealers are usually happy to help and can give you tips of their own).
Backing & Framing
The kind of backing on a print and its effect on authenticity and value is often contradictory. Many Parrish collectors and dealers prefer to remove old paper backing and cardboard matting and replace it with new. On the other hand, many dealers and auction firms say that prices for prints with original backing bring more and won't even accept reframed pieces. To complicate matters, some persons will remove a common print from a period frame and replace it with a new reproduction print by a well known name like Parrish. Sometimes old paper backings from common prints are removed from larger frames and applied to a smaller frame that holds a new reproduction--the edges are then trimmed to give it the appearance of an original backing. Never assume that because the paper backing is intact and appears to be old that you have an old reproduction.
If you are considering purchasing a reframed Parrish piece, you may want to ask why it was reframed and have the seller explain the method used. There are times when a piece should be reframed. Acids in old wood pulp matting, for example, can visibly damage a print. Reframing could also be necessary because moisture may have gotten inside the frame which could damage the mat or the print itself.
Paper
If possible, try to examine the print removed from the frame. Old paper looks and feels old. Paper used in old pieces is generally heavier than papers used over the last thirty years. The back side of old paper is usually colored anywhere from a very light brown to dark brown. This color is actually a patina or film that appears gradually on the surface as the paper ages. It occurs on both sides but is usually easier to see on the back side which was usually white at the time it was printed. Cigarette smoke, smoke from furnaces, wood burning stoves and fireplaces and smoke and grease from cooking also add to the discoloration.
Generally, most old prints also show some degree of fading. Looking at the print out of the frame with the image side up, the paper hidden under the mat or frame is usually darker. Keep in mind that the severity of fading may not be due entirely to age. The amount of fading can be considerably influenced by the type of light and length of time the print was exposed. A print exposed to bright sunshine will show more fading than a print in indirect lighting.
Measurements
Measuring a Parrish is one of the more important means of determining whether it is an original. The list at the bottom of the page is a list of titles and measurements of many, but not all, reproductions. All measurements are for the image area only and do not include a border unless stated.
In addition to detecting fakes, measuring a piece helps you guard against "cropped" images. The term "cropping" is used to describe the process of cutting a piece to make it smaller. A piece might be cropped to remove a damage or to fit the piece in a special frame. Many old pieces were cropped, but cropping greatly lowers the value of old pieces and should be avoided. If the overall image measures smaller than what it should, you may have either a cropped old piece or a new reproduction. If the image is larger that what it should be, you may likewise have a reproduction.
You should be aware that new reproductions made with computer scanning equipment can produce prints the exact size of old pieces. Use measurements as only one part of your total examination. Never rely on just one or two tests to form your judgement of authenticity.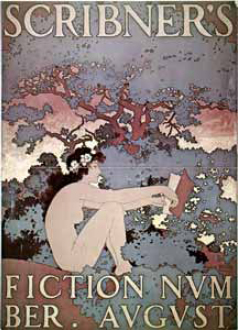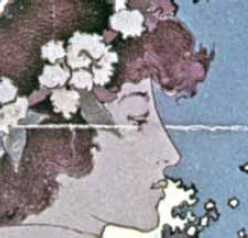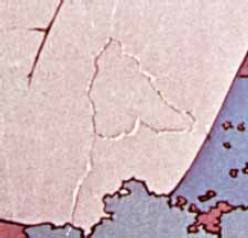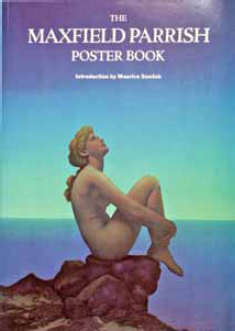 Do not use measurements as your only test of age. There are probably other reproductions not included in this list. New computer prints can be made the same size as originals.
Air Castles
8 1/4 x 12 1/4"
9 3/4 x 13"
12 x 16"
12 1/4 x 18"
Cadmus
8 1/4 x 10 1/2"
Canyon, The
8 1/4 x 11"
9 1/2 x 12 3/8"
9 3/8 x 15"
12 x 15 1/4"
20 x 26 1/2"
24 x 36" with
borders
Centaur, The
8 1/4 x 10 1/4"
Cleopatra
13 x 15"
Contentment
8 x 10"
8 x 12 1/2"
17 x 30"
18 1/2 x 20 3/4"
24 x 36"
Daybreak
4 x 6"
8 x 10"
9 5/8 x 11 1/4"
15 x 8 3/4"
15 1/2 x 24"
18 x 30" unsigned
18 1/2 x 25 3/4"
20 x 32"
24 x 36" with borders
Dinkey Birds
9 5/8 x 12 1/2"
12 1/4 x 18"
Dreaming
18 x 25 1/2"
Dreamlight
8 x 10"
8 x 12 1/2"
17 x 30"
18 1/2 x 25 1/2"
Easter
14 x 20"
Ecstasy
8 x 10"
9 5/8 x 12 3/8"
17 x 30"
19 x 25 1/4"
19 x 26"
24 x 36" with borders
Egypt
8 1/4 x 14"
17 x 30"
Enchantment
8 x 12 1/2"
8 1/4 x 10 3/4"
17 x 30"
20 x 25 3/4"
24 x 36" with borders
Entrance of Pompdebile King of Hearts
10 1/4 x 12 3/4"
14 1/4 x 17 3/4"
15 1/2 x 21 1/4"
Errant Pan, The
25 x 30"
Evening Shadows
17 1/2 x 21 1/4"
19 x 25"
Garden of Allah
4 x 7 3/4"
7 x 14"
9 5/8 x 11 1/4"
14 3/4 x 29 1/2"
18 3/4 x 32 3/4"
24 x 36" with borders
Gardens of Opportunity
10 3/4" x 20 1/2"
Harvest
8 1/4 x 11 3/4"
Hilltop
12 1/2" x 18"
18 1/4 x 25"
Humpty Dumpty
32 x 40"
Idiot, The
(also called Bookseller)
11 x 16"
King of the Black Isle
8 1/4 x 11"
10 1/4 x 12 3/4"
Lamp Seller of Bagdad
17 x 30"
Land of Make-Believe, The
8 1/4 x 10 1/4"
Lute Players
10 1/2 x 18"
14 3/4 x 9 3/8"
19 x 25 3/4"
Millpond
8 1/4 x 10 1/4"
18 3/4 x 23 1/4"
24 x 36"
Morning
12 x 15 1/4"
Morning Light
19 x 25"
New Moon
16 x 20 1/4"
Night is Fled
14 1/2 x 17 3/4"
Old Glen Mill
17 1/2 x 21 1/2"
19 x 25"
Peaceful Valley
16 1/4" x 20 1/2"
19 x 25"
Primitive Man
17 x 30"
Prince, The
9 5/8 x 12 3/8"
Prometheus
8 1/4 x 13 1/2"
17 x 30"
Queen Gulnare
8 1/4 x 10"
Quiet Solitude
19 x 25"
Reluctant Dragon
17 x 30"
Reveries
7 x 10 3/4"
Romance
8 1/4 x 13 1/2"
Rubaiyat, The
3 3/4 x 14 3/4"
7 1/2 x 28 1/4"
9 1/2 x 26"
Sheltering Oaks
19 x 25"King of the Black Isle
Sinbad Plots Against the Giant
8 1/4 x 9 3/4"
Stars
8 x 10"
8 x 12 3/8"
8 3/4 x 11 3/4"
10 1/4 x 15 1/4"
17 x 25 3/4"
Sunrise
10 x 13"
Thy Rocks and Rills
12 3/8 x 15 3/8"
Twilight
12 1/4 x 14"
Venetian Lamplighter
8 1/4 x 13 3/4"
Waterfall
8 x 10"
8 1/4 x 11 3/4"
9 1/4 x 10 1/2"
9 5/8 x 12 3/8"
17 x 30"
19 x 26"
21 x 29 1/2"
24 x 36" with borders
White Birch
8 1/4 x 10 1/4"
19 1/4 x 24"
Wild Geese
8 1/4 x 11 1/4"
9 5/8 x 12 1/2"
20 3/4 x 28 1/4"
24 x 36" with borders
Posters
Penn. Academy Poster Show
10 1/8 x 13"
Magazine Covers
Booklover, The
Colliers, 10 x 15"
Botanist, The
Colliers, 10 x 15"
Frog Prince
Hearst, 10 1/4 x 15"
Fiction Number (August 1897)
Scribner's 10 1/8 x 14 1/8"
Humpty Dumpty
Life, Easter 1921
Advertisements
(printed pieces that include the name or the company with the artwork)
Jello
The King & Queen Might Eat
Thereof and Noblemen
Besides
14 1/2 x 10 1/4"
Mazda Edison
Enchantment
9 x 15" Mazda logo and title extend into white margins
Lamp Seller of Bagdad
9 1/4 x 15"
Mazda logo & title are within the border of the overall print
Real Or Repro is an industry resource powered by
a vetted marketplace of dealers and winner of numerous
Ecommerce Bytes Sellers Choice awards
for Quality, Usability, Customer Service, Communications and Most Recommended Selling Venue
---
So now,
Our Ruby Lane Shop Owners
invite You
to shop with them for the
Real Deal
on Ruby Lane ...
View More Similar Items