Mary Gregory Glass: 19451990sBy
Robert Truitt
Mary Gregory
Glass: 1945-1990s
The end of WW I brought numerous changes to the Czech glass houses, but the during the period after WW II they were completely reorganized.
For a brief time, the glasshouses struggled to resume their prewar production. At that time, the glass industry was still in the hands of Czechs of German origin including such firms including such firms as Lobmeyr, Moser, Muhlhaus, Riedel, Hartman & Ditrich and others.
Then in 1947, the Communist Party took power in Czechoslovakia. By 1951, the Communists had nationalized every glass factory and expelled everyone of German ancestry which included thousands of glass decorators. Fortunately most of the glass makers were native Czechs and Slovaks and production of undecorated glass could continue. Committees were set up to run the glass industry with all the glass factories united under the single name of Crystalex. The name Glassexport was used for the organization which would market the glass through world wide offices.
As production resumed, one of the first types of decorations produced was "Mary Gregory." Painting Quarkmal, which translates from the German as "white people," was not a simple task. In years past, German decorators had the benefit of many generations of father-to-son training and many persons started painting by the age of ten. The post-war decorations were not as well done as pre-war decorations and over time the differences in quality became more and more obvious.
To speed production, standard designs were simplified and the variety of designs available was greatly reduced. Occasionally custom orders were processed that required more skill and time. The decorators were also often called upon to create paintings that would pass as "old."
For several years after the war, the shortage of raw materials forced the glass houses to produce mostly clear glass of mediocre quality. Most cranberry glass of this period is actually clear glass with only a cranberry stain or flashing. By 1960, the quality of the glassware improved and solid red and blue glass was back in wide use. Even as the glass itself improved, however, the quality of decoration continued to decline.
The oldest and finest decorations were previously done over a period of several days. Usually the entire figure would be painted and allowed to dry. Details were then added to the piece and it was fired with all the white-on-white lines flowing together. In many pieces, small details called points would be added and the piece fired a second time. These points stand out vividly even though the decoration is entirely white-on-white. (Fig. 6)
A second firing is naturally more costly than a single firing and since 1945 it has been nearly abandoned. The search for ways to lower production costs eventually lead to what is called the take away method of painting. Instead of emphasizing details by adding paint such as raised lines or points, the take away method creates details by removing paint. The lack of white-on-white detail is a definite indication of postwar glass, but the presence of white-on-white decoration is no guarantee that the piece is pre-war. (see Figs. 7&8)
By 1970, Czechoslovakian artists and engravers had re-established themselves as world class glass decorators. They had little interest or desire to recreate the past. Crystalex continues to process orders for "Mary Gregory" glassware, but on a limited basis and offers a relatively small selection of subjects.
Although "Mary Gregory" glassware was primarily a Czech product, it was not entirely limited to the Bor Region of Czechoslovakia. Switzerland, Holland and Germany also produced glassware of this type. In the postwar years, American importers have been willing to purchase Mary Gregory glassware anywhere if the price was right.
The history of this type of glassware would not be complete without including some reference to the American decorators who also worked in this style. In 1957, Robert Rupp was Vice President and General Manager at Westmoreland Glass Company in Grapeville, Pennsylvania. His staff of decorators included two brothers, Edward and Edmond Pohl. The Pohls, being of German ancestry, were forced to leave post-war Czechoslovakia and had come to the United States by way of South America. The Pohls were experienced "Quarkmanl" painters and worked with Rupp to create a series of "Mary Gregory" decorated glassware.
Westmoreland launched their "Mary Gregory" line on an 8" plate with pierced forget-me-not border (Fig. 15). The Mary Gregory decorations were successful and by the time Westmoreland closed in 1984, there was a great variety of glassware available with the white enamel decorated figures.
With the closing of Westmoreland, many of their decorators turned to free lancing for private glass wholesalers who contracted with glass makers to reproduce the Westmoreland line. In 1982, Rupp left Westmoreland and opened "Treasured Editions" in Jeanette, Pennsylvania. Over the years, he has been joined by several former Westmoreland employees, including former head artist Ernest Brown. They have reproduced many of the Westmoreland products, most notably the #750 basket with a variety of the old Westmoreland Mary Gregory decorations. Other entrepreneurs have also reproduced the Westmoreland line. Phil and Helen Rosso (of Rosso Wholesale Glass) have contracted with former Westmoreland decorators and continue to offer a variety of "Mary Gregory" style glassware.
Experienced collectors of "Mary Gregory" glassware should have no problem separating pre-war glass from post-war pieces. Beginners, however, might benefit from a few general guidelines.
1. Look for well done figures. Very few of the post-war decorations are of high quality.
2. Cased glass was rarely, if ever, produced after 1945. A white lining with a tan, yellow, blue or red outer layer generally indicates pre-war glass,
3. 10 and 12 sided glass (as opposed to perfectly round) is generally pre-war.
4. Cranberry stained glass is typically post-war. Most pre-war cranberry was solid cranberry.
5. Gold trim should show logical and natural wear. Glass with shiny, "good as new" trim is probably new.
6. Note the method of how the enamel was applied-- is it white-on-white or "take-away". White-on-white may be post-war, but take-away paintings are all post-war.
7. Most tableware is post-war. Pre-war sugar shakers, syrups, cruets, etc., are scarce and would have only highly detailed paintings of excellent quality.
The widespread belief that the Boston and Sandwich Glass Company and other American glass houses produced Mary Gregory glass has undoubtedly increased American interest and prices for this type of glassware. Now that the facts have come to light, I believe a period reevaluation will follow. Historically, when new information on a specific antique becomes available, prices for that antique rise. In the case of Mary Gregory glassware, I feel the opposite may be true--at least for items near the bottom of the scale in quality and for items made since 1945.
Robert Truitt is the author of the book Mary Gregory Glassware.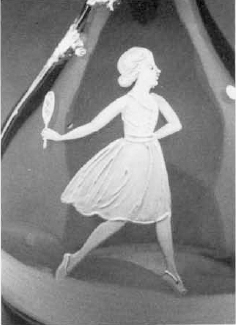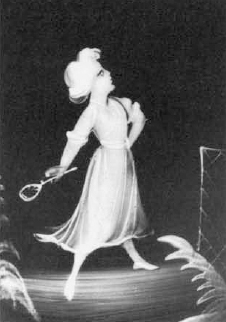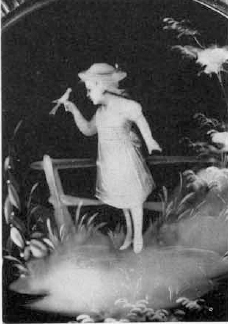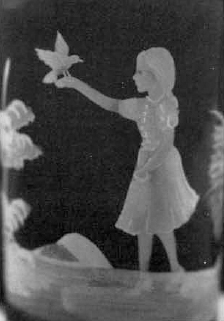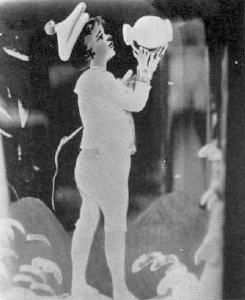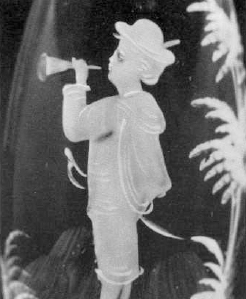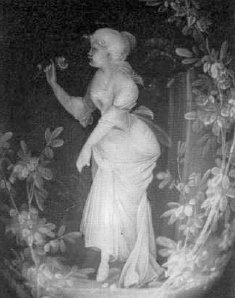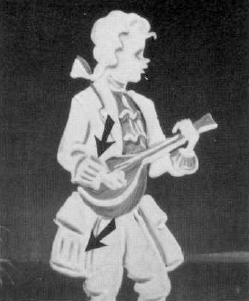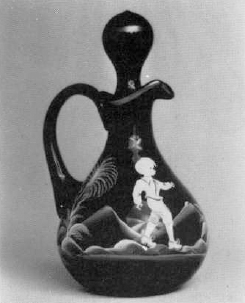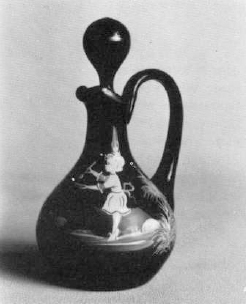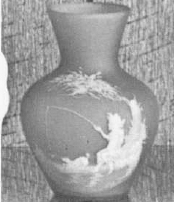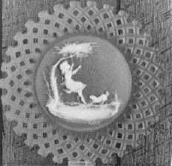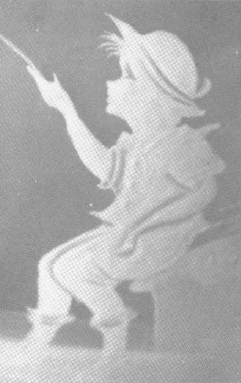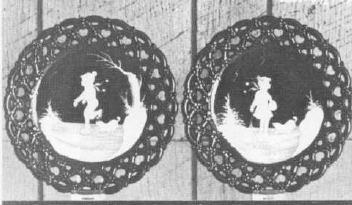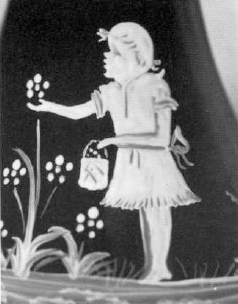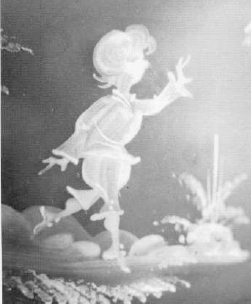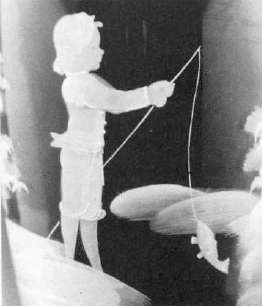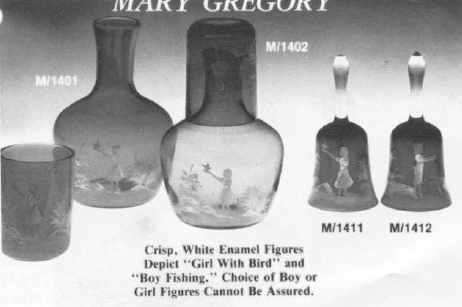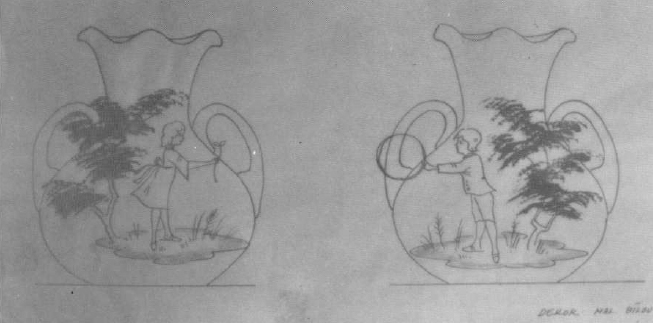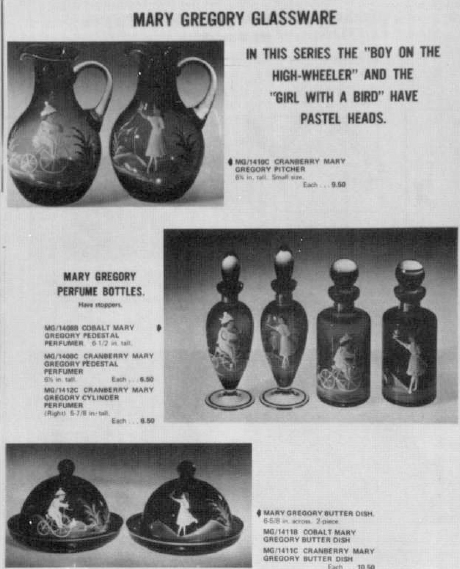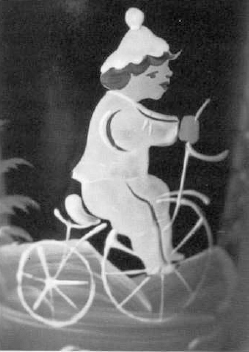 Real Or Repro is an industry resource powered by
a vetted marketplace of dealers and winner of numerous
Ecommerce Bytes Sellers Choice awards
for Quality, Usability, Customer Service, Communications and Most Recommended Selling Venue
---
So now,
Our Ruby Lane Shop Owners
invite You
to shop with them for the
Real Deal
on Ruby Lane ...
View More Similar Items