Marks Faked and Forged on Art GlassBy
Mark Chervenka
Marks Faked and Forged on Art Glass
When forgeries of million dollar fine art are uncovered, the general media run banner headlines and bombard us with video of grim experts with shaking heads. If a particularly prominent museum or celebrity has been skewered, the story may even crowd out British royalty and make the tabloids. However, the daily loss due to fakes in decorative arts--like antique art glass--probably dwarfs the dollar amount lost on new Van Goghs and Rembrandts.
Avoiding fake and forged marks is sometimes as simple as knowing how original marks were applied: were they engraved or acid etched?... is the mark a legitimate catalog or shape number?...was the mark ever actually applied to glass or does it exist only in the mind of the forger?...when was that particular mark used?
This article looks at some of the most commonly found art glass forgeries. Under each mark covered is a list of original marks, how they were applied and some typical forgeries. Figures 4-9 are a guide to marking tools and devices and how they are used.
How do you avoid bad marks? By refusing to pay more for "marked" examples. If there were no premium paid for marks, forgers would be out of work.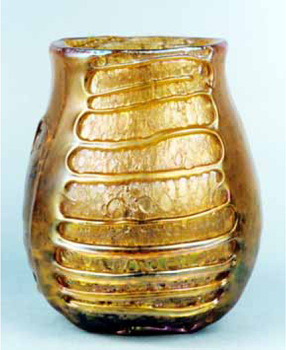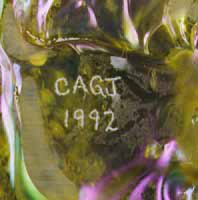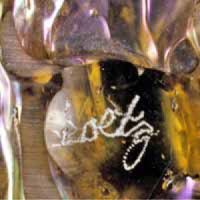 Marking Tools & Devices






Detecting New Marks on Old Glass
1. Research how original marks were applied. Some were only engraved; others were used only on paper labels.
2. Examine the mark under a loupe and look for scratches. If the mark cuts through old wear scratches, the mark is recent. If old wear scratches pass through the mark, the mark was applied before the scratch was made.


Cameo Glass
Over the years the number and quality of cameo glass reproductions has increased tremendously. Quality from Eastern Europe glass makers is coming close to the originals. To make matters worse, the majority of today's reproductions are carrying Galle marks in raised glass. Reproductions from China and Japan, although of less quality, are also marked Galle and can confuse inexperienced buyers.
Galle - TIP
Some of the best reproductions are coming from Romania. These pieces are muti-layered with raised glass Galle signatures. Colors and shapes are similar to originals. In addition to Galle, these pieces also carry a TIP mark. Tip means "type" in Romanian so a Galle-TIP mark legally means Galle-type or Galle-style which meets legal requirements. On some pieces, the TIP is appears close to the Galle mark; on others it is difficult to find. Many TIP marks are being ground off. You can detect most ground off marks with a black light.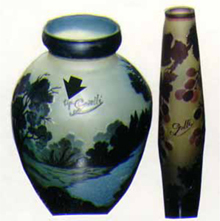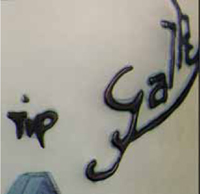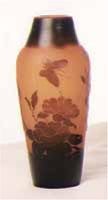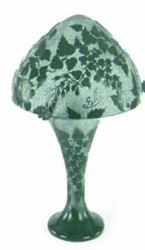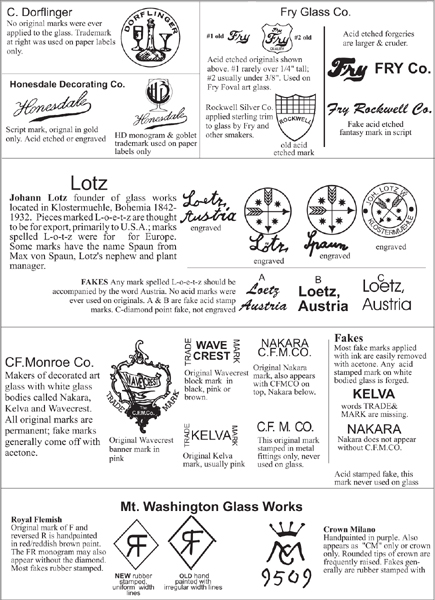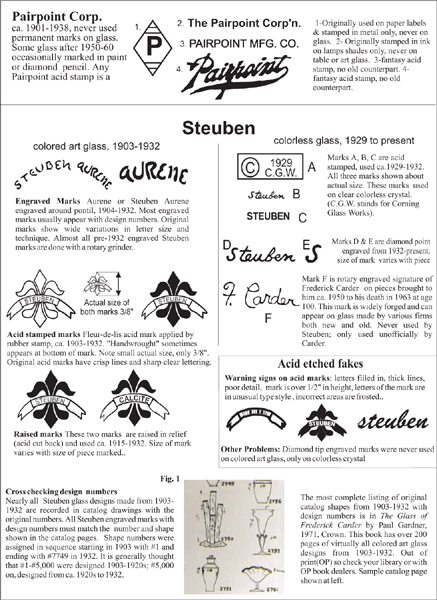 Tiffany
Engraved marks Original engraved marks appear on blown glass, ca. 1893-1928. There is a tremendous difference found among original engraved marks. Some are almost illegible, while others are in beautiful flowing script. Most marks are rotary engraved, while others (especially pastels) are marked with a diamond tip. In some engraved marks, all the words are spelled out, in others only initials are used. Most engraved marks also include model or design numbers with date codes (see chart below). In general, engraved marks are small with letters usually 3/16″ to 1/4″ tall on pieces up to 10-12″ in size; very rarely larger than 3/8″ on even the biggest pieces. Large, poorly spaced, badly proportioned or awkwardly located marks are highly suspect. Flat frosted acid etched Tiffany marks are all forgeries.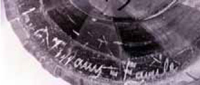 Tiffany Date Codes Many forgers rely on their imagination when adding letters and numbers to Tiffany marks. A letter before and after a number, for example, would indicate a fake. So would the use of two consecutive letters such as BB, etc. Use this chart as a general guide; there are always exceptions. There is considerable variation and inconsistencies among genuine old marks.
pr=prefix sf=suffix
Examples:
E/2458 = 1896 789/Q = 1922
| | | |
| --- | --- | --- |
| 1892-93 # 1-9999 | 1906 sf- A | |
| (no letters 92-93) | 1907 sf- B | |
| pr A or B--1894 | 1908 sf- C | 1920 sf-O |
| pr C or D--1895 | 1909 sf- D | 1921 sf-P |
| pr E or F-- 1896 | 1910 sf- E | 1922 sf-Q |
| pr G or H-- 1897 | 1911 sf- F | 1923 sf-R |
| pr I or J-- 1898 | 1912 sf-G | 1924 sf-S |
| pr K or L-- 1899 | 1913 sf-H | 1925 sf-T |
| pr M or N-- 1900 | 1914 sf-I | 1926 sf-U |
| pr O or P-- 1901 | 1915 sf-J | 1927 sf-V |
| pr Q or R-- 1902 | 1916 sf-K | 1928 sf-W |
| pr S or T-- 1903 | 1917 sf-L | |
| pr U or V-- 1904 | 1918 sf-M | |
| pr W or Y-- 1905 | 1919 sf-N | |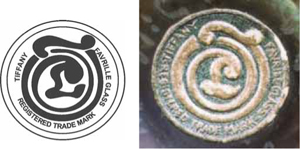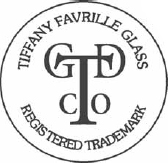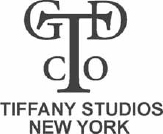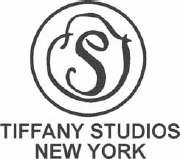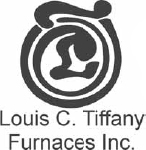 Fakes
Many trademarks originally used only on paper labels or stamped into metal now appear as acid stamped marks on glass.

These three acid marks have no old counterparts:
L.C.T
TIFFANY STUDIOS NEW YORK
L.C.T. Favrile
Real Or Repro is an industry resource powered by
a vetted marketplace of dealers and winner of numerous
Ecommerce Bytes Sellers Choice awards
for Quality, Usability, Customer Service, Communications and Most Recommended Selling Venue
---
So now,
Our Ruby Lane Shop Owners
invite You
to shop with them for the
Real Deal
on Ruby Lane ...