Many Roseville Patterns ReproducedBy
Mark Chervenka
Many Roseville Patterns Reproduced
A wide range of reproduction Roseville shapes and patterns have been sold by many reproduction wholesalers. New pieces come in a variety of patterns including early designs like Luffa and Jonquil. There is also a wide range of shapes from a 15" ewer to sugar and creamer. Like the new 7" magnolia vase that first appeared in November 1996, all these other new pieces are also made in China.
This article covers the patterns, shapes and colors of these particular reproductions plus details on how to separate them from old originals based on marks, decoration and manufacturing details. Apply the guidelines only to the specific piece being discussed. Do not apply guidelines for one shape to other shapes of the same pattern.
Patterns and Shapes Reproduced
Some of the new shapes arranged by pattern appears below. Original shape number given where known. (The first reproduction, the Magnolia vase, #90-7" from November 1996, is not listed here.)
Clematis 4½" candleholders, #1159
Jonquil #621, 4" vase #529, 8" vase
Luffa 7" vase (see Huxford I-Plate 97, #2)
Magnolia 8" planter #389 3" bowl, #665
"watering can" #180 (not original shape)
Peony 6" bowl, #428
Water Lily 7" vase, #74
Zephyr Lily 15" ewer, #24 9" vase, #136
sugar and creamer, #7 and #7C
unknown pattern, see Fig. 14
Glaze
The first Roseville reproductions that began appearing in 1996 were easy to spot because they were not glazed on the inside. After 1997, virtually all new Roseville was glazed entirely on the inside (Fig. 2) so that test no longer applies. Some of our examples were glazed virtually identical to originals with an extremely accurate thick glaze with just the right amount of gloss and shine. But others were terrible quality, with thin glazes rough as sandpaper and totally flat with no shine. New clay color is only slightly whiter than original.
The point to keep in mind is that the reproductions vary tremendously in quality just as originals will vary. Don't be lulled into thinking these reproductions are easy to spot by glaring quality problems. About 30% of our samples were very good to excellent quality and very similar to originals in mold detail and glaze.
Decoration
The new pieces come in a variety of colors. All color schemes on our examples were copied directly from originals. For example, the clematis with brown background has pale yellow flowers; zephyr lily with green background has dark green accents and cream colored flowers. Colors on most pieces are close to originals but this varies from piece to piece. The quality of decoration also varies from highly skilled to very crude.
Some patterns, but not all, are decorated with spray paint. One clue to this type of new decoration is the mist of over spray which often appears beyond the pattern (Fig. 16). The sprayed paint is much thinner than colors applied to originals. But again this varies and does not show up on all pieces.
Marks - Old and New
Probably the most reliable way to separate old from new in this batch of reproductions is by the embossed (molded) marks. Except for Luffa (originally made 1934) and Jonquil (originally made 1931), all other reproduced patterns were originally marked "Roseville U.S.A." with a shape number and size in raised letters. A typical original mark of this kind is shown in Fig. 6.
The majority of the reproductions have virtually the identical mark with one important exception--the letters U.S.A. have been removed (Fig. 4). Although "U.S.A" may appear faintly on some of the reproductions, it never appears the same height as the word "Roseville" or the shape or size numbers. If the U.S.A. is missing from a mark originally used on Roseville patterns made originally from ca. 1935-1950s, it is virtually guaranteed to be new. The only exception would be some shapes with very small bases and some flower frogs where the U.S.A. was left off of original marks.
The "U.S.A." has been removed from the mark on the reproductions because American law requires imported goods to be marked with the country of origin. Since these pieces are made in China they must be marked "China" which they are with removable paper labels. Leaving the "U.S.A." in the new mark would imply the new pieces were made in the United States.
Reproduction Luffa and Jonquil can be detected because new pieces have a "Roseville" mark in raised letters (Fig. 5). Original Luffa and Jonquil were almost always marked with paper labels only, or more rarely with an impressed, but never with a raised Roseville mark. The raised mark on new pieces is a fantasy mark never used on Luffa or Jonquil originals.
Summary
Eventually, there were well over 100 different new pieces of Roseville reproduced. Most pieces, but not all new Roseville, can be identified by the missing U.S.A. in marks on pieces with patterns originally made from 1935-1950s. The glaze, mold detail and colors of some new pieces are virtually identical to originals. Other reproductions are very poor quality. When buying over the internet or without firsthand inspection, quality may not be apparent in photos or digital images.
Zephyr Lily All new Zephy Lily shown is marked like originals in raised Roseville script with shape and size numbers. New pieces do not include U.S.A in raised lettering. Only a trace of U.S.A. is visible. Overall well molded. Background colors of our samples ranged from deep green, dark blue and golden brown.
Magnolia All new Magnolia shown is marked like originals in raised Roseville script with shape and size numbers. New pieces do not include U.S.A in raised lettering. Only a trace of U.S.A. is visible Quality of molding and decoration varies. Background colors of our samples ranged from green, blue and brown. The watering can shape is not an original Roseville shape. The original magnolia shape #180 is an 8" handled vase.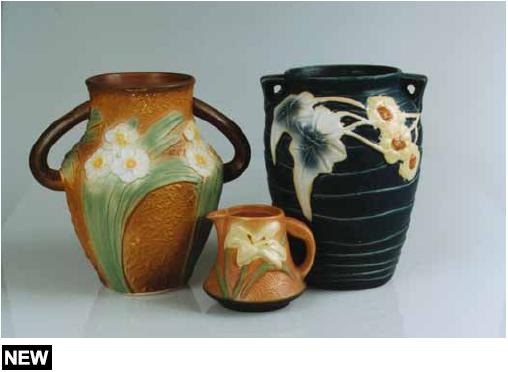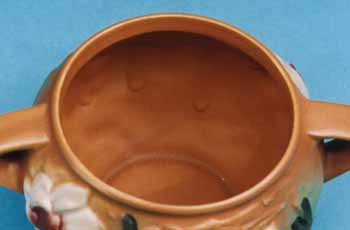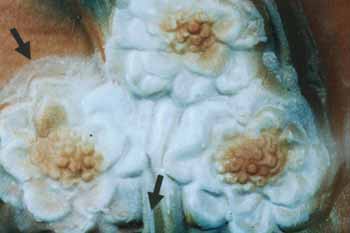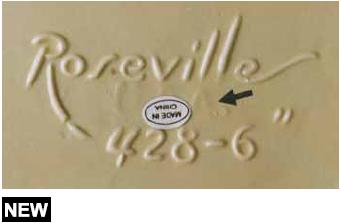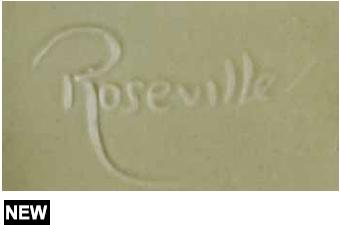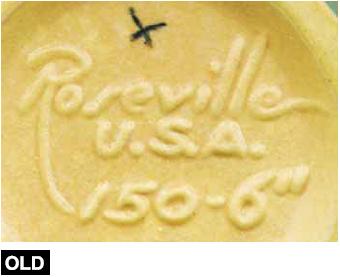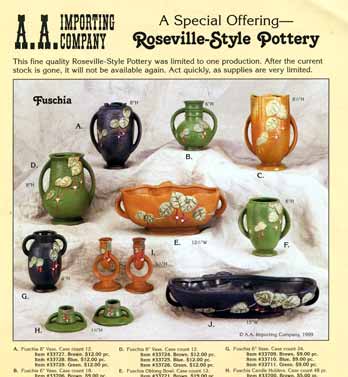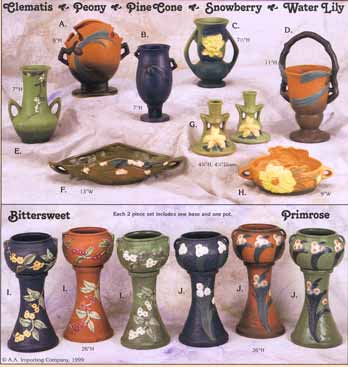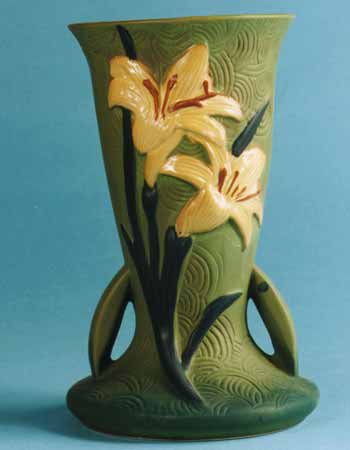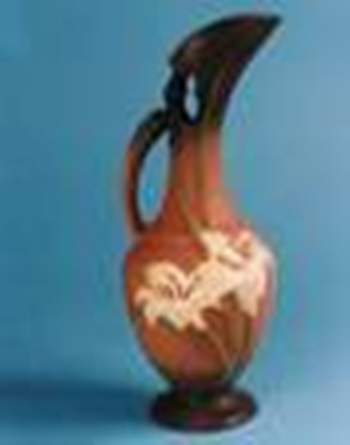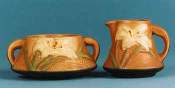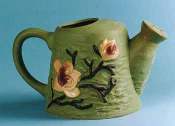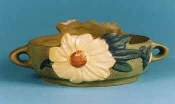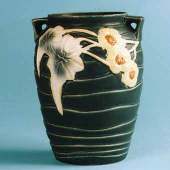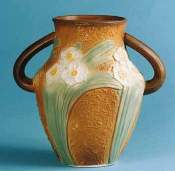 Real Or Repro is an industry resource powered by
a vetted marketplace of dealers and winner of numerous
Ecommerce Bytes Sellers Choice awards
for Quality, Usability, Customer Service, Communications and Most Recommended Selling Venue
---
So now,
Our Ruby Lane Shop Owners
invite You
to shop with them for the
Real Deal
on Ruby Lane ...
View More Similar Items