Little Red Riding Hood Pottery ReproductionsBy
Mark Chervenka
Little Red Riding Hood - Pottery Reproductions
Reproductions of Little Red Riding Hood (LRRH) pottery have filtered into the market over the years.
The first new pieces were cookie jars. When original LRRH jars began bringing $200 - $400 in the mid 1990s, reproduction jars followed in 1996-97.
With prices of other original LRRH pieces approaching $400-$1200, more and more original shapes are being copied. Many of these new pieces were offered as vintage originals in malls, shows and Internet auction sites. This article shows many of the harder to find original pieces side by side with the reproductions.
The basic design for original LRRH pottery was created by Louise Bauer. Bauer received Design Patent #135,889 for LRRH on June 29, 1943. She assigned the patent to the Hull Pottery Company which sold LRRH pottery products between 1943 and 1957.
Hull never did any of the LRRH decorating and made virtually none of the pottery blanks. All decorating and almost all the blanks were done by Royal China and Novelty, a part of Regal China Corp.
Separating Old from New
Although many original pieces are marked with the patent number, the Hull name or some combination of both, many other original pieces are unmarked. Therefore, marks are not a reliable test of age. Further, many reproductions are marked in the identical manner as old originals. The best test of age is to closely examine how a piece is decorated and formed.
Comparing the sizes of suspected reproductions to known originals is especially helpful. All the reproductions have been made from molds taken from originals. During this process, shrinkage occurs. Although originals can vary slightly in size from piece to piece, all reproductions made so far are always substantially smaller than originals.
Original pottery is made of vitrified (high fired) china. Reproductions are made of a low-fired soft clay like that commonly used in china painting and ceramic classes. Originals were made for functional, everyday use. Reproductions are made as "antiques". Check the fit of lids, shape of spouts and placement of handles. Ask yourself, "Could this piece be used for the purpose it was intended?" Many reproductions cannot function in a practical, logical manner.
Original faces have lifelike eyes and human facial expression. Eyes of the reproductions stare zombie-like straight ahead. Eyes of originals are looking to the side. Original eyes are virtually always blue; new eyes are almost always pale green.
The hair on reproductions is a thick heavy pale yellow with a few thick strokes of brown to suggest single hair strands. Original hair is a crisp sharp yellow with generally very fine brush strokes to suggest a few single strands.
New gold trim shows no normal wear; original gold trim almost always shows at least some normal wear around handles, knobs, rims and lids. New gold trim also tends to have a mirror-like reflective surface. Original trim is softer and less reflective.
In addition to the new pieces listed here, reproductions have also been made of the spice jars, kitchen canisters, string holder, and large and medium sized shakers. There may be other new pieces as well. Most all the other new pieces can be detected by using the guidelines listed in this article.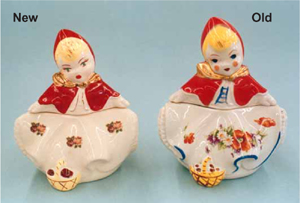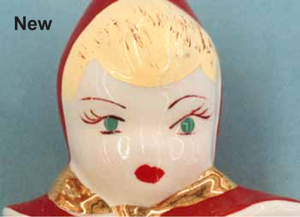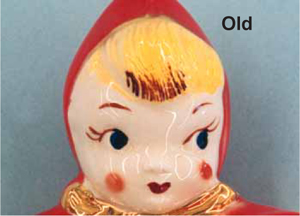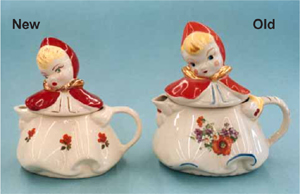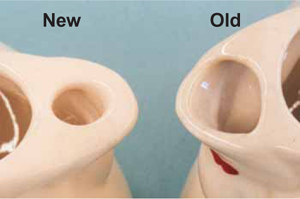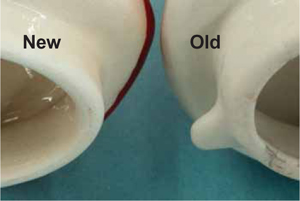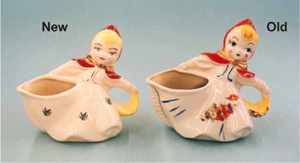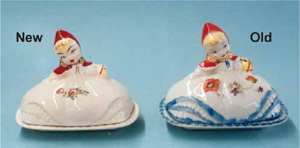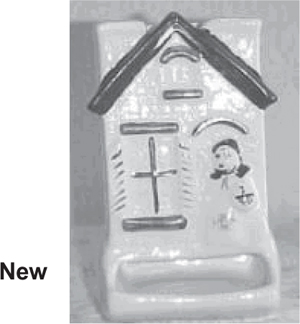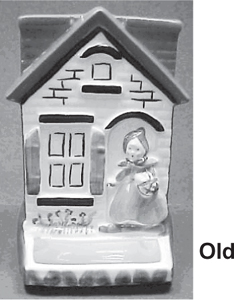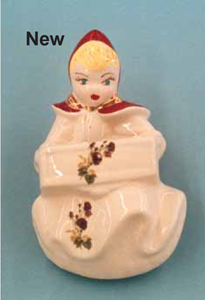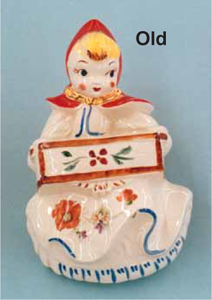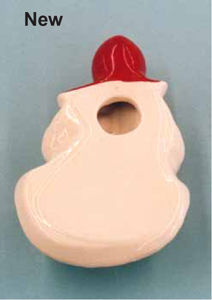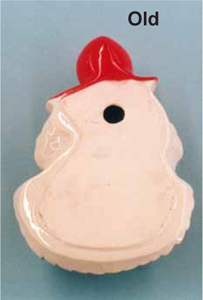 Real Or Repro is an industry resource powered by
a vetted marketplace of dealers and winner of numerous
Ecommerce Bytes Sellers Choice awards
for Quality, Usability, Customer Service, Communications and Most Recommended Selling Venue
---
So now,
Our Ruby Lane Shop Owners
invite You
to shop with them for the
Real Deal
on Ruby Lane ...
View More Similar Items