Lamp PartsBy
Mark Chervenka
Lamp Parts
in Cranberry Opalescent Glass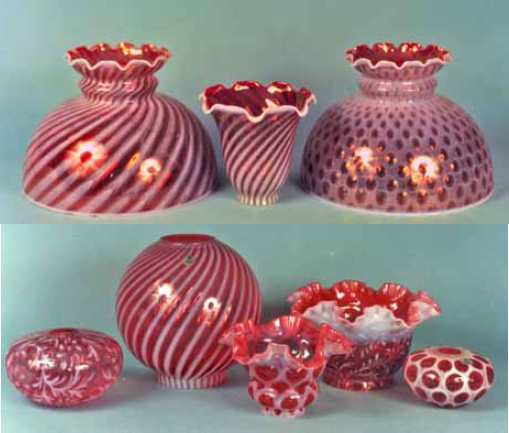 One of the most sought after colors in antique glassware is a deep rich red, commonly called ruby or cranberry. Add fiery white opalescence and you have "cranberry opalescent," a name used for both pressed and blown glass that combines the color red with white opalescence. This article will deal with blown lamp shades and fonts made in the various cranberry and opalescent combinations.
The best way to identify old cranberry lamp parts and their reproductions is to know how the original parts were made. How a glass lamp part is made is generally much more important than what that part is made of. That some reproductions are, as the advertising says, "made with real gold" doesn't make them any harder to detect. It's how they are made that separates new from old.
Before we discuss specific parts, there are some glass making terms you should be familiar with such as: fire polished rim, ground rim, and ground and polished rim.
Fire polishing refers to using the heat of the furnace to remove rough spots and irregularities from rims and edges. When reheated near the melting point, rough edges begin to slightly flow which produces a rounded edge. A fire polished rim will have the same smooth, shiny appearance as the body surface (Fig. 5). The opposite of a fire polished rim is a ground rim. A ground rim is formed by applying an abrasive, usually a grinding wheel, to the glass. Ground rims are usually perfectly flat (Fig 7) but may be beveled or rounded. Ground rims always appear dull and frosted, not shiny.
If a basic ground rim receives further work, it can become a ground and polished rim (Fig. 6). A polished rim will appear shiny but will usually show some traces of the first coarse grinding marks. These marks can usually be seen by slowly rotating the piece under a light.
When you examine a shade, start with the rims. There will be many times when you might not have to look any farther. All old 14" dome shades, for example, have fire polished top rims. Top rims of almost all new 14" shades are ground. Ground rims have flat, frosted appearing edges; fire polished rims are rounded and shiny. In 14" shades, there are no exceptions.
There are exceptions, however, to other styles of shades. Many, but certainly not all, old gas and electric shades have fire polished fitter rims too. But all new shades have ground fitter rims. No new shades with fire polished fitter rims are known.
Although there are not any hard and fast rules, whether an old gas or electric shade has a fire polished fitter rim seems to depend on two factors–date of production and thickness of the glass. There seem to be more Victorian-era shades with fire polished rims than later Art Nouveau and early 20th century shades. Shades of thick glass like the thicker, multi-cased highly decorated art glass shades of Tiffany, Quezal and others, usually have ground fitter rims. The much thinner, single layered Victorian shades are generally fire polished.
In almost every old shade, both the fitter rim and top rim are nearly identical in thickness (Figs. 10-11). The fitter rim and top rim on new shades are often very different with new fitter rims commonly 3 to 5 times thicker than the top rim (Figs. 8-9). Some new shades are fairly uniform in thickness, though, so you can't use that as your only test of age.
Of all the new lamp parts, the fonts are probably the easiest pieces to identify as new. Why? Because they have holes in the bottom of the font. The hole is there for modern electric lamp wire. With the holes, they couldn't be used as fonts for vintage kerosene lamps because the kerosene would obviously drain out (Fig. 2). The new fonts are also made without a glass neck (Fig. 1). Old kerosene fonts had quarter-inch or higher glass necks for mounting metal burner collars.
Just like the fonts, some of the new shades are also fairly easy to spot due to manufacturing techniques. Many new "cranberry" shades, for example, are mostly clear glass. The coloring is created by only an ultrathin layer, or flashing, of red glass. This thin coating can often be seen at the rims, especially the fitter rim. There is usually a definite line where the red flashing stops and you can see the clear base glass (Fig 3).
Another unusual feature of flashed red shades and parts is a mirrorlike luster on the inside of the shade. This did not show up in photographs, but the effect is very obvious with first hand inspection. The color and opalescence of the flashed shades is similar in appearance to the solid ruby and cranberry shades until held about 18" distance.
Below you can see new shades and fonts by shape, sizes and patterns. Of course, new shapes and patterns may exist which are not shown here.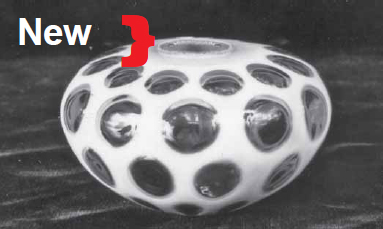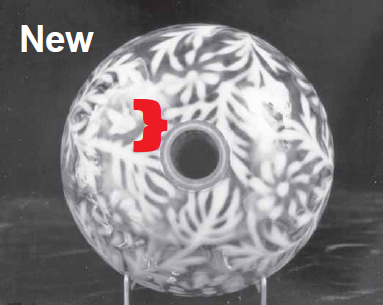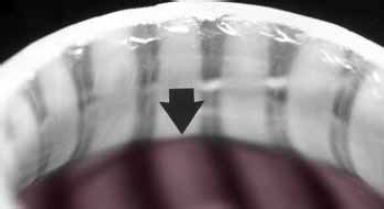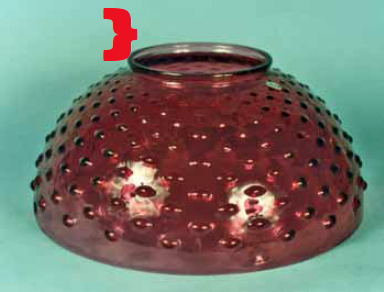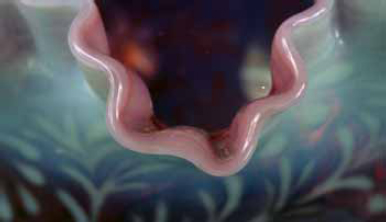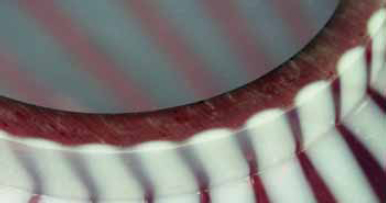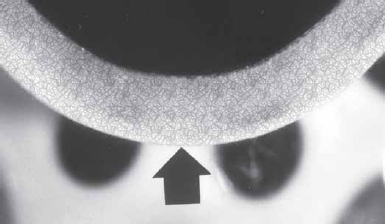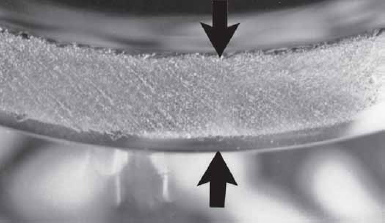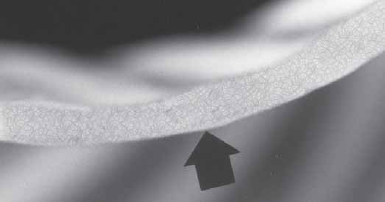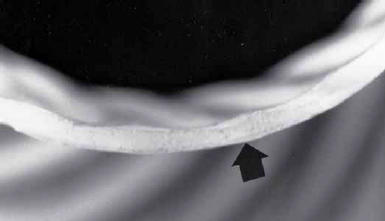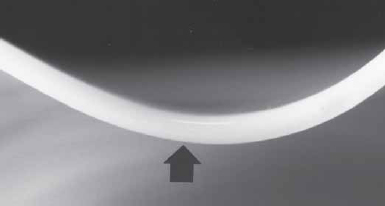 Flashed Cranberry

4" Gas shades
Made in blue, cranberry and clear opalescent Swirl; blue and cranberry opalescent Coin Dot; cranberry Hobnail.

2¼" Electric shades
Made in blue, cranberry and clear opalescent Swirl; blue and cranberry opal Coin Dot.

7" and 10" Student shades
Made in blue and cranberry opalescent Coin Dot; cranberry opalescent whirl; cranberry Hobnail.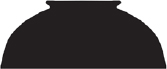 14" Dome shade
Made in cranberry Hobnail with matching font; shade also available in non-flashed ruby.


9" Ball shade with matching font
Made in cranberry Optic; font may also be suspended as hall light; 4" dia font top.

10" Torchiere
Made in cranberry opal Swirl.
Cranberry

2¼" Electric shades
Made in Dot Optic, Hobnail, Fern, Swirl, Coin Dot, Diamond. Coin Dot & Fern also made in clear opalescent.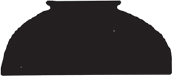 14" Dome shade
Hobnail.

7" and 10" Student shades
Made in Dot Optic, Hobnail, Fern, Swirl, and Coin Dot. Coin Dot also in Persian Blue (creamy green).

4" Gas shade
Made in Dot Optic, Fern, Swirl, Diamond, Coin Dot. Fern and Coin Dot also available in white.

8" and 10" Ball shades
Made in Dot Optic, Fern, Swirl, Coin Dot. Hobnail offered in 8" only.

Fonts
Made in 4" and 6" sizes. Dot Optic, Hobnail, Fern, Swirl, Coin Dot